The Drama Factory is an independent, intimate theatre for Somerset West, Strand and surrounds!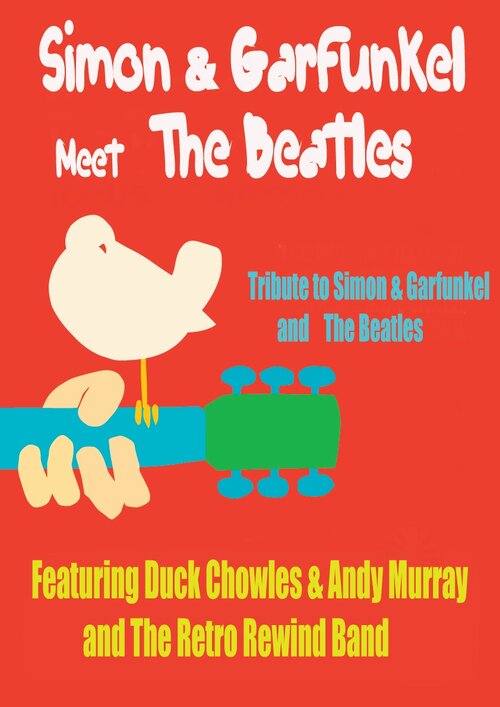 Boasting rave reviews like "Brilliant; Well worth it!" from Tygervalley Barnyard Theatre audiences, who saw the show, with a rating of 5 out 5, as well as rave reviews from The Drama Factory patrons like "Awesome show; absolutely brilliant, so professional with talent out of the top drawer; accomplished musicians; exceptional entertainment by true professionals; great trip down memory lane; best ever heard at The Drama Factory", Duck Chowles and Andy Murray of Barnyard fame, and The Retro Rewind Band will be back, by popular demand, to bring you an evening of music and harmony, featuring the greatest hits of two of the best-selling, most influential and most successful music groups of the 1960s: Simon & Garfunkel and The Beatles!
The iconic British Beatles, revolutionized music forever, while the popular American folk-rock group, Simon & Garfunkel, were distinguished by their intuitive harmonies and Paul Simon's songwriting talent. Duck Chowles and Andy Murray's voices blend in perfect harmony to some of the greatest songs ever written in popular music. Andy Murray features on acoustic guitar, lead guitar and vocals, while frontman Duck Chowles features on lead vocals and acoustic guitar, backed by The Retro Rewind Band with drummer, Alan Lloyd, and bassist, Karl Hering … both accomplished and experienced musicians, who performed in various Barnyard productions.
Duck Chowles and Andy Murray have been at the forefront of the South African entertainment industry for more than 3 decades. They started working together in 1993 at The National Arts Festival in Grahamstown, in a Tribute to The Rolling Stones, called "Sticky Fingers". They continued performing together in countless hit shows such as "Sixty Something", "Roll over Beethoven", "Glory Days", "Station 70" and many more.
Duck and Andy's perfect harmony blend for The Beatles' sound is one of their trademarks, and they toured with the hit show, "The Fab 4"- A Tribute to The Beatles throughout South Africa, Zimbabwe and Namibia and enjoyed sold-out performances in 2013 at the Madinat Theatre, situated in the exclusive Jumeirah Hotel in Dubai.
The Beatles' catalogue is represented from their early days with hits such as She Loves You, A Hard Day's Night and Eight Days a Week to the early Paul Simon compositions such as Homeward Bound, The Boxer and Mrs Robinson. Highlights in the show include the beautiful, iconic The Sounds of Silence, Bridge over Troubled Waters, Yesterday, While My Guitar Gently Weeps and Here Comes the Sun. The first half ends on a rocking note with The Beatles' hit, Come Together.
The party gets underway in the second half with sing-alongs such as Hey Jude, Cecelia, Yellow Submarine and Ob La Di, Ob La Da, to mention but a few.
Join Duck Chowles, Andy Murray & The Retro Rewind Band in a nostalgic blast from the past and a special tribute to the music of Simon and Garfunkel and The Beatles … uplifting, everlasting music that strikes a chord and resonates with old and young alike!
Book Tickets for Simon & Garfunkel Meets The Beatles :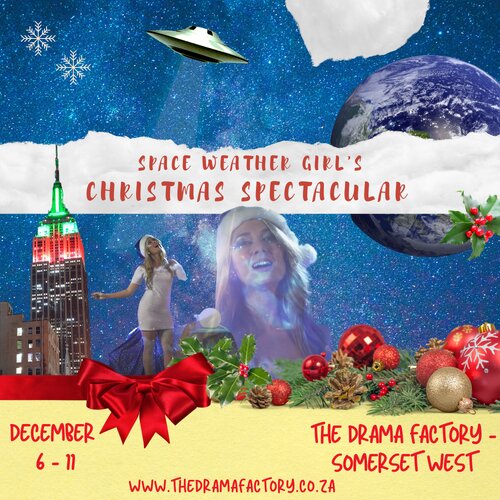 Space Weather Girl broadcasts her famous Christmas Spectacular show from South Africa after a rocket launch with Elon Musk goes South... literally. Come on this thrilling journey through space and enjoy all your favorite Christmas Songs. A fun holiday show for the whole family!
Space Weather Girl is a project developed by Zena Wood in 2018 in celebration of space exploration. The previous project won Best Short at the Cannes Short Film Festival, 2020. Come and learn why Elon Musk's Jozi accent is heavier in space and how many rings Saturn has! All whilst enjoying your favorite Christmas songs.

Book Tickets for Space Weather Girl's Christmas Spectacular: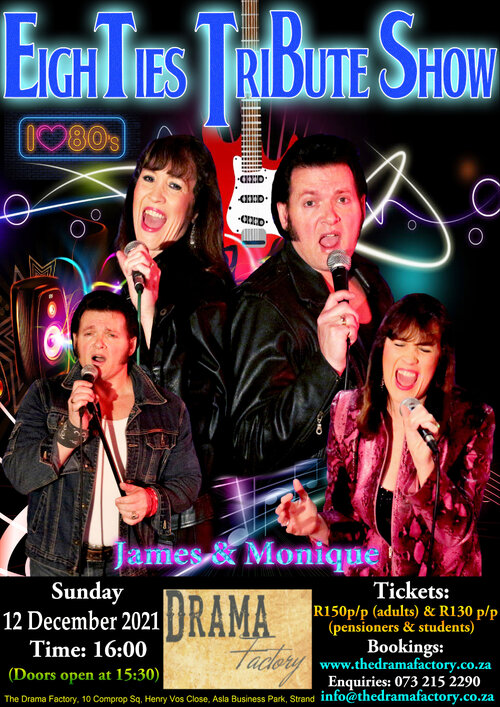 James Marais and Monique Cassells' new "Eighties Tribute Show" pays tribute to great artists and songs from the 1980s, including songs by artists such as Queen, Wham!, Bryan Adams, Billy Joel, Shakin Stevens, Bruce Springsteen, Dire Straits and more. As with all their tribute shows, you can expect a mini-theatrical experience, featuring the dynamic vocal and visual performances of James and Monique, alternating as a duo and individual performers, who also do multiple costume changes throughout.
James and Monique are renowned for their oldies tribute shows, which have brought them sold-out attendances at countless venues at which they have performed together since 2009. Their productions previously successfully performed at The Drama Factory include the ever-popular "Oldies But Goldies", "From Memphis To Las Vegas: An Elvis Presley Tribute", "The 70s Vs '80s Tribute", "Old School Country Legends Tribute", "A Trip Down Memory Lane" and "Back To The Seventies: '70s Tribute".
James is the no. 1 Elvis Presley tribute artist in the country, and has appeared on television several times, including appearances on SABC 2's game shows, "Noot Vir Noot" and "Musiek Roulette", as well as Kyknet's "Jou Show", presented by Emo Adams. In this '80s tribute, he shows his versatility with songs such as Neil Diamond's "Love On The Rocks" and Tom Jones' "Kiss".
Monique, who has gained widespread praise for her powerhouse voice and performances, as well as her versatility, further extends her repertoire with tributes to Tina Turner ("The Best") and Cher ("If I Could Turn Back Time"), among others. Monique made her television debut on SABC 2's "Musiek Roulette" in May 2018.
Come and join James and Monique for some 1980s nostalgia!
Book Tickets for Eighties Tribute Show :