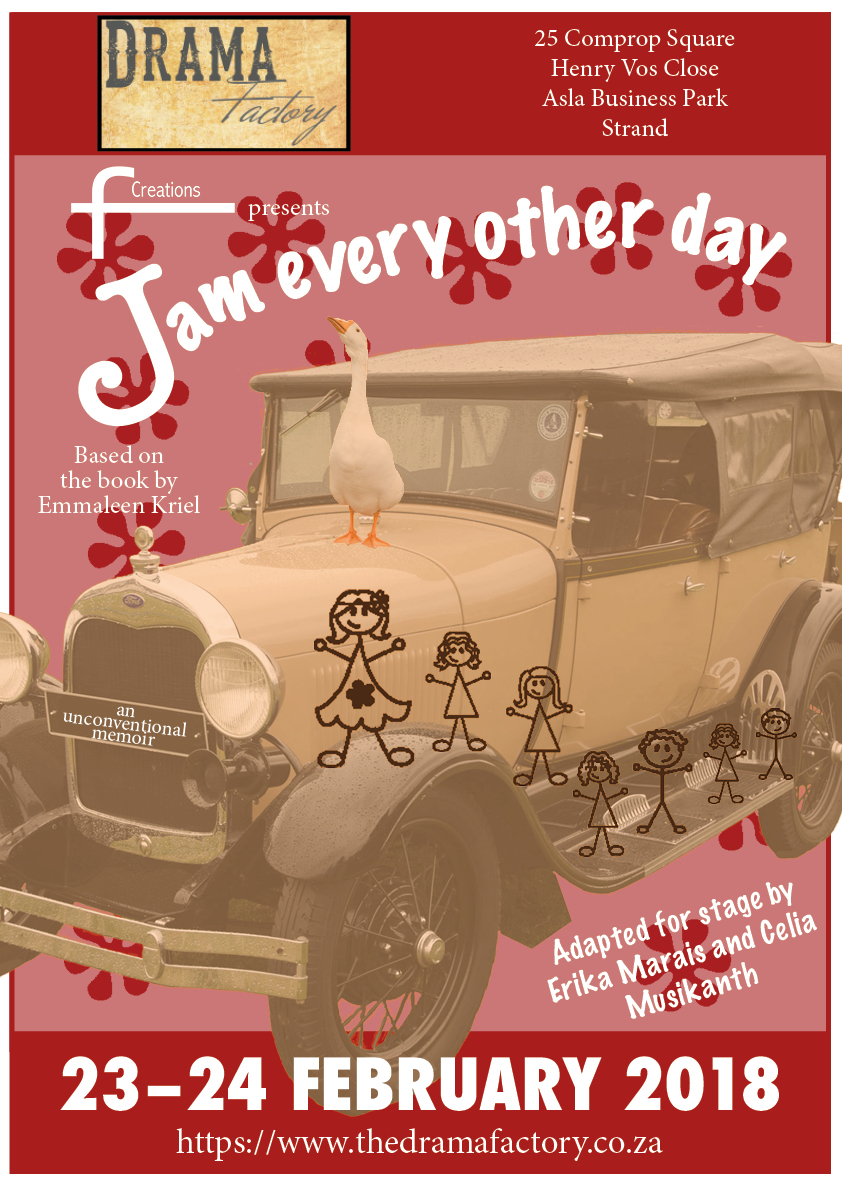 Looking for a piece of theatre that will warm the heart and make you feel good inside? Then Jam Every Other Day is the show for you. F Creations is proud to present the second run of this brand new one-woman show. It has been adapted for stage from the memoir of Emmaleen Kriel, and is performed by Erika Marais and directed by Celia Musikanth. The story follows Kriel's family life from their home in 1960s rural Constantia to their daring move to the forests of Knysna.
Read what Erika has to say in this lovely interview with Laurie Scarborough
Q1: Give as a little plot teaser for your show?
Jam Every Other Day follows the true life story of Emmaleen Kriel and how she brought up her six children (yes, you read right, six) in rural Constantia and the beautiful forests of Knysna in the 1960's and 1970's. Funny, heartfelt and not without some sadness, she takes the audience with her on her journey of motherhood and also seeks to answer the question: "why did I have so many!?"
Q2: What inspired this show?
The script is adapted from the book by Emmaleen Kriel. From the moment I first read the book, I knew it was a story I wanted to tell on stage. I loved the author's sense of humour and could relate to so many things in her life story.
Q3: You wrote this show yourself. What is your writing process?
I co-wrote the script with Celia Musikanth, who is also directing the show. It has been quite a lengthy process of adapting this beautiful story from a +/-300 page book to an hour stage play. The big challenge was in deciding which scenes from the book should be in the show, and still stay true to the intention of the author.
Q4: What are you most looking forward to for this production?
I am super excited about this show as it will be the first time that it is staged. The author has been approached by another party to do a movie based on the book, but we beat them to it! I look forward to doing something new and fresh on stage – we even have a swing!
Book Tickets for Jam Every Other Day: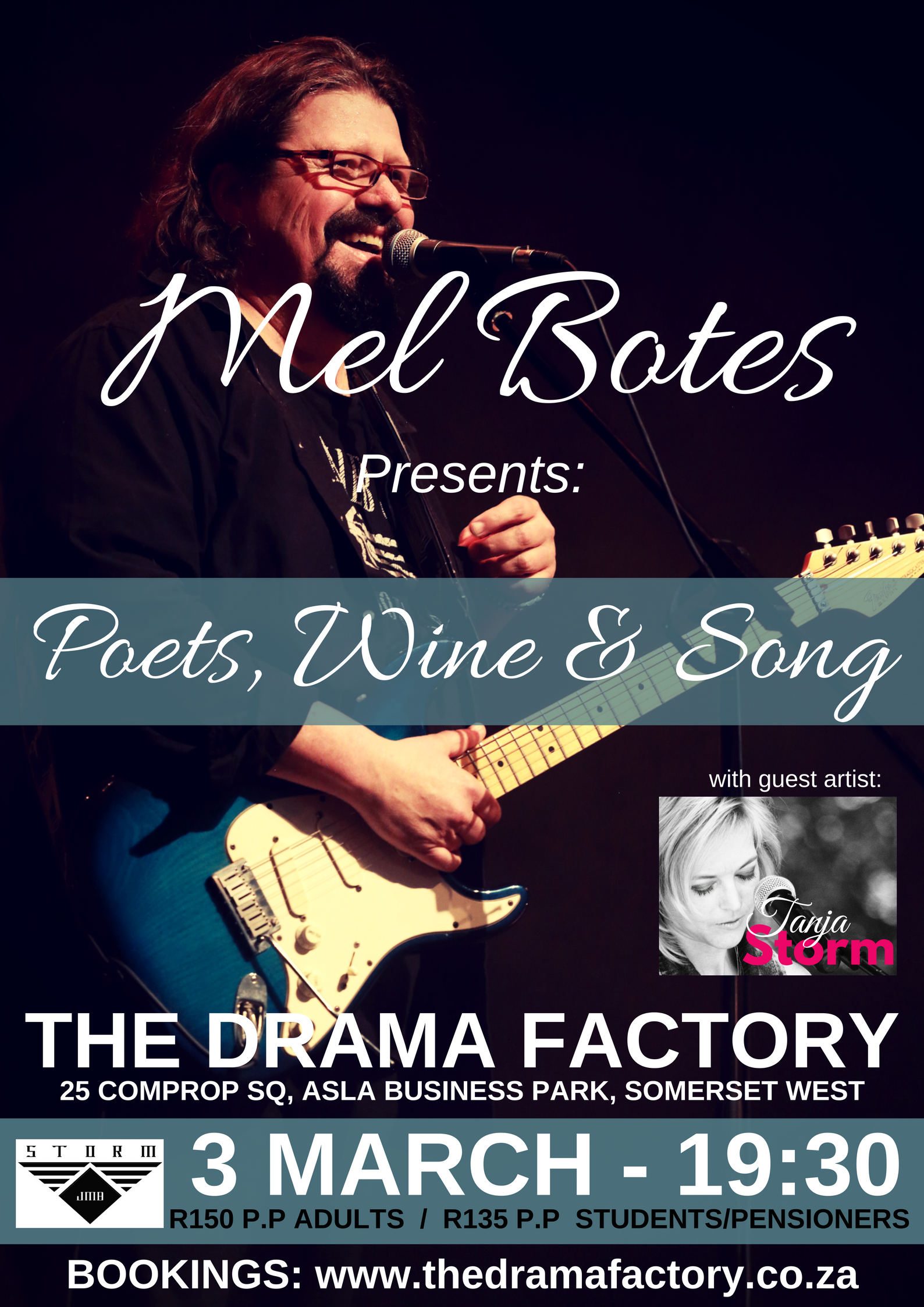 A celebration of the poets, their songs and of course paired with wine! Featuring master guitarist and songwriter, Mel Botes.
Take a trip down memory lane as Mel performs a variety of old classic songs by some of his favourite poets. Be swept away by a selection of Mel's original music from his albums "David's Confession", "Flight of Bird", plus the new "River Symphony" – A symphony in progress.
A seasoned raconteur – Mel relates how words became songs and why these songs made such an extraordinary impact on him personally and on the music-listening community at large. The music of icons such as Leonard Cohen, Bob Dylan, Cat Stevens, Neil Young, Mark Knopfler, David Gilmour, Roger Waters and Rodriguez will be interpreted through the eyes, mind and voice of Mel Botes.
Opening the stage for this sit-down show is Tanja Storm. With her soulful, sophisticated style, Tanja captivates any audience. You are sure to be in for an entertaining, yet profound, artistic experience!
Book Tickets for Mel Botes - Poets, wine & Song: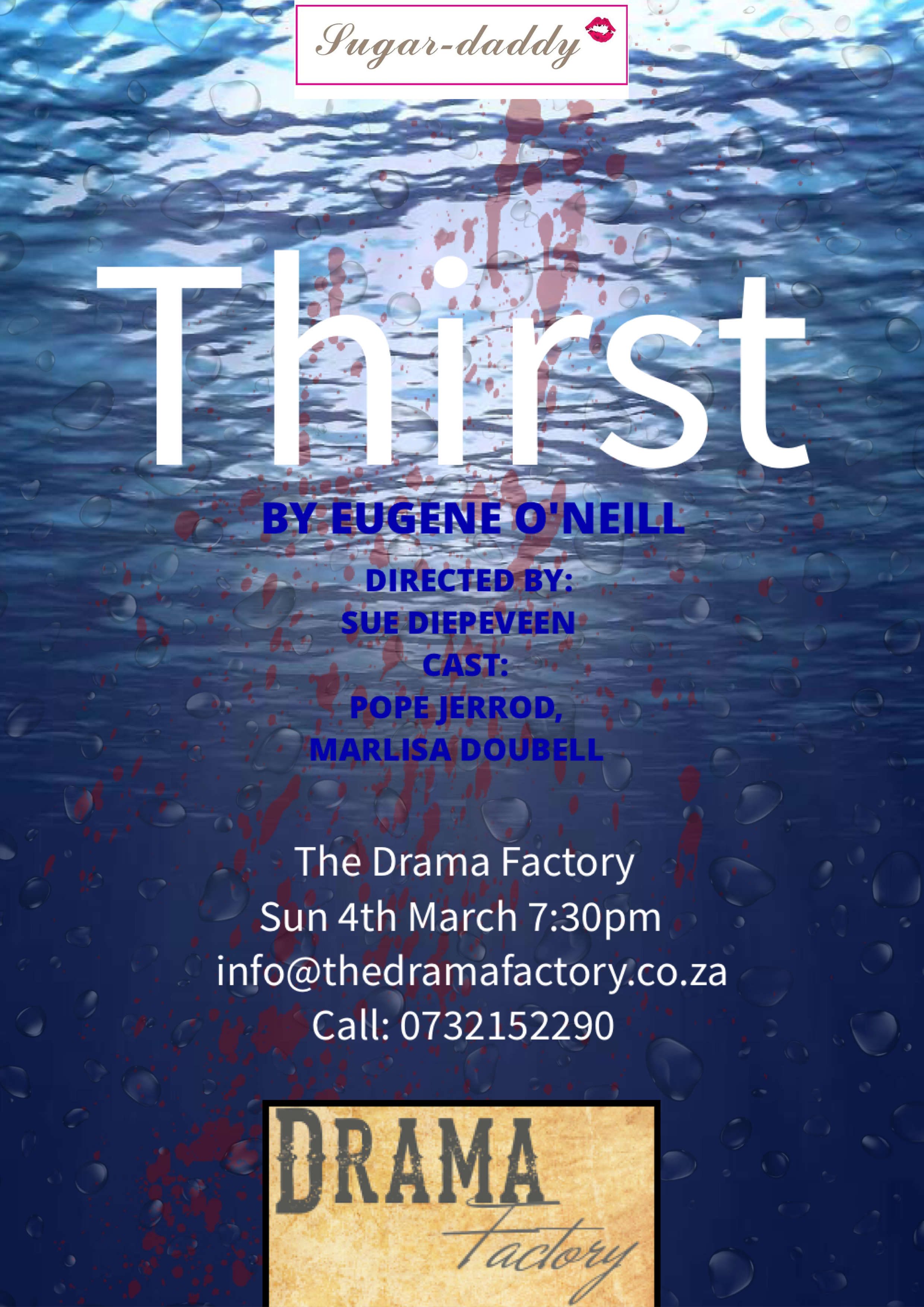 Sugar-daddy Theatre co. presents, Thirst, by Eugene O'Neill, in celebration of the anniversary of this Nobel Prize Winner & great grandfather of all American playwrights. It's somewhat ironic that this one act play (adaptation by Sugar-daddy) is set one hundred years ago, which co-incides with the last time Cape Town experienced such a serious drought !! The play borders on absurdism and seeks to highlight the importance of water in it's own metaphorical way. A gentleman, a lady and a sailor are stuck on a raft waiting to be rescued.. what happens next?

COULD YOU BELIEVE IT? Corne and Twakkie are pulling their caravan straight into the Strand!

Yes, the great grand uncles of Zef are returning to the golden days when they first unleashed their powerful fruit-salad of polyester,
snors and love on a generation of unsuspecting humans back in the early 2000's. And this time they're presenting a very special sermon on the finer teachings of the Style Of Love for the special folk of the Strand. Because lets face it, they need it.

For one magical night in March Corne and Twakkie will pontificate on
Ronald Trump, hip-hop rap styles and how to live life in
The Style of Love at the Strand's very own Drama Factory. Book now or live with the bitter regret … #believeit

Book Tickets for Corne and Twakkie - The Tree Of The Knowledge Of The Style Of Love: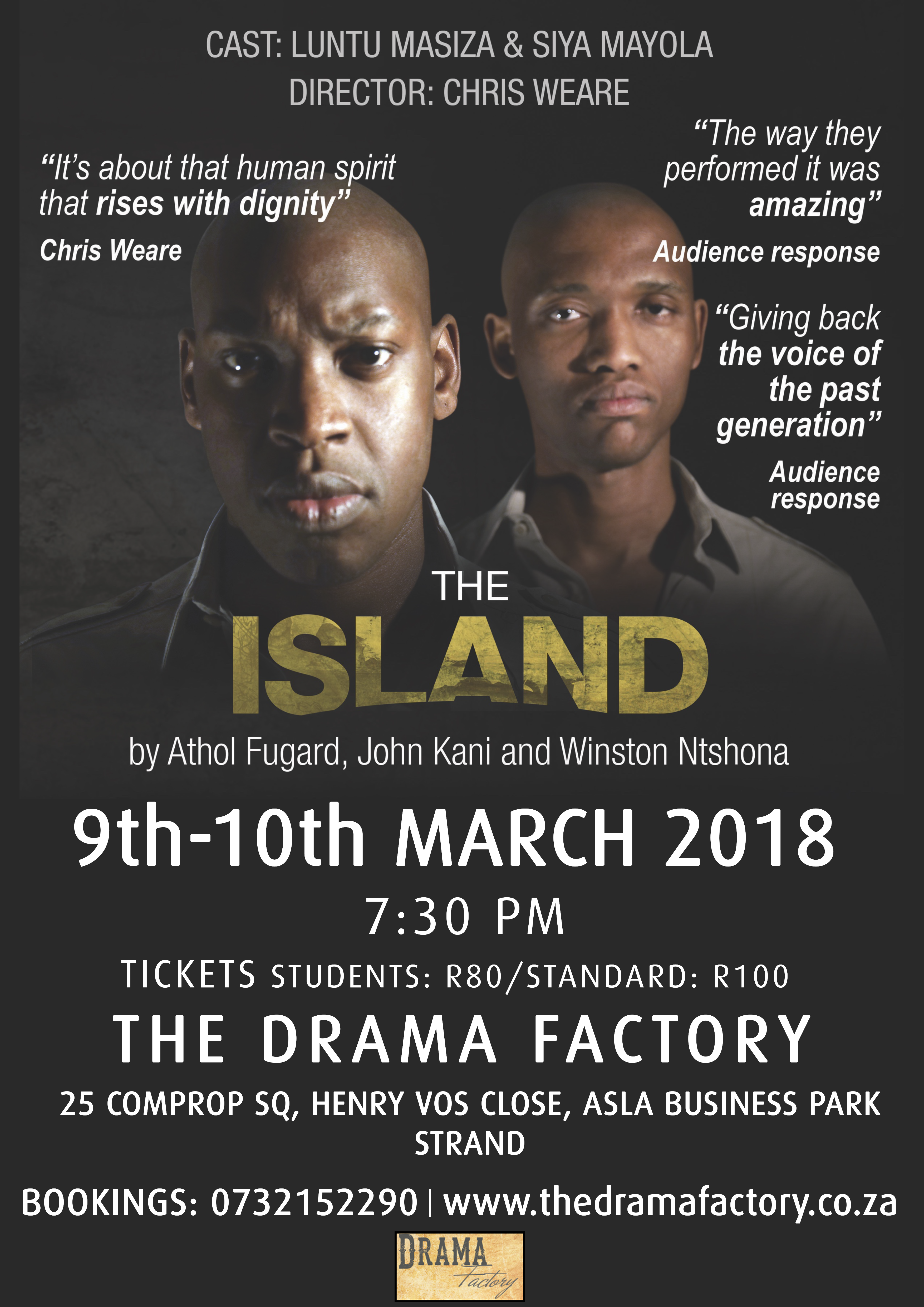 The Island, starring Luntu Masiza & Siya Mayola, under careful direction by Chris Weare, is a beautiful portrayal of this classic piece.
The critically celebrated play was written by Athol Fugard, John Kani and Winston Ntshona in the 1970s and is based on Kani and Ntshona's experience as prisoners at Robben Island during Apartheid. Kani and Ntshona play versions of themselves.
After its initial Cape Town run, the play transferred to the West End and then Broadway, where it was nominated for three Drama Desk Awards and three Tony Awards, winning one for Best Actor, shared between Kani and Ntshona, making it the only play using three official South African languages (English, Afrikaans, and Xhosa) to win a Tony.
A play within a play, The Island follows Kani and Ktshona, a pair of cellmates, as they plan a two-hander performance of Antigone for the other prisoners. Their story mirrors that of Antigone, highlighting themes of obedience versus civil disobedience, power relations, and tri-factor freedom (of body, mind, and conscience) within the context of the South African Apartheid.
Directed in under four weeks by South African theatre-maker Chris Weare, the play is set to challenge audiences with questions about the human condition.
Luntu Masiza has just been nominated for a Fleur Du Cap award as most promising student 2017, and this production has been chosen to travel to the Czech Republic in April so please support local #ChooseLive
If you would like to help get these ambassadors to the Czech Republic please visit https://www.backabuddy.co.za/champion/project/the-island-theatre-production to make a donation
Book Tickets for The Island: