The Drama Factory is an independent, intimate theatre for Somerset West, Strand and surrounds!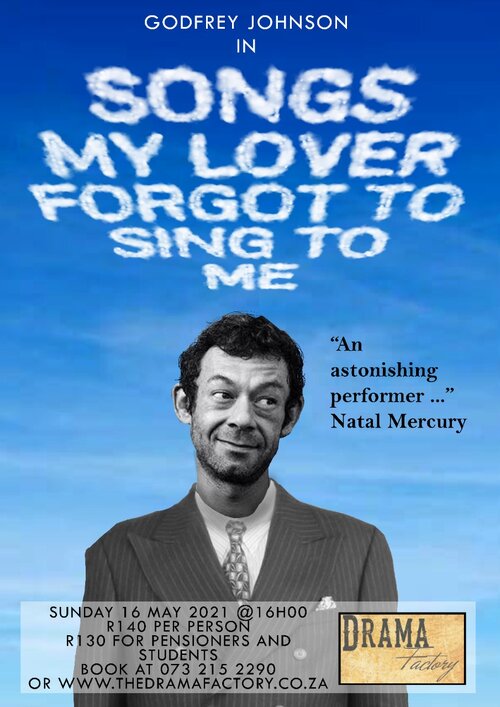 A show featuring internationally renowned performer Godfrey Johnson. Johnson will perform some of his favourite songs from his career. The show will feature original work by Johnson as well as songs by Tori Amos, Tom Waites, Leanard Cohen, Dorothy Parker, and Noel Coward all performed in Johnson's unique way.
Come and enjoy a gentle Sunday afternoon of humour, piano and love with cabaret star Godfrey Johnson.
This award winning artist was most recently in 'The Shadow of Brel', 'VASLAV', Bambi Sings The FAK Songs' and 'Insanitized'.
—————————-
'One of South Africa's most astounding artists...' - Natal Mercury
'In a league of his own.....' - Michael Britton
Book Tickets for Songs My Lover Forgot To Sing To Me :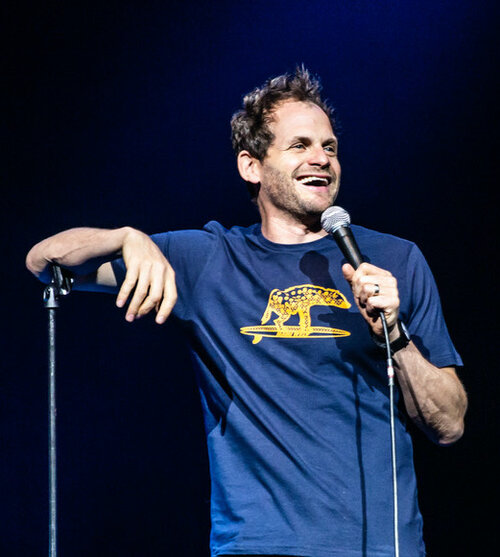 Nik Rabinowitz returns to the Drama Factory for the first time in six hundred and eleventy sixty six days with his imitable brand of lockdown flavoured comedy.
Renowned SA comic Nik Rabinowitz ponders some of life's big questions; like at what age is it ok to get your first skateboard (surprise, it's not at 42), how to survive an apocalypse, and what you can find out from a DNA test (spoiler alert: A LOT).
"Hilarious, existential, warm, wise and a tonic in these insane times." - Nadia Davids
"One of the best sets by a South African comic in the last four or five years" - Bruce Dennill

Book Tickets for NIK RABINOWITZ IS ALIVE :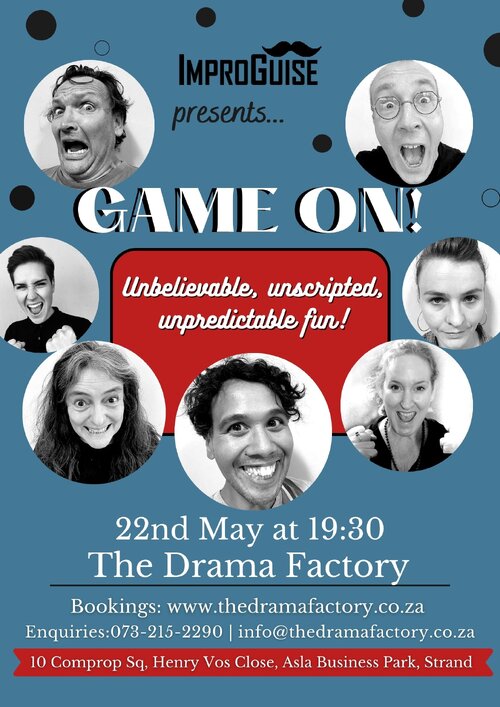 It's Game On with Improguise, Cape Town's oldest and most favourite improv troupe, are back! After what has been the longest period of no live performances, they cannot wait to climb onto the Drama Factory stage and share their improv skills and hilarity with audience members. They are back for one night only and are doing what they love; old school, short form Improv. Teams of improvisers, a musician, judges, competitive short form games, wild suggestions from the audience, the very famous fluffy thing, and the craziest imaginations let loose. Don't miss this!
ImproGuise, Cape Town's longest-running, award-winning, Improv Company have been performing continuously in Cape Town and around the country for the past 28 years, bringing you the internationally recognised short form Improv, TheatreSports. They have also introduced audiences to other fabulous Long form improv formats ; some that they learned from fellow improvisers across the globe, and some that they invented themselves such as: On the couch, Period drama, Improvised Chekov, Tribute, Little Space between, Soapathon, Jam Sandwich, First Kiss, Last kiss, Musical, Naked Improv, The Chair , Film Noir , Fake Place , Documentary , The very merry Improv show and their annual Improv fest , to name a few. They perform and teach at various theatres, schools, corporates and festivals both in South Africa and abroad.

Finally ImproGuise return to one of their favourite theatres for a live performance in front of a real life audience.
Book Tickets for ImproGuise presents: Game on!: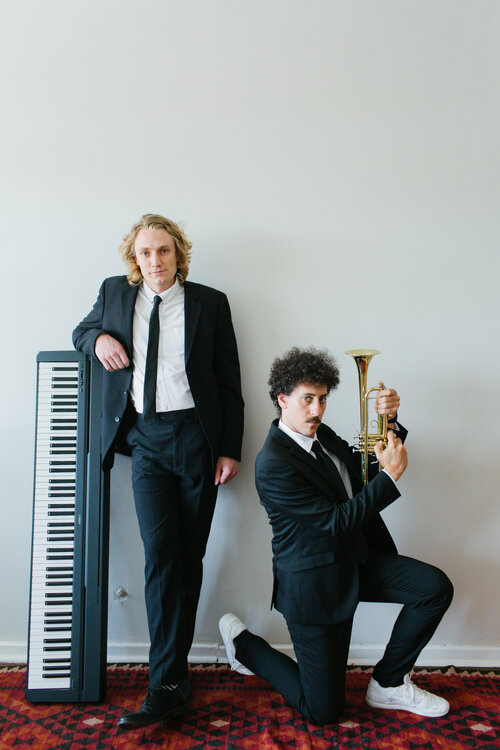 Schalk Bezuidenhout kombineer Afrikaanse stand-up komedie met vlymskerp oorspronklike liedjies en musiek oor alles en nog wat. Hierdie optrede is deel van 'n uitgebreide toer in die Wes-Kaap van tien vertonings. Schalk mag dalk koor gesing het op skool en hy was selfs 'n Kanarie op die silwerdoek, maar die slotsom is: Schalk sing sleg. Of sing hy regtig sleg?
Schalk deel die verhoog met die talentvolle musiekonderwyser, komponis en uitvoerende kunstenaar Wesley Van Der Westhuizen van Johannesburg. O ja, Wesley speel verskeie instrumente, Schalk tree dus nie op met backtracks soos een of ander snotkop met 'n snor nie. Kom tuit jou ore en lag jouself 'n papie, want Schalk se liedjies sal jou laat mis, eet, slaap, herhaal én skater!
Schalk Bezuidenhout het geen bekendstelling nodig nie. Dié 28-jarige krulkop met die kenmerkende truitjies van Kempton Park is volksbesit sedert hy in 2015 vir Trevor Noah geopen het. Met drie puik eenmanvertonings (al drie verfilm), die hoofrol in die veelbekroonde rolprent Kanarie, aanbieder van Die Kliek op VIA, die rol van die geliefde Danny in die kykNET-reeks Hotel en as nuusanker van die satiriese Die Ware Naarheid, ook op kykNET, het Schalk die afgelope vyf jaar in kykers en gehoorlede se harte gekruip.
Voor die Covid-19 pandemie het hy ook gereeld oorsee in plekke soos Dubai, Londen en Edinburgh opgetree. Hy is bekend as 'n vreeslose én skreeusnaakse komediant. Sy videos op Instagram en Facebook is vir tienduisende Suid-Afrikaners die beste lagmedisyne sedert die lockdown begin het.
Book Tickets for Schalk Sing Sleg :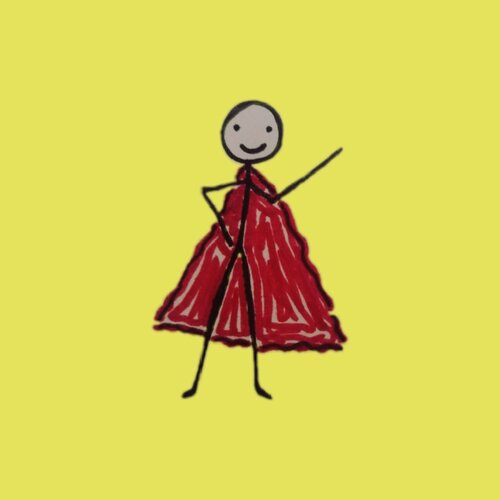 1. Ice cream. 2. Water fights. 3. Staying up past your bedtime and being allowed to watch TV. 4. The colour yellow. 5. The colour yellow. 6. Rollercoasters. A coming of age story with a twist: a young boy, later a young man, writes list of every brilliant thing he can think of. He tries to uplift himself, and those around him, as he struggles through his mother's depression and attempted suicide, finds love, and learns that ice-cream can't solve your problems forever – but maybe listening to an old record can?
Every Brilliant Thing makes (gentle) use of audience participation in order to flesh out the story – audience members standing in for the narrator's neighbour, father, mother, friend. Because of this, every performance is fresh and exciting to watch. We watch the narrator grow up in an incredibly relatable way, and experience it all alongside him – sadness, loss, love, joy, more loss, everything in between that makes life worth living. Originally performed by a comedian – now performed by an actor with amazing comic timing and improvisational skills – it's quick witted observational comedy like you have never seen before. Laugh along with the bittersweet nature of life, and leave the performance wanting to be alive. Come relate, understand, heal, and laugh with us. Also, did you know that Beyoncé is Gustav Mahler's eight cousin, four times removed? That's pretty brilliant.

Jeff Brooker is an award-winning producer, director and theatre administrator and strategist. His debut professional work as a director was the Owatonna Production of The Syringa Tree in 2017 with Kyra Rahn. This solo work of theatre was where he found his love for solo theatre and producing. He then returned to South Africa to pursue a bachelor's degree in theatre making at the University of Cape Town. In his second year, he revised and reproduced The Syringa Tree with a new actress, Nancy Rademeyer. This production ran at the National Arts Festival Fringe, where it won a Standard Bank Ovation Award. This production was selected for a run at the Drama Factory in Somerset-West. He then began work on bringing a collective of 8 shows to the National Arts Festival in 2020, however due to the pandemic, this did not occur. He is currently working on a new production of the one-man comedic-drama solo show, Every Brilliant Thing, with Liam Walsh. The student collective model is currently being re-envisioned as a UCT theatre-making festival, under the mentorship of Jefferson Tshabalala, to occur at the end of 2021.

Liam Walsh is a 22 year old actor hailing from Cape Town, South Africa. He has been seen in various international commercials such as BMW, Hula Hoops, Tesco Telecommunications, and Mr Clean. In late 2019, he will appear as characters in the Docu-Dramas "The Devil Speaks" and "American Monster" respectively. He is a trained UCT theatre performer with a strong aptitude for comedy. He was last seen at the Drama Factory in Rocket Boys, directed by Yanou Pienaar.

Book Tickets for Every Brilliant Thing:
James Marais and Monique Cassells' new oldies tribute show, "A Trip Down Memory Lane", features songs you know and love by the artists from the '50s, '60s, '70s and '80s, such as Elvis Presley, The Beatles, Cliff Richard, Cher, the Platters and Creedence Clearwater Revival, as well as the likes of Marilyn Monroe, Roy Orbison, ABBA, Queen and Neil Diamond. The show is a mini-theatrical experience, featuring the dynamic vocal and visual performances of James and Monique, alternating as a duo and individual performers, who also do multiple costume changes throughout.
James and Monique are renowned for their oldies tribute shows, which have brought them sold-out attendances at countless venues, where they have performed together since 2009. Their productions previously successfully performed at The Drama Factory include the ever-popular "Oldies But Goldies", "From Memphis To Las Vegas: An Elvis Presley Tribute", "The 70s Vs '80s Tribute" and "Old School Country Legends Tribute". James is the no. 1 Elvis Presley tribute artist in the country, and has appeared on television several times, including appearances on SABC 2's game shows, "Noot Vir Noot" and "Musiek Roulette", as well as Kyknet's "Jou Show", presented by Emo Adams. Monique is a very accomplished vocalist, having performed many different genres of music over the years, including rock 'n roll, rock, pop, country, blues, ballads and even light classical. She made her television debut on SABC 2's "Musiek Roulette" in May 2018. "A Trip Down Memory Lane" provides the kind of fun, colourful and entertaining show that audiences have come to expect from James and Monique.
The show will leave you with a smile on your face and a song in your heart!
Book Tickets for "A Trip Down Memory Lane" 30th May :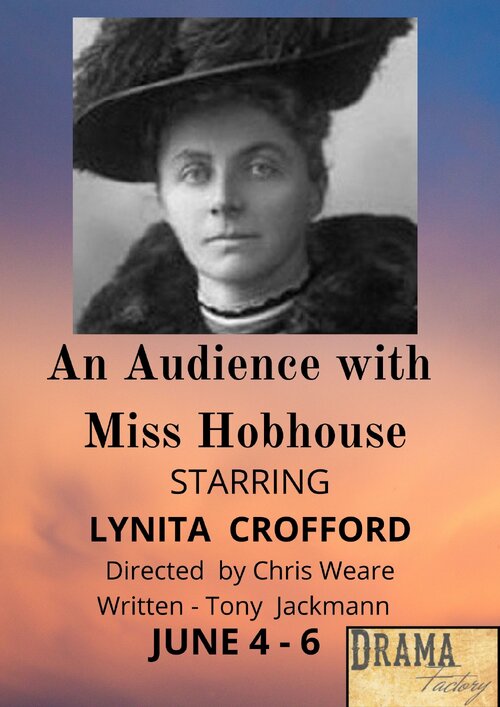 In this, Award Winning, one woman show Lynita Crofford plays both Englishwoman Emily Hobhouse who campaigned for the rights of women and children during the Anglo Boer War,of 1999-1902 and Tant Alie Badenhorst, a Boer woman held in a British concentration camp.
The play celebrates the strength and courage of women and reminds us of the dreadful atrocities committed on our soil.
Directed by Christopher Weare . Written by Tony Jackman.
'Engrossing Potrait of a Spirited Woman 'Beverly Brommert - Cape Argus
'Timely nod to a largely unsung humanitarian" Tracey Saunders - Cape Times
'Lynita Crofford is captivating as she alternates between Emily Hobhouse, campaigner against the camps' inhumane conditions, and Tant Alie, a resolute boere vrou kept in one of the camps' -Alexander Mathews CUE NAF
ABOUT THE PLAY: An Audience with Miss Hobhouse delves into the world of Emily Hobhouse, who devoted a good part of her adult years to bringing the plight of Boer women and children to the attention of her British fellow countrymen. It is a one-act play in which the actor plays both Hobhouse - in her later years - and a Boer woman, Tant Alie, who was a genuine victim of the British actions against the Boers in their concentration camps, and whose memoir Hobhouse translated into English some years after the end of the war. A handful of bit players also come on stage - troops, war correspondents and the like - as Miss Hobhouse, supposedly addressing a West End of London theatre audience in her last years, reflects on her role in the conflict, and her only partially successful efforts to make the British public understand how badly the plan by Lord Roberts and later Lord Kitchener to bring the Boers to heel by incarcerating their women and children had gone awry.
Lynita has a BA(Drama) from the University of Pretoria and has worked extensively in the industry as an actor, theatre maker, TV Presenter, voice artist ,lecturer and newsreader. In September 2020 she won a Naledi Best Performance award for her portrayal of Alice B.Toklas in Gertrude Stein and a Companion and in 2019 she was awarded the Best Performance by a Female award at the Dublin International Gay Theatre Festival in Ireland for the same role. Lynita first performed An Audience With Miss Hobhouse at the Intimate Theatre in Cape Town in 2012 and in 2013 was nominated for a Fleur Du Cap Solo Performance award for her portrayal of Emily Hobhouse and other characters in the play. The production also won an Ovation award at the National Arts Festival in Grahamstown in the same year. In December 2020, under strict Covid 19 protocols Lynita returned to the stage with An Audience With Miss Hobhouse at the Royal Arts Town Amphitheatre in Riebeek Kasteel for two performances. Lynita has appeared in many international and local movies Including Holiday in The Wild (Netflix) The Wedding Party 2 (Netflix) Safe House and Chronicle .She also recently appeared in local TV series Afgrond ,Die Sentrum and Signal High 2 . Lynita can also be heard reading the news on LM /Magic 828 AM from Monday to Friday between 1-6
Book Tickets for An Audience With Miss Hobhouse :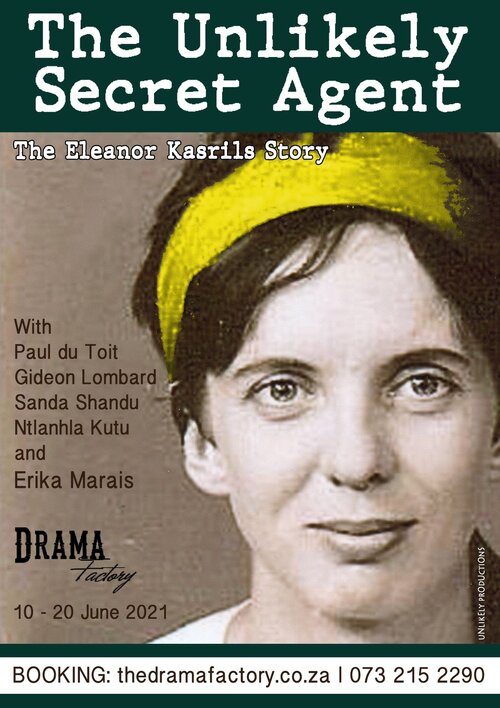 Eleanor, an unassuming, young single mother is arrested at Griggs Bookstore where she works in Durban and taken for questioning. The police are on the hunt for her lover, the notorious "terrorist", Red Ronnie Kasrils. She finds herself detained under the 90-day detention act and brutally interrogated. They will "break her or hang her". Written and directed by award winning actor and playwright, Paul du Toit and based on the Alan Paton Award winning book by Ronnie Kasrils, The Unlikely Secret Agent tells a true story of bravery and hope in the face of seemingly insurmountable odds.
It's 1963, South Africa. The country is on a knife edge. Political protest, sabotage and violence has engulfed the country. Government forces of the Apartheid regime, under Hendrik Verwoerd, brutally suppress resistance. Under the State of Emergency, the feared Special Branch of the police arrest anyone suspected of being involved in underground activities. Ronnie is wanted for his involvement in a string of sabotage bombings of electricity pylons, the Durban post office and the offices of the Special Branch. There is no point in her resisting, the police "know everything". But do they really? Eleanor is keeping a secret. She is a clandestine agent for the Underground ANC. But she must protect her comrades and Ronnie. She makes the daring decision to fake a nervous breakdown in order to be transferred to a psychiatric institution. From there, she begins to plot her escape.

Creative Team: Paul Du Toit - Has recently performed in Two to Tango at the Drama Factory as well as the NAF in Makhanda. He has won both a Naledi and Fleur de Cap award for his performance in Hedwig and the Angry Inch, as well as a Fiesta for best actor in Melk en Vleis. Erika Marais - Has performed her one woman show Jam Every Other Day, at the Drama Factory and NAF Makhanda in 2018, as well as Your Perfect Life at the Drama Factory,Alexander Bar and 44 on Long Street and won a Standard Ovation Award in 2019. Hannes Coetzee -is currently the Head of Culture and HOD for Drama at Curro Hermanus Independent School, and has previously worked in commercial and corporate events management.

Book Tickets for The Unlikely Secret Agent: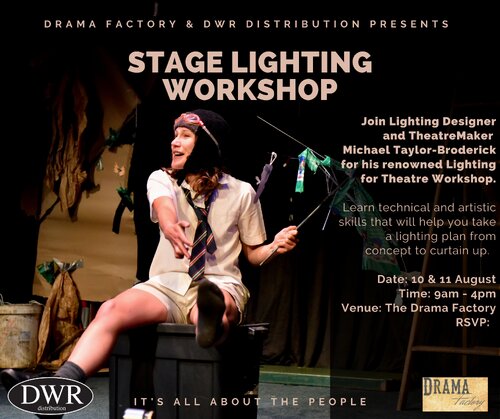 Join award-winning Lighting Designer and Theatremaker, Michael Taylor-Broderick as he presents his renowned Stage Lighting Workshop. This is a two day workshop.
If you are young (or young at heart), with a passion for both the technical side of theatre and the creative elements involved in theatre lighting, then this workshop is a must!
As your knowledge increases over the two-day course, Michael will take you on a journey presenting unique insight into his previous shows and experiences, while sharing practical ideas & skills.
And as Michael always says, "Learn, and your love for theatre will deepen."
The topics include:
The Aims and Objectives of Stage Lighting
An overview of Lighting Fixtures
The Controllable Properties of Light
Lighting Positions and Angles
Colour and Colour Temperature
Creating a Lighting Plan, from page to stage.
Understanding Lighting Consoles
The Role of the Lighting Designer
The Motivation behind a Light Source
Design Elements
Design Principles
Case Studies
Hope to see you there!
Book Tickets for Lighting Workshop :