The Drama Factory is an independent, intimate theatre for Somerset West, Strand and surrounds!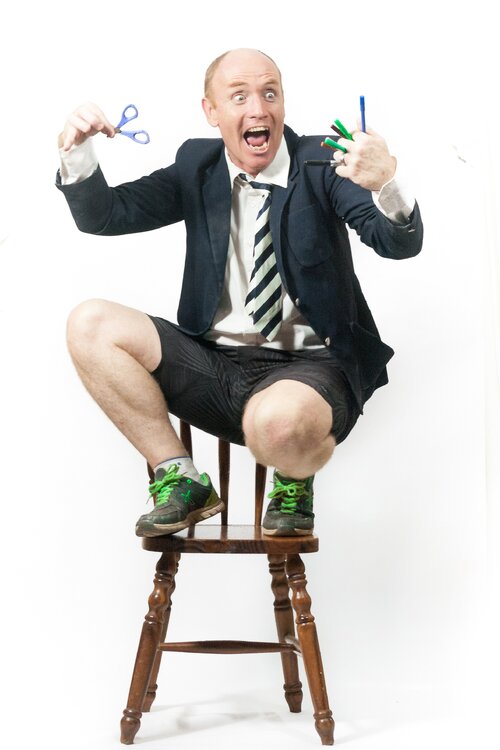 Join us as we welcome back the hugely popular Aaron McIlroy in his hit show ADHD as he embarks on a wild and whacky journey into the fantastical world of learning disorders!
Facts and theories are turned on their heads as we get a bird's eye view into the chaotic and beautiful mind of Aaron McIlroy, who has lived with this 'gift' for the last half century. Quips Aaron about his show: "If not exactly autobiographical, I certainly have inside information!" The veteran comic's hugely popular brand of humour has spiced up the theatre scene over several decades. Billed as a comedic steamroller without GPS, ADHD is scripted by Aaron McIlroy and Patrick Kenny, and directed by Kenny.
Aaron Mcilroy is a creative tour de force. his ability to key into the relevant themes in our society and expose the" funny," is a gift that is unique and precious. Mcilroy's long list of hit shows include abbamaniacs ,the loser, comedy masterclass but to name a few. Aaron is also a familiar face on the big screen having recently played the role of Spuds crazy dad in all three of the movies in the franchise. This multi award winning, multi talented performer brings his vast array of skills to the production of ADHD which has been leaving audiences rolling in the isles and is guaranteed to leave you in the same state! This is one performance not to be missed.
Book Tickets for ADHD with Aaron McIlroy :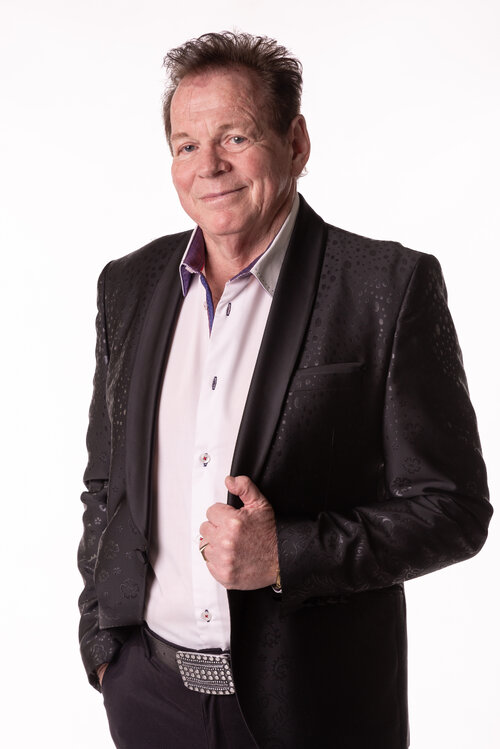 Possessing a singing style, appearance & voice strikingly similar to Sir Tom Jones, Steve Ashley, the frontman of The Staccatos, famous for the best-selling seven single hit, "Cry to Me", will be treating his audience to iconic Tom Jones hits like "I Who Have Nothing, Delilah, I'll Never Fall in Love Again, Green Green Grass of Home", Till" and many more, as well as popular songs of "friends", like Engelbert Humperdink's "Last Waltz", Elvis Presley's "Suspicious Minds", Michael Bolton's "When I am Back on my Feet Again", Neil Diamond's "I Am I Said", amongst others, in his "Tribute to Tom Jones & Friends". A show not to be missed by of one of the most powerful and unique voices in S.A.!
Photo Credit: Freek Du Toit
https://www.facebook.com/SteveAshleyStaccatos ; https://www.facebook.com/groups/steveashleystaccatos/
Does the 1968's recording of the Staccatos hit "Cry To Me" take you back in time?
To this day, the song holds the record as THE BEST-SELLING SEVEN SINGLE ever released in the history of SA!
The Staccatos was formed in 1961, disbanded in 1999 and reunited under Ebeth Loots' management in 2019 with Steve Ashley on Lead Vocals again! Ebeth is also Steve Ashley's manager. THE STACCATOS received a 'Lifetime Achievement Award' for their contribution to the music industry over the past 60 years, on 28 April 2021 at the 'Afri Indie Artists' Awards' hosted at Platteland in Pretoria!
"THE BOYS ARE BACK" after a 20 year absence from the Music Industry and are touring countrywide!
TOM JONES & FRIENDS
'What's new pussycat?' Steve Ashley is 'burnin' down the house' with the ultimate Tom Jones & Fiends Show!
Renowned and respected for his rich vocal power, unique style, dynamic stage personality, surreal humour and flamboyant theatrical performances, Steve Ashley possesses a singing style, appearance and voice strikingly similar to that of Sir Tom Jones. Steve has also appeared on the "Noot vir Noot" television programme and their road show, performing the music of Tom Jones.
Steve Ashley's Tribute to "Tom Jones & Friends" is an entertaining act, covering decades of hits of Tom Jones and friends: Engelbert Humperdink, Elvis, Michael Bolton, Neil Diamond and a few more surprises.
Some of the smash hits of these celebrated icons that his audience can look forward to, include:
Green Green Grass of Home, Help Yourself, It's not Unusual, What's new Pussycat, Love me Tonight, Sexbomb, I'll never fall in love again, Delilah, I who have nothing (Tom Jones), Man without Love, Please Release Me, Last Waltz (Engelbert Humperdink), When I'm Back on my feet again (Michael Bolton), Suspicious Minds (Elvis) & I am I said (Neil Diamond), Till & more.
"Steve Ashley raised the roof of The Boardwalk Casino (PE) and Guild Theatre (East London) and then brought it down again with his stunning performance, singing Tom Jones' hits in the same style as the Welshman".
Don't miss this show of one of the most powerful and unique voices in S.A.!
Bookings essential.
Book Tickets for Tribute To Tom Jones & Friends - Steve Ashley: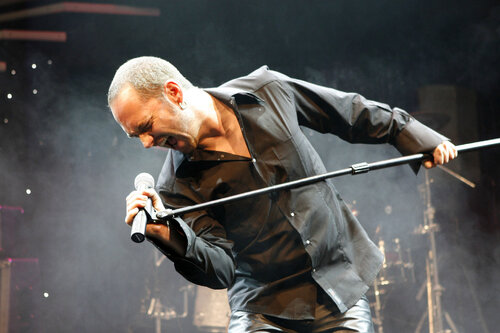 Clint Cunningham's one-man show dubbed, "From Creedence to Cocker" is full of crowd favourites, hilarious stories and 1 or 2 unique originals. Robbie William's hit song, "Let Me Entertain You" embody and echo Clint's passion. Fasten your seatbelts for take-off as Clint Cunningham prepares to take you on a magical, musical journey that will leave you entertained and wanting more!
Clint Cunningham, who has carved out an illustrious career, a well-known brand and legendary name for himself in the music and entertainment industry as a vibrant, remarkable entertainer and consummate performer; singer / songwriter / guitarist; engaging M.C.; mesmerising storyteller and celebrated, renowned frontman of the phenomenal rock band, Clint & Co, will putting in a first appearance at The Drama Factory

With 33 years' experience in the music & entertainment industry (from pubs & clubs to festivals & corporates), singer/acoustic guitarist/songwriter/entertainer, Clint Cunningham is happiest with his band on a supper theatre stage. Frontman of renowned rock band Clint & Co.'s Clint Cunningham needs no introduction! Clint & Co.'s Creedence Clearwater Revival tribute show packs Barnyard Theatres countrywide. His show "Midnight Hour" was a huge success at Richard Loring's Soundstage in Midrand.
Known for his big rock voice and his even bigger onstage persona. Clint is a natural born entertainer... his show is not to be missed!
Youtube links:
Clint Show Reel
Clint & Co Corporate
Clint & Co Show Reel
Clint CCR Philharmonic
Proudly South African
Having garnered a wealth of experience in the world of showbiz Clint Cunningham, quintessentially a born performer, never fails to illuminate and ignite the stage with his powerhouse vocals and magnetic personality. Captivating his audience and holding them spellbound and wonder-struck from start to finish with his superlative performances, is what sets Clint Cunningham apart from other entertainers! Equally at ease on and off stage, Clint Cunningham exudes a charisma and an aura that leaves his audience breathless and exhilarated. His zest for life is infectious, his confidence is inspiring and his interesting anecdotes ingeniously interwoven with comedy and wit, resonate with his audience and endears him to them.
No stranger to South African audiences, Clint Cunningham's highly-acclaimed, sell-out shows, such as his Creedence Clearwater Revival Tribute (he performed it as a solo artist in 2008 at Carnival City's Big Top Arena to over 1 500 people); his U2 Tribute, "Joe Cocker and Friends", "Clint & Co. … the best of" and "The Midnight Hour" have been performed at all the top theatres in the country and have received rave reviews. Clint and his band have toured Zimbabwe several times, Maputo and Swaziland, Cape Town as well as the Garden Route with resounding success, while Clint's spirit for adventure and desire to expand his horizons, have led to him perform in the U.S.A. and Monaco.
Book Tickets for CLINT CUNNINGHAM of CLINT & CO. PROUDLY PRESENTS "FROM CREEDENCE TO COCKER":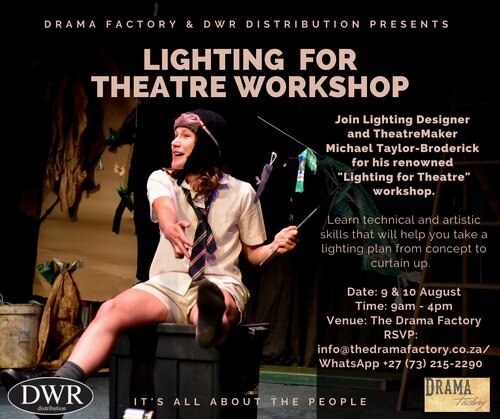 Join award-winning Lighting Designer and Theatremaker, Michael Taylor-Broderick as he presents his renowned Stage Lighting Workshop. This is a two day workshop.
If you are young (or young at heart), with a passion for both the technical side of theatre and the creative elements involved in theatre lighting, then this workshop is a must!
As your knowledge increases over the two-day course, Michael will take you on a journey presenting unique insight into his previous shows and experiences, while sharing practical ideas & skills.
And as Michael always says, "Learn, and your love for theatre will deepen."
The topics include:
The Aims and Objectives of Stage Lighting
An overview of Lighting Fixtures
The Controllable Properties of Light
Lighting Positions and Angles
Colour and Colour Temperature
Creating a Lighting Plan, from page to stage.
Understanding Lighting Consoles
The Role of the Lighting Designer
The Motivation behind a Light Source
Design Elements
Design Principles
Case Studies
Hope to see you there!
Book Tickets for Lighting Workshop :