The Drama Factory is an independent, intimate theatre for Somerset West, Strand and surrounds!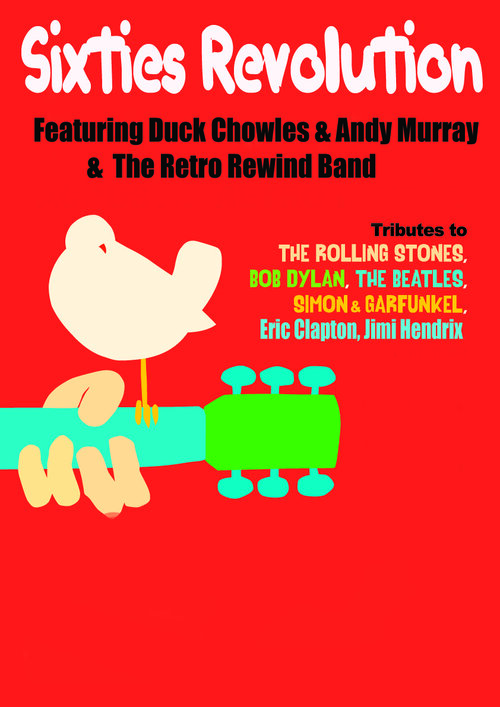 Back by popular demand, The Sixties Revolution" is a special tribute to The Rolling Stones, The Beatles, Bob Dylan, Jimi Hendrix, Eric Clapton, The Doors and Simon & Garfunkel
Duck Chowles, Andy Murray & The Retro Rewind Band brought you the highly-acclaimed, "Simon & Garfunkel meets The Beatles" show. Now they are back to pay tribute to a decade, the '60s, that marked a time when pop music became more than a teenage fad, but an important art form in its own right, as its sound tracked the hippie heyday & the Vietnam War.
With his superb energy & vocal range and his uncanny ability to perfectly mimic artists down to the finest idiosyncrasy, mercurial Duck Chowles, South Africa's Rock 'n Roll chameleon, who has won acclaim for his spellbinding and sterling impersonations of Mick Jagger & The Rolling Stones, will captivate the audience, as he pays authentic tribute to these musical greats with hits such as "Honky Tonk Women", "Jumping Jack Flash", "Paint it Black" & "Ruby Tuesday".

Duck will also pay a heart-warming tribute to one of the greatest singer-songwriter poets, Bob Dylan, with songs like "Blowing in the Wind", "Just like a Woman" & "Mr Tambourine Man". Inimitably dexterous on lead guitar & vocals, Andy Murray, who has won a prize for "Best Instrumentalist" & "Best Lead Guitarist" and been hailed as a "mean guitar player" will pay tribute with some blistering guitar solos to two of the most influential guitarists of the '60s: Jimi Hendrix with "Purple Haze" & Eric Clapton with "Sunshine of Your Love". Duck Chowles & Andy Murray also achieve the perfect harmony blend, one of their trademarks, for Simon & Garfunkel hits like "The Boxer" & the iconic, "The Sound of Silence", as well as for The Beatles' "Norwegian Wood" & "Nowhere Man". The show also takes you down the highway with "Born to be Wild" by Steppenwolf and Jim Morrison & The Doors' "Riders on the Storm" & "Roadhouse Blues". "The Sixties Revolution" is a show strictly for all ages and music tastes, a show celebrating all styles of music, song & timeless classics, that will have the audience carried along on a flood of good vibrations. A crowd-pleasing show that will treat '60s music nostalgists to an exciting musical journey into the past!
The Retro Rewind Band features musical genius & celebrated performer, Duck Chowles, of Barnyard fame, on acoustic guitar & vocals, Andy Murray, also of Barnyard fame on electric & acoustic guitars & vocals, as well as accomplished, like-minded musicians, Alan Llyod on drums & bassist Karl Hering, who both also performed in various Barnyard productions. Eastern Cape-born-rock and roll artist, Duck Chowles, who is a producer extraordinaire, is a household name and together with Andy Murray, has been on the forefront of the South African entertainment industry for more than 3 decades. They started working together in 1993 in a Tribute to The Rolling Stones called Sticky Fingers at the National Arts Festival in Grahamstown and continued performing together in countless hit shows such as Sixty Something, Roll over Beethoven, Glory Days, Station 70 and many more. This cast of highly professional musicians have paid their dues and have earned the respect of aficionado (fans) of '60s music!
Book Tickets for The Sixties Revolution: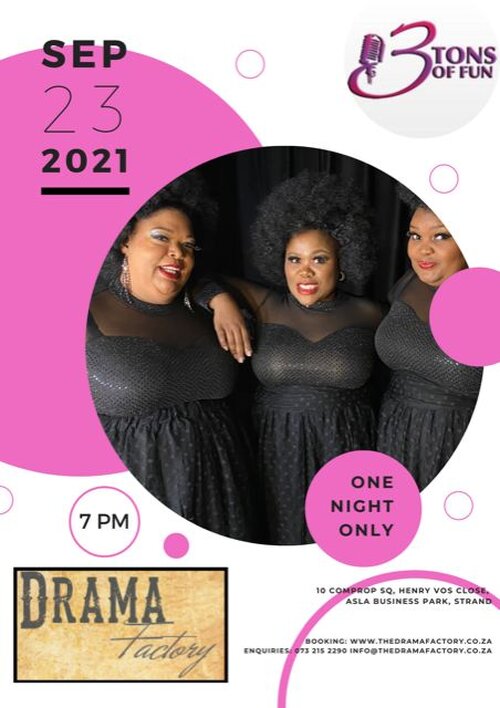 Thrilled to be performing live again, 3 Tons of Fun promise a night of fun, positive energy, big smiles and great music. As one of South Africa's best loved and longest running all female vocal groups, they continue to be in demand whenever they perform. Their body positive message is an inspiration especially for women of all ages, shapes and sizes and the reinforcement that not only slender women are sultry and glamorous. It's one night only of all your favourite songs & some new material too.
Having met at an audition in 2007, these three ladies have a special chemistry onstage and despite all that has been thrown at them over the years, they are always smiling, laughing and making their audiences forget their troubles and enjoy music. "Excellent show. They had the audience dancing in the aisles" - Bridgette "I have seen them before, and they impress every time" - Robert "Would see them again. Outstanding and didn't want the show to end" – Claire
3 TONS OF FUN formed in 2007 following some lengthy auditions for an act to perform at Madame Zingara.'s Theatre of Dreams. The three ladies come from different backgrounds with a common goal, a passion for singing. Nontokozo Sithembile Mfuphi (aka Saxy Sthe) has her roots in KwaZulu Natal studying jazz at the Natal Technikon before moving to Cape Town in 2002. A talented songwriter as well, she penned three of the original songs on the group's album "Larger than Life" that was released in 2015. She is shortly going into the studio to record some more original music.
Bulelwa Sakayi (aka Beautiful Bee) is from East London in the Eastern Cape and she moved to Cape Town to study chemical engineering but gave that up to pursue a career in the performing arts singing and acting and has appeared in a number of film productions and advertisements.
Michelle Thomas (aka Mysterious Michelle) is born and bred in Cape Town. She began a BA degree at University of Western Cape before realising that her passion was to sing and perform probably influenced by her drummer father who she lost at an early age.
Over the past decade 3 TONS OF FUN have travelled extensively performing around the globe in far off places such as Vietnam, Italy, France, Dubai, Zambia and Switzerland. From international dignitaries, visitors and VIP's to ordinary citizens, no one sits still when 3 TONS OF FUN perform and this show is no different.
Book Tickets for 3 Tons of Fun live for One Night Only: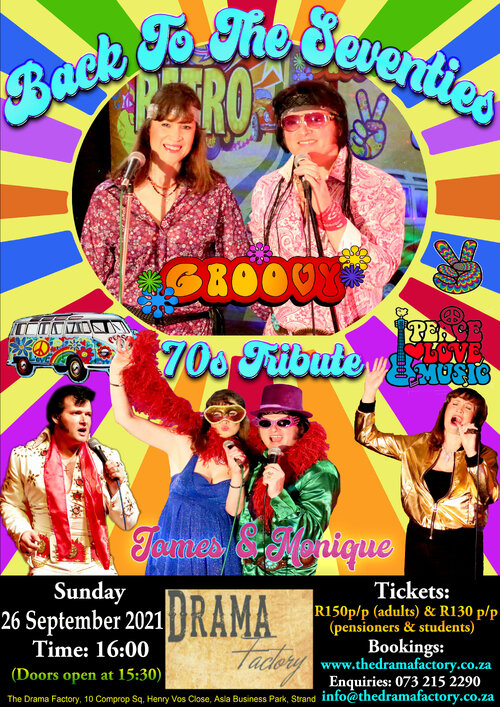 James Marais and Monique Cassells' new oldies tribute show, "Back To The Seventies – '70s Tribute" features memorable songs by great artists from the diverse decade of the 1970s. Featuring the Doobie Brothers, Smokie, Creedence Clearwater Revival, Bachman Turner Overdrive, Stealers Wheel, ABBA, Neil Diamond, the Carpenters, Elvis Presley, Queen, Cliff Richard, and more. As with all their tribute shows, you can expect a mini-theatrical experience, featuring the dynamic vocal and visual performances of James and Monique, alternating as a duo and individual performers, who also do multiple costume changes throughout.
James and Monique are renowned for their oldies tribute shows, which have brought them sold-out attendances at countless venues at which they have performed together since 2009. Their productions previously successfully performed at The Drama Factory include the ever-popular "Oldies But Goldies", "From Memphis To Las Vegas: An Elvis Presley Tribute", "The 70s Vs '80s Tribute", "Old School Country Legends Tribute" and "A Trip Down Memory Lane".

James is the no. 1 Elvis Presley tribute artist in the country, and has appeared on television several times, including appearances on SABC 2's game shows, "Noot Vir Noot" and "Musiek Roulette", as well as Kyknet's "Jou Show", presented by Emo Adams.
He shows his versatility with songs by legendary artists such as Cliff Richard ("Devil Woman"), Neil Diamond ("I Am I Said") and Stealers Wheel ("Stuck In The Middle With You"), as well as a '70s Las Vegas Elvis Presley tribute.
Monique is a very accomplished vocalist, having performed many different genres of music over the years, including rock 'n roll, rock, pop, country, blues, ballads and even light classical. She made her television debut on SABC 2's "Musiek Roulette" in May 2018.
Monique,
has gained widespread praise for her powerhouse voice and performances, and she continues to showcase her versatility with tributes to greats including The Carpenters ("We've Only Just Begun"), ABBA ("Mamma Mia"), Queen ("We Are the Champions") and Bob Seger ("Old Time Rock 'n Roll").
Come and enjoy a show that guarantees to bring back a flood of memories from the 1970s!
Book Tickets for "BACK TO THE SEVENTIES":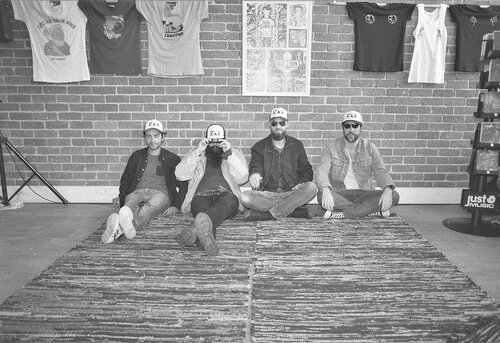 Hatchetman brings us "(R)Evolution" which won them a Standard Bank Ovation Award (VirtualNAF2020) and takes you on a thrilling journey of acoustic and electric guitar based music, underpinned by a once in a generation three part vocal harmony blend. For lovers of Folk, Country, Americana, Singer Songwriter, Rock and Roll and Blues.
September 2021 marks Hatchetman's 8th year of existence in the South African music landscape. Having toured both locally and abroad through the years, won major awards, gone through the usual trials and tribulations of being a band and generally performing to enormous critical acclaim, the band hits the road for a first tour since the Global events of 2020.
Along with that comes the release of brand new Hatchetman recordings that the band spent much of lockdown getting ready for release. With this latest musical offering, the band had clearly audibly undergone a shift in songwriting, style and intent. Live, the band delivers their customary tight and punchy musical accompaniment, while never forgoing their trademark three-part harmony blend that marks them out as being cut from their own cloth.
The band is touring their Ovation award-winning show "(R)Evolution," a show they debuted in the inaugural Virtual National Arts Fest in 2020 in which the full breadth of the four members's musicality is displayed across a full set of original material.
"one of my personal favourites, Hatchetman's impeccably rich and harmonious textures and mellow, Simon and Garfunkel-esque folk" – written by Tecla Ciolfi of Texx and the City
Visit their website to learn more about Hatchetman - https://www.hatchetmanband.com/music
More on the Band Members:
The band consist of 4 members: Jono Tait, guitarist, singer and songwriter, is the son of Richard and
Retha Tait, owners of the Alma Café, one of Cape Town's premier live music venues. A spirited
character, Jono is very candid in his lyrics as well as his onstage interaction with the crowd.
Matt Catto is the beating heart of the band with his percussive skills (on both cajon and full kit) and
his ear for magic harmony lines. Given his upbringing and family background, it was kind of
inevitable that Matt would turn out to be a master musician. A member of the Blundell family clan, a
prodigious musical family from Cape Town whose roots stretch right back to the origin of the South
African folk music scene in the 60's, Matt recalls some of his earliest childhood memories being
around music and musicians, specifically singing harmonies.
Nick Catto, bass guitar and vocals. Like his brother Matt, music has always played a massive role in
Nick's life and it was pretty much a foregone conclusion that he would also follow in the footsteps of
family members before him. As someone that has been playing the circuit for many years now and
with other artists and genres too, Nick brings an array of influences to the table when it comes to his
bass playing.
Stephane Corneloup completes the picture. A classically trained concert pianist, Steph abandoned
his studies in favour of the electric guitar. His subtle approach to the music and French flair for
delivery has been the catalyst for the band to really open up and start testing hitherto uncharted
musical terrain.
Book Tickets for Hatchetman (R)Evolution: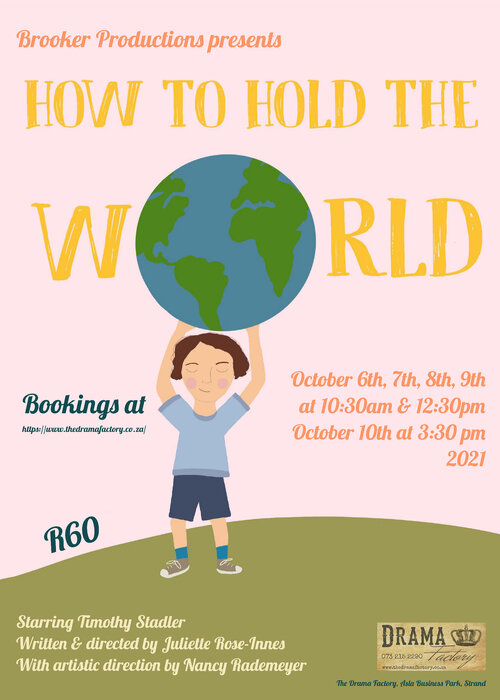 How to Hold the World debuts at The Drama Factory! When a young boy, played by Timothy Stadler, is tasked with holding up the world, he faces the scary (but rewarding) prospect of growing up. He learns that being alone doesn't mean being strong, being helped doesn't mean being selfish, and bravery is about being open to imagination and friendship.
Join us on an exciting adventure full of dancing with the moon, playing with the stars, and very big birds.
This play is fun, imaginative, immersive (in a covid-conscious kind of way), visually appealing, and thought-provoking. Also... there's a penguin.
Along with the play, writer Juliette Rose-Innes, has written a book illustrated by Caitlin Goodwin. This book can be enjoyed whether or not you or your children/students have seen the performance, and follows a very similar story of embracing life and accepting help. The book will be on sale in the foyer.
How To Hold The World is brought to us by award winning producer Jeff Brooker, whose beautiful Every Brilliant Thing wowed our audiences earlier this year. This stable can also boast an Ovation award for their version of The Syringa Tree which starred Nancy Rademeyer.

Artistic Director: Nancy Rademeyer
Illustrations: Caitlin Goodwin
Produced by Brooker Productions
Timothy Gian Stadler is a performer and theatre practitioner. His love for theatre was ignited when he played the, very important, role of the fieldmouse in his pre-school play. However, the more 'conventional' theatre roles began when he got involved at the Playhouse Theatre in Somerset West after a high school production of Shakespeare's Two Gentlemen of Verona. Here, he would go on to act in To Kill a Mockingbird (2014) and Blood Brothers (2016) – the latter of which opened again at the Artscape Arena Theatre the following year. Currently, he is a Theatre and Performance student specialising in Acting at the University of Cape Town, and has worked on various productions with the university, including Tristan Bernays' Boudica (2019) and Closer by Patrick Marber (2021). This year, he starred in Mwenya Kabwe's Theatre is Dead! Long Live Theatre – a response to the National Arts Council's withholding of performance funding, and a comment on the value of artistic practices. Tim enjoys three things: long walks on the beach, long walks on the beach, and long walks on the beach (of course, he thinks theatre is great too).
Juliette is a Performance Maker, Writer, Director, aspiring Dramaturg, and general creativity enthusiast who will do anything to be near a theatre. She believes that the arts have the power to facilitate positive change, and she is passionate about creating a safe space for her performers both inside and outside the rehearsal studio. She wants to make work that has people saying: "Yes, I see myself in this. That's exactly how people act, and a beautiful depiction of my own lived experience!" – however, she will settle for "that was pretty cool" and semi-enthused applause.

Juliette has been writing books and poems with crayons and stickers since she had motor-skills. Since then, she believes that she has come a long way (although she still loves crayons and stickers). She is completing her Fourth Year in Theatre and Performance, specialising in Theatre Making, at UCT. She hopes that this proves something to her extended family. In 2017, she was a finalist in the Scribe Scriptwriting Competition for her comedic commentary on what it means to be a human in the 21st century. She has previously been published in The Sol Plaatje European Union Poetry Anthology (2018), Good Housekeeping Magazine SA (2017), and English Alive (2016 & 2017).
Nancy Jeanne Rademeyer is a performance artist focusing primarily on acting and scenography. She is currently in her fourth and final year at the University of Cape Town for Theatre and Performance specialising in Scenography. Nancy's love for performance started at the age of five when she played the singing and acting role of Mary Magdalene in a nativity play. Followin
g her passion, she was in various productions throughout high school. In 2016, she participated in The Artscape High School Theatre Competition, performing the lead role in The Reason – where she was nominated for Best Actress. Her most recent role was for a one-woman show – The Syringa Tree by Pamela Gein. She performed in the National Arts Festival 2019 in Makhanda, where she was awarded a Standard Bank Ovation award for her performance. The show also enjoyed a successful run at The Drama Factory. She has been training for the past three years in Scenography at UCT – this is visual theatre making, and the art of creating the world on stage through design, set, costume, lighting and sound. This training has not only made Nancy more skilled and passionate about performance, but has changed the way she views the world.
Jeff Brooker is an award-winning producer, director, and theatre administrator/strategist. His debut professional work as a director was the Owatonna Production of The Syringa Tree in 2017 with Kyra Rahn. When returned to South Africa to pursue a bachelor's degree in theatre making at the University of Cape Town, he revised and reproduced The Syringa Tree with a new actress, Nancy Rademeyer. This production ran at the National Arts Festival Fringe, where it won a Standard Bank Ovation Award. It was selected for a run at the Drama Factory in Somerset-West. He then began work on bringing a collective of eight shows to the National Arts Festival in 2020. However, due to the pandemic, this did not occur. He recently directed and produced a new production of the one-man comedic-drama solo show, Every Brilliant Thing, with Liam Walsh – which ran at The Drama Factory earlier this year. The student collective model is currently being re-envisioned as a UCT theatre-making festival, under the mentorship of Jefferson Tshabalala, to occur at the end of 2021. Jeff is envisioning a theatrical future in South Africa that is sustainable for both artists, audience members and businesses alike. In 2019, he created Brooker Productions – a production house that seeks to create long-lasting business and artistic growth in the South African industry. The company produces theatre, and provides strategic consultation to developing industry members.
Book Tickets for How to Hold the World :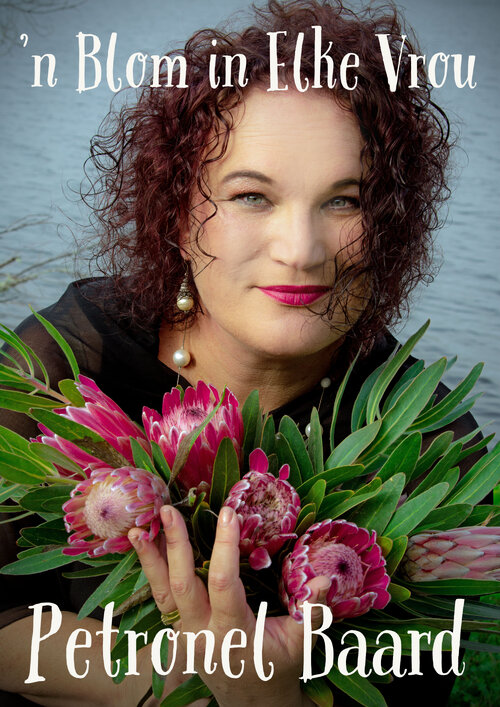 'n Poëtiese reis deur die vier seisoene in 'n lig, klassieke styl met die musiek van Petronel Baard, Lelanè van der Merwe (tjello), Johan Engelbrecht (kitaar, viool en perkussie) en Franco Engebrecht (klavier).
"Soos daar 'n blom is in elke vrou, is daar 'n blom in elkeen van ons. Soms voel ons ontwortel. Soms is dit net die kaal takke van 'n winterboom wat moedig soos 'n skip sonder seil die lewensreis trotseer. Daarom gaan ons op 'n poëtiese reis deur seisoene, op soek na die wortels waar ons geplant staan, en waarmee ons groei." Só gesels die Suid-Afrikaanse sanger-skrywer, musikant en kunstefasiliteerder, Petronel Baard, oor haar nuwe produk "n Blom in Elke Vrou". Dié nuwe produksie, meesal oorspronklike musiek uit Petronel se pen, sommige toonsettings, neem sy haar gehoor op reis in soeke na ons plek in Afrika, in die lewe en liefde. Die teks het verwysings na inheemse plante - by elke seisoen - deurvleg met gedigte uit die pen van Mardene Marais van Cordis Trust en is saamgestel met insae van die tuinboukundige Ernst van Jaarsveld, inspirasie uit Madine Swart se puik boek, "Flora se Geheime Taal" en vele gesprekke oor die liefde en lewe saam met plantaktivis, Jan Odendaal van "GreenforlifeSA." Vir die produksie tree Petronel saam met haar nuwe orkes op. Die orkesleier en pianis, is Franco Englbrecht, Johan Engelbrecht op viool en kitaar en Lelanè van der Merwe op tjello. Die verhoogontwikkeling, kostuums en dekor word deur Alta Scott van "Deur-die-Blare-Blomkuns" hanteer.
Die projek is ook 'n entrepreneursnetwerk te sien op www.petronelbaard.com/blom
Madine Swart (Skrywer) 'N SEISOEN OM TE BLOM
Dis Junie-maand 2021 en vier vriendinne is oppad na Mosselbaai. Na meer as 'n jaar se inperking is ons uitgehonger vir kuier en veral vir 'n vertoning…Die vertoning is oorweldigend. Ons het al amper vergeet hoe lekker dit is om deur kuns gevoed te word. Petronel se warmte en hartlikheid versprei soos die geur van boegoe. Seisoene word treffend aangekondig deur besonderse blomkrone, en die tema van elke seisoen word kreatief met gedigte en musiek afgewissel. Die orkes se wonderlike musiek spoel oor ons, en vul die unieke ruimte van die Dias-museum. Petronel se reis deur die seisoene bied veral in hierdie tyd 'n lafenis. Die produksie is 'n bevestiging dat kreatiwiteit selfs te midde van 'n pandemie kan blom… Hierdie produksie van Petronel en haar span is deel van 'n groter projek wat ons daaraan herinner dat ons mekaar nodig het. Viooltjies maak 'n klank as hul teen mekaar skuur, maar nie as hul alleen staan nie. Boegoe stel 'n lieflike geur vry as die blaartjies gevryf word.
Petronel beskik oor 'n uitsonderlike vermoë om mense aan mekaar te verbind en wil graag vroue bymekaar bring, sodat hulle talente en vaardighede "opgeteken" kan word. Sodra hierdie vertoning op pad is na jou dorp, laai jou vriendinne op en gaan vier vrouwees. "Want enige seisoen is 'n goeie seisoen om te blom."
Book Tickets for 'n Blom in Elke Vrou:
Brand new solo piece from icon Lizz Meiring - Tour de Forces & Forced to Tour
A portion of all sales will be donated to The Theatre Benevolent Fund In 2021 actress, director, writer, voice artist, producer and television presenter Lizz Meiring celebrates 50 years in the entertainment industry.
In 2021 actress, director, writer, voice artist, producer and television presenter Lizz Meiring celebrates 50 years in the entertainment industry.
Playing everything from Lady Macbeth to a "pop-up" toaster, Lizz has done it all. Almost 2000 productions later, she is still utterly in love with her industry, and the Arts profession in all its facets.
In "Tour de Forces/Forced to Tour" - Lizz relates anecdotes about her 50 years as a showbiz professional. A host of colourful characters form part of this witty, clever and entertaining production.

"Tour de Forces/Forced to Tour" is not strictly and autobiographical show. The content and themes are universal, reflecting the wonder, the chaos, the brittle beauty of the human spirit in all its facets.

Join us for an evening of intelligent, unique and memorable entertainment.
Book Tickets for Tour de Forces & Forced to Tour with Lizz Meiring :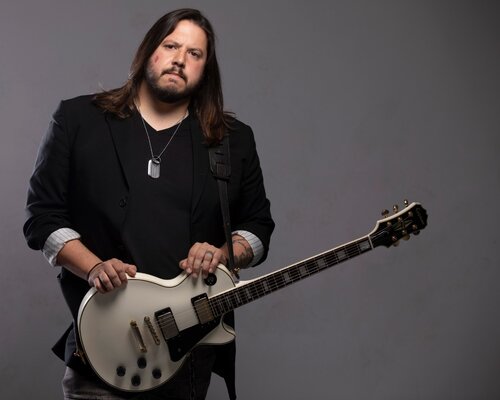 BACK BY POPULAR DEMAND! Mark Haze, one of South Africa's greatest singer/songwriters and runner-up of 2011 South African Idols Competition needs no introduction! He has firmly cemented himself as one of South Africa's premier live rock acts.
Chart-topping rock singer, Mark Haze, Known for his wide vocal range, for being a showman, his signature sound and a combination of high energy Rock 'n Roll, Mark does it again with his stripped down show that isn't actually stripped down! The show is as mesmerising as it comes. Watch as Mark builds from scratch with acoustic and electric guitar, drum machine and loop station! The show will feature some of Mark's favourite influences and covers throughout the history of Rock 'n Roll like Bon Jovi's hit "Dead or Alive, Guns 'n Roses' "Sweet Child of Mine", The Beatles' "Come Together", Pink Floyd's, "Brick in the Wall", and Queen's "Somebody to Love", to mention but a few classic favourites, as well as some of Mark's original material like "Monster", his brand new single (off his 'Authentic' album) that is currently charting, as well as other songs off his 'Authentic' album, and also his Top 10 hit single "Good Riddance (Time of your Life)".
Oozing on-stage charisma, Mark possesses the ability to command the largest of audiences, as well as connect personally with people when he performs at a more intimate venue – something not easily done when moving from large stages with a full band to a simpler acoustic setup where he is face to face with the audience. His powerful vocals, and soulful, skilled guitar playing, are a force to be reckoned with.
Mark Haze promises a show experience like no other can offer - an escape into a world where nothing else matters. You will find yourself lost in the moment –only the music will exist once he begins to sing. Expect soaring vocals and dynamic guitar work. Each performance is treated as though it would be his last!
"Good Riddance" ("Time of Your Life" – African Version – Mark Haze Live https://www.youtube.com/watch?v=BKvregyEQsU
"Come Together" – Acoustic Looper – Mark Haze Live Video https://www.youtube.com/watch?v=JETklWgDCCk
"Monster" - https://www.youtube.com/watch?v=_kiGcpPqLFY
Book Tickets for Mark Haze - Stripped Down Show: