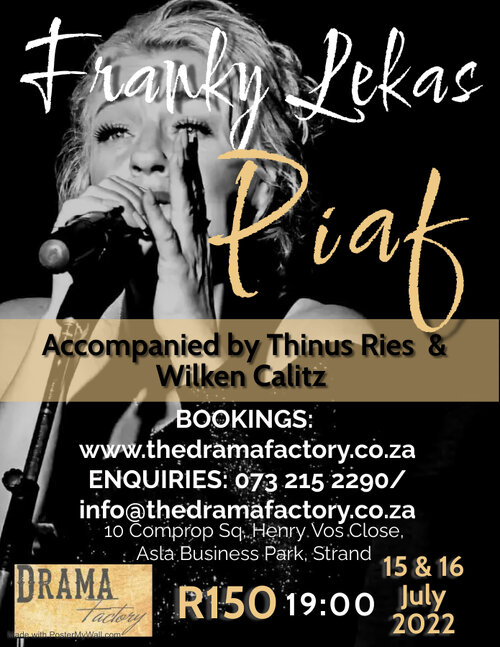 WTF Productions presents a moving tribute to the legendary singer Edith Piaf. The show with the original line-up of Franky Lekas and Thinus Ries was presented in the Crassula Hall, Betty's Bay during March 2022. In a letter to the editor of the Overstrand Herald (Kleinmond) and The Village News (Hermanus) it was described as magnificent, stunning, mesmerising and thrilling, and that Franky's powerful voice and Thinus' accompaniment were world class.
At The Drama Factory, the talented violinist Wilken Calitz will join Franky and Thinus, which will add a whole new dimension to the show. Franky will perform 13 of Edith Piaf's most famous songs like 'No Regrets', 'La Vie En Rose', 'Milord', 'Under Paris Skies', 'Chante Moi', 'Autumn Leaves' and 'If You Love Me'. In between the songs, which will be sung in English, Wilken will play solos of four more of Piaf's songs, namely 'The Little Sparrow of Paris', 'Padam Padam', 'Just Across the Way' and 'Allentown Jail'.
This emotional show will uplift your soul just as Edith Piaf has wanted it to be. We strive to re-live her legendary songs and singing in a performance that will be unforgettable.

There are up upcoming performances of this show available to book now. Browse here for other shows.