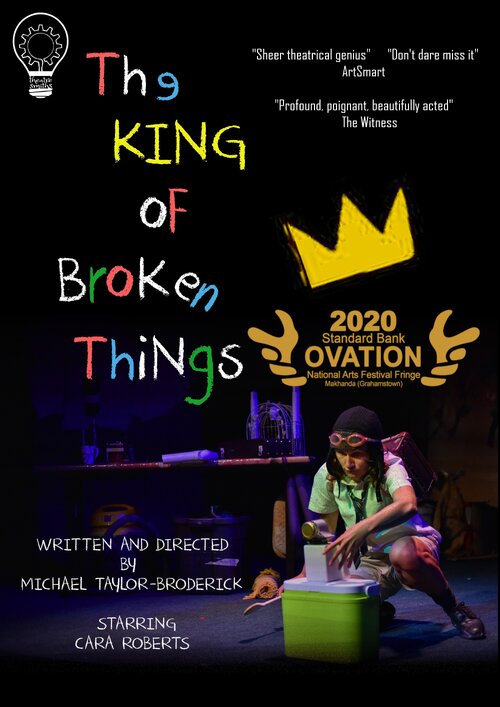 Internationally acclaimed, Gold Ovation Award winner (2020) The King Of Broken Things is coming to The Drama Factory.
The King of Broken Things is a journey into the broken heart of a young boy who teaches us that the rehabilitation of things broken and discarded gets to include people and hearts and how all things, seen and unseen, can be mended. The show touches on ancient Japanese traditions, mythology, and dreams, and reminds us of the magic that we so easily forget is everywhere. The King of Broken Things is a timely reminder to us all to think about the world and the repercussions of our actions, our thoughts, and the things we say. And how we mere mortals would do well to dwell more on the magic words – imagine, believe and dream.
Theatresmiths' 'The King of Broken Things' won a coveted Gold Ovation Award at the National Arts Festival in July last year. The show takes you on a bittersweet journey, a journey viewed through the unfiltered mind of a child, wise beyond his years. Whether you're 8 or 80, this story will rehabilitate every heart. Theatresmiths are a Durban based Theatre company founded by Theatrical Lighting Designer and Theatremaker Michael Taylor-Broderick. The company are a collective of theatre-makers renowned for their ability to weave beautiful stories (Jakob, The Place of Small Miracles) into their unique brand of magical realism.
Cara Roberts, the performer in the show has this to say, "The feedback we get after every show leaves me on a high for weeks, it's so exciting to get the opportunity to spread our magic into the wider world".
"The King of Broken Things" is a truly mesmerising piece of theatre, taking the audience on an incredible 45-minute-long journey, coming to an end far too soon, in my humble opinion. If you get the chance to see this wonderful production, don't dare miss it." - Barry Meehan - (Artsmart)
"Strongly recommended for any fan or student of theatre, The King of Broken Things is one of the best pieces of theatre I have seen in a while. Do yourself a big favour and see it!" - Billy Suter - (Sosuterbill)
"The King of Broken Things is profound, poignant and beautifully acted." _ Estelle Sinkins - Natal Witness
Invited to and performed at The Sharjah International Fringe Festival in Dubai in 2020

Cara Roberts (Performer) - is an actress born in Johannesburg, currently residing in Durban. She has graced many a screen and stage since her first on-screen appearance in Durban Poison as the female lead in 2012. She played Renee in Fynbos and Mark Read in Black Sails (Season 4). Cara has made appearances in many local and international films and music videos. She moved to Durban to further her theatre career. She was introduced to the city by Think Theatre, a company producing Shakespeare's works which the matriculants are studying. She has played the role of Desdemona in Othello for six years; and the role of Ophelia in Hamlet for the last three. The King of Broken Things is her first solo piece, where she plays a young boy struggling with the absence of his father. The show has been performed at the Hilton Arts Festival and the Umtiza Festival, garnering many accolades. It was written and directed by lighting and theatre genius Michael Taylor-Broderick. Cara has starred as Fern and Gussy the Goose in Kickstarts production of Charlotte's Web. She has also performed in children's theatre – A Froggie Fairytale and The Great Big Enormous Turnip; and extended her puppetry talents, creating The Place of Small Miracles, along with Bryan Hiles and Michael Taylor-Broderick, which spins a beautiful tale using direct contact and shadow puppetry, music, and visual effects.

Michael Taylor-Broderick (Writer/ Director) graduated from Natal Technikon with a diploma in Theatre Technology in 1993, obtaining the highest overall aggregate in the Faculty of Arts. He was the Durban Branch Manager of Entertainment Specialists, Production Projects for 5 years before going out on a limb to pursue a career as a Freelance Lighting Designer in 1999. He has since become a multiple award-winning lighting designer who has experience in every theatrical medium. Michael has been the Technical Director for the prestigious annual Hilton Arts Festival for the past 25 years and lectures on the subject of Lighting Design. Also, a playwright, director & writer, Michael's interest and involvement in such varying art forms are what keep him inspired, passionate, and relevant. He includes among his best work Fantastic Flying Fish Dance Company's Grass Gardens, Off-Axis & The Suit; Opera Africa's Rigoletto & La Traviata, Very Very Big Production's Nunsense and Joseph and His Amazing Technicolour Dreamcoat. His own works include 'Jimmy Time', 'The Spartan and The Lullaby', and Jakob', the latter receiving critical acclaim wherever it has played. Michael is also the brains behind "One Man One Light", a short performance piece based on the Italian "La Linea" television series. "One Man One Light" played to packed houses at the PLASA Industry Trade Show in the U.K. and at Prolight and Sound in Frankfurt, performing 33 shows in 3 days and went on to be invited onto the Main Festival program at the National Arts Festival in 2016. The King of Broken Things is his most recent work. Michael is the founder of Theatresmiths, a collective of Theatre Makers dedicated to exploring the 'magic' of theatre, he is currently employed as a Lighting Consultant for DWR Distribution.

Book Tickets for The King of Broken Things: