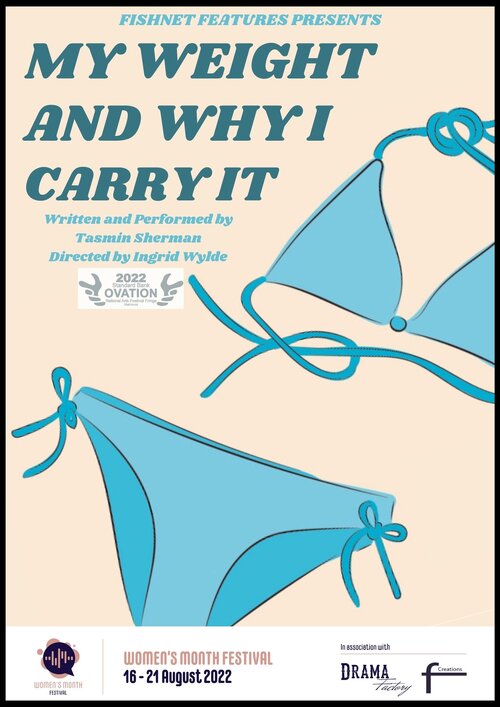 Standard Bank Silver Ovation Award Winner Tas Sherman presents My weight And Why I Carry It. One girl and her story of the most important piece of clothing in a young woman's life: a bikini. Sherman tells the tale of Vic and the events that led her to presenting herself in front of a strange audience.
My Weight And How I Carry It is an exploration of the playwright & actor Tas Sherman's life as a fat woman growing up in a fatphobic world. This humorous tale tells of the ups and downs of childhood female friends, the triggers, and those all complicated family relationships with 'The Thin Family!' This nuanced comedy looks at those intimate relationships which we all recognise. It is not a set of guidelines for how to handle fatphobia but there are a few tips to keep in your pocket after leaving the show.
Drawing inspiration from the playwright and performer's real-life experiences, the play tackles the tough subjects of fatphobia, tenuous family relationships, and the ways that a simple piece of clothing can impact one's life so meaningfully.
"Both funny and gut-wrenching as Sherman engages us clad in nothing but a skimpy bikini and a spotlight, with a sense of mourning as she addresses generational trauma and the silent violence prevalent in squads of preteen girls, revealing the many facets of fatphobia and her fraught relationship with food from childhood through early adulthood." - Casey Ludick
"poignant, funny and insightful "– Robyn Cohen
https://thecaperobyn.co.za/review-my-weight-and-why-i-carry-it-at-naf2022-poignant-funny-and-insightful/ - Review The Cape Robyn

Book Tickets for My Weight And Why I Carry It - Women's Month Festival: