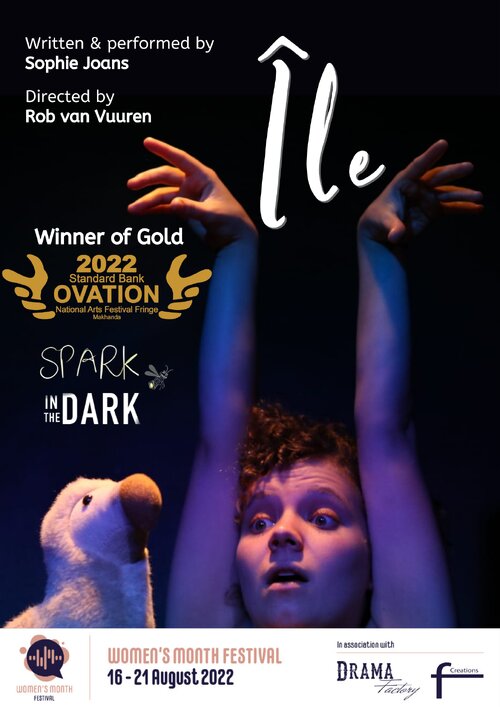 GOLD OVATION AWARD WINNER 2022 - Fresh from The National Arts Festival Île follows the story of a young girl who goes to visit her ancestral home: Mauritius. What she thought would be a nostalgic trip to a tropical island to connect with her late grandfather and meet her backwards extended family, gets all too real as darker characters emerge from the undergrowth of the volcanic island…
It's a story of coming-of-age, family feuds, and the hilarious insanity that happens when people stay in the same place for too long. A hilarious, heart-warming show about a girl trying to understand her mother & crazy family from Mauritius.
Sophie Joans is an award-winning theatre-maker from Cape Town with Mauritian roots. She studied theatre at UCT and Wits, and completed short courses in Clowning (RADA), Stand-Up comedy (Comedy Cellar) and Storytelling (Second City).
Her previous works include two-hander The Flower Hunters (2021 – Winner of Standard Bank Ovation Award) and puppet show Do You Dream In Colour (2018 – Winner of Zabalaza Festival's Most Innovative Play). She collaborated on the short film, Verloren (2021 – Winner of Standard Bank Silver Ovation Award). Île is her debut solo play.
Director Rob van Vuuren is a multi-award comedian, actor, director and writer. He has been bringing new work to the National Arts Festival for nearly 30 years. His previous directing work includes: KG Mokgadi's 'Heavy', Stuart Taylor's 'Funny You Should Say That', Bevan Cullinan's 'Gary the Tooth Fairy', Louw Venter's 'Best Man's Speech', Gaëtan Schmidt's 'Rumpsteak', Scott Sparrow's 'Isabella', and more.
Audience Feedback:
- Sophie was brilliant. We really LOVED it. Her performance was brilliant. Very powerful, and entertaining.
- Brilliant and wonderful and such a pleasure to watch. A gorgeous mix of stand-up and physical

storytelling. A really beautiful culmination of things. Such a wonderful thing to see. Fantastic,
hilarious, and so engaging. Love, love, LOVE. - Roberto Pombo
Reviews:
"It's a hell of a play. The writing is superb. It's fast, funny, and able to turn on a dime – from the outrageous and the absurd to moments of striking sincerity. It's a play that excavates and animates the aforementioned matrilineal lines as a point of connection, a search for one's personal history to better make sense of the present. We're just along for the journey, and happily so." - Dave Mann
"Sophie Joans' Île is a spirited spark in the dark, with enthralling comedic storytelling. It is a deliciously captivating piece of theatre. Comedy and stand-up comedy elements have been heightened, together with knockout physical comedy, astute use of props (wooden cubes) and activation of the stage space. Go and see Île, at a theatre near you. It is uplifting, funny and inspiring. The show reverberates in terms of our families (especially our mothers) our relationships, the stories we cherish,
https://thecaperobyn.co.za/review-sophie-joans-ile-is-a-spark-in-the-dark-magical-and-lyrical-storytelling-theatre/ - Review The Cape Robyn

Book Tickets for Île - Women's Month Festival :