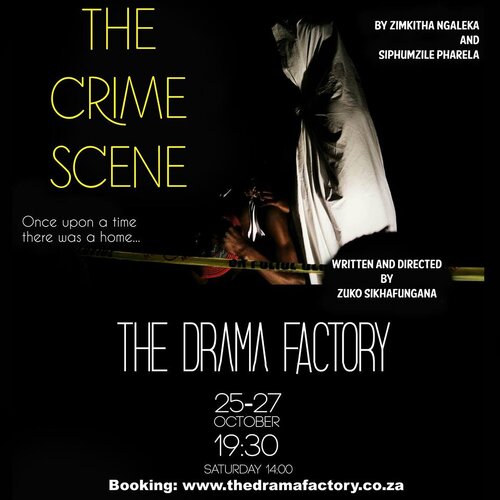 Breaking the silence and creating dialogue through storytelling. This piece is about a psychological cycle of absent fathers which results in hatred and a furious society, producing violent-angry young minds. Mothers Face the consequences in isolation. One man relives the the tale, a life of a dismantled family. "This boy poses a very dangerous treat to society at large. And we as this community must make a practical example with him, its either we burn this thing or we stone him to death!"

Zuko Wonderfull Sikhafungana Actor/ playwright/photographer/filmmaker (artists). Holds a Bachelor of Arts Degree from the University of the Western Cape. Founder and artistic director of Back Stage Theatre Production (BSTP) a community theatre company that was established on the 3rd of October 2014 by himself, Siphumzile Pharela, Sibusiso Maranxa, Khulekani Ndlovu. Which was then later registered as a non-profit organisation (NPO) on the 17th of September 2015. Currently located in the Western Cape on the outskirts of Cape Town in a small township known as Lwandle in Strand.
Zimkitha Ngaleka is a Dance Performer, Choreographer, Actress, Poet, When she completed her Standard 10 she went to City Varsity and completed 2 years in Professional Acting for Camera. In 2017 she went to JazzArt Dance Company in Artscape and Completed a 7 months dance programme and got her Certificate as a Professional Contemporary Dancer. As an actress she has worked with community theatre groups such as Kuyakhanya Productions and volunteered at Silukamva School Of Excellence as a Dance Teacher and Choreographer too. In her modelling journey she worked for 3D Management, Apollo Modelling Agency. In 2015 She represented South Africa in a beauty pageant called Miss Natural African Queen that took place in Cape Town. She also appeared on our TV screens for few local adverts such as KFC ads, Redisa Products etc. She worked with One of the very talented Dancer in Cape Town Stoan Galela whom helped her to audition for a German Music video in 2015 and she was slected as a Contemporary dancer in the music video. She also shot short films with CPUT film Students in 2016 and 2017. She has won a best Choreographer award from Lwandle Museum in 2017. received and award as the Best Supporting dancer in Artscape Theatre in 2012 In 2016 she came 1st princess from Miss Natural African Queen.

There are up upcoming performances of this show available to book now. Browse here for other shows.