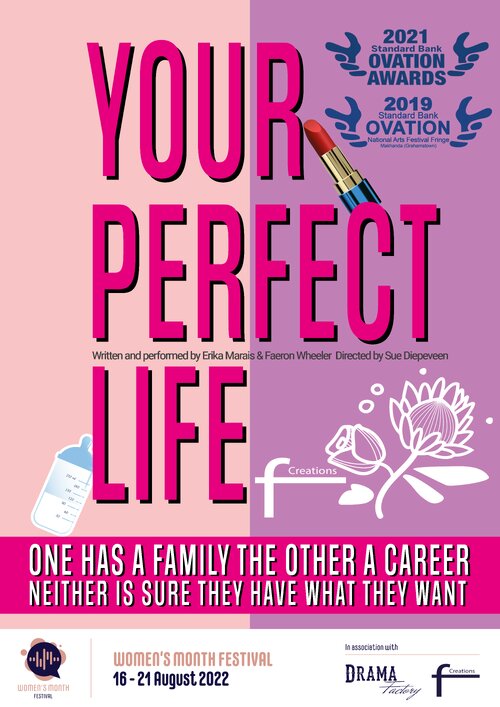 A woman should have it all – a career and a family! But what if you don't? Karlien and Caitlyn are at their 20-year reunion, bracing for the "What have you been up to?" questions. One has the family, the other the career. Neither is sure they have what they want.
Your Perfect Life is a poignant and funny look at how life can take unexpected turns and how society judges us for dealing with it the best way we can. It's also the recipient of two Standard Bank Ovation Awards - 2019 and 2021.

Reviews:

"Both characters are tragic in their own way, but by no means is Your Perfect Life a tragedy. It's more charming and hopeful while also being thought provoking." - Broadway World

"Loved this sassy, smart, funny comedy-drama. It's fun, insightful, stylish; written with a wry eye … Your Perfect Life taps into an important discourse." - The Cape Robyn

"These two contrasting characters gel so well as we are transported to the most awkward, most fun and most sad times in the lives of Karlien and Caitlin" - Cape Town Theatre Desk

Faeron Wheeler – Producer, writer, performer
Faeron has been involved in theatre and the stage since she was only three years old. She studied drama and dancing throughout her school years. She then went on to do a BA with a double major in Screenwriting and English before earning her Honours in Film Production from the University of Cape Town.
In 2017, she began producing theatre through her new company, F Creations, and has toured shows around South Africa. Branching out from just theatre, Faeron entered an F Creations team into the Cape Town 48 Film Project in 2019, and their film received a nomination for Best Editing. 2019 also saw Faeron take on the role of theatre critic, writing for Broadway World South Africa and Fine Music Radio.
Recent acting credits include The Complete Works of William Shakespeare (Abridged), The Comedy of Errors and a role in season two of the TV series American Monster. Faeron also works as a voice over artist, regularly lending her voice to educational and training material. In 2019, Faeron teamed up with Erika Marais to write and perform in Your Perfect Life. The show premiered at the National Arts Festival Fringe, where it received its first Standard Bank Ovation Award, before touring around Cape Town. In 2021, Faeron was named as a Regional Finalist in both the Main Pro and Endurance categories of the World Monologue Games.
During the pandemic, Faeron continued to create - turning to directing, filming and editing with (extra)ordinary, (un)usual. This production is a monologue showcase, using the writings of Australian playwright Pete Malicki. Created as a hybrid of theatre and film, this piece debuted online in October 2020. The piece was also part of the vFringe on-demand streaming platform for the National Arts Festival in 2021, where it received a Silver Standard Bank Ovation Award. F Creations also received an unprecedented second Standard Bank Ovation Award for their digital offering of Your Perfect Life during the 2021 festival.
Earlier in 2021, F Creations also took part in the World Monologue Film Festival. Faeron teamed up with cinematographer Stephan Hambsch to create a one-minute film called Creep. This film was chosen as a finalist in the festival.
Erika Marais – Writer, performer
Erika studied drama at the University of Pretoria and originally focused on educational theatre and puppeteering, with a special focus on disadvantaged communities. She has also spent several years teaching drama at Amoyo Performing Arts Foundation in Hout Bay and then at schools in Hong Kong, where Erika lived for two years. Her theatre credits include The Wisdom of Eve, Inspector Drake and The Black Widow, The House Guest, Sunshine Boys, and The Barretts of Wimpole Street.
In 2017, Erika performed her first one-woman show, Jam Every Other Day, which she was also responsible for writing, along with Celia Musikanth. Under F Creations, the show toured to the National Arts Festival and Hermanus FynArts in 2018. Erika followed up the success of her first show by co-writing and performing a second production, Your Perfect life, with Faeron Wheeler. The team, along with director Sue Diepeveen, received a Standard Bank Ovation Award at the 2019 National Arts Festival. The production went on to receive a second Standard Bank Ovation Award at the 2021 NAF for the online offering of the play.
Not to be put off from creating during lockdown, Erika worked to bring the story of The Unlikely Secret Agent to the stage in 2021. The adaptation to stage was done by Paul du Toit, based on the book of the same name by Ronnie Kasrils. The production premiered at The Drama Factory in Cape Town in June that year and received eight Fleur du Cap Theatre Award nominations, including a Best Actress nomination for Erika. The team won Best Director for Paul du Toit.
Sue Diepeveen – Director
Sue is a Cape Town based film, television and theatre actress. Her recent camera work includes Honey 3, Killer Instinct, DPO Training, American Monster, Cultured & The Deprived. Sue is an accomplished voice actor who relishes the challenge of accent-based work.
Her self-written solo show So You Want To Be A Trophy Wife? (2015) saw her return to the stage. Sue performed in 2019's Vday performance of The Vagina Monologues. 2018 saw her on stage with Dario Fos' A Woman Alone directed by Margot Wood. In 2019, she performed in Mike Van Graan's Two To Tango, which had successful runs at the National Arts Festival and The Hilton Arts Festival.
As the owner of a new theatre space in Somerset West (The Drama Factory), Sue is heavily involved in mentoring programmes for young actors and is committed to ensuring a safe and affordable space for new work to see the light of day. She runs a drama school specialising in LAMDA examination work and spends a great deal of time adjudicating various Eisteddfods and competitions.
Recently, Sue directed Your Perfect Life for F Creations, which won two Standard Bank Ovation Awards at The National Arts Festival - for its live debut in 2019 and for its online presentation in 2021. In addition to directing Thirst for the Cape Town Fringe (2016) under the Sugar-Daddy Production house, she has directed the acclaimed Blueberry Toast (2018), which completed two successful Cape Town runs. As a writer, she has written five plays for large casts for children.
Book Tickets for Your Perfect Life - Women's Month Festival: