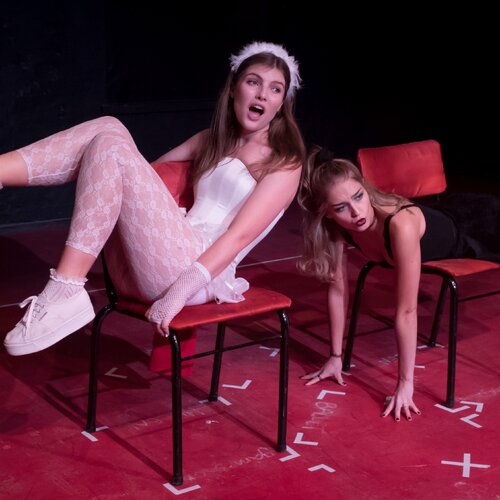 The 'Virgin' and the 'Whore'. Two waitresses prepare themselves for another nauseating night on the battlefields of Horrifying Hospitalica! Armed with toothpick, their razor-sharp wit, and ripe, suck-able tits, they don their aprons, hoist their fishnets and limber up to perform In Whorefish Bloomers! An adaptation of Pam-Grant and Stannard's underground 1980s feminist 'cabaret'. Two young Cape Town actresses take on the patriarchy one tit-bit at a time in this collection of pro-femme episodes stuffed with humour, word play, cheesy dance moves, a sprinkle of song and a drizzle of darkness. Further Info: Nominated for Best Production and Best Creative (Directing) Awards at the Cape Town Fringe and back after a sold out run in Johannesburg, don't miss you last chance to see this high-energy, feminist comedy.

Biographies: Jamie, Donna and Kei-Ella have been working together since their 1st year of theatre and performance studies at the UCT Drama Dept. Kei-Ella is a director, stage-manager, techie, visual artist and craft extraordinaire. She directed throughout university, including Don't Shoot the Harbinger! which won Best New Script at the NAF Student Program in 2015 and Monster, a visual theatre collaboration with Jamie and Donna which was created at university and performed again at the Cape Town Fringe Festival 2016. She was awarded the Mavis Taylor Theatre-Making Award and the class medal in 2015 for her efforts. She presented her second collaboration with Jamie and Donna In Whorefish Bloomers: The Waitresses' Lament in May this year. She was a waitress and now works for the UCT Drama Dept. as the Senior Stage Manager. Other than working with her two favourite people, Donna Cormack-Thomson has performed on film and on stage. Including The White Whore and The Bit Player directed by Chris Weare, in Anthology: After The End written by Nicholas Spagnioletti, Jon Keevy, Louis Viljoen, and directed by Louis Viljoen and in a sold-out run of Bad Jews written by Joshua Harmon and directed by Greg Karvellas at The Fugard Theatre. Jamie-Lee has gained experience acting on film and television series, some of which will be releasing late 2017 and early 2018 on BBC and Cinema. She been involved in more than just acting but also in admin, technical and casting sides for film. She works part time at the Alexander Bar. Photo Credits: Conor McCarthy and Nardus Englebrecht

There are up upcoming performances of this show available to book now. Browse here for other shows.