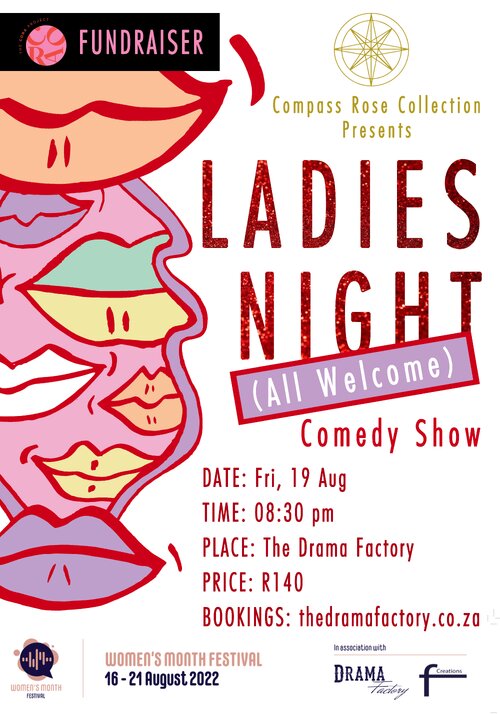 Strap on your heels and ready yourself for a night of fem-filled laughter, as Compass Rose Collection prepares to bring The Ladies Night Comedy Show (all welcome) to Somerset West. Hosted by Nicola Date, the all-female line-up will feature some of Cape Town's most beloved comics who'll regale you with tales of what it's like to be female in the mother city.
Open more info for bios for our fabulous line up - Nicola Date, Melissa Ohlsson, Saya Pierce-Jones, Candace Neilson, Lerato Sokhulu, Thato Mabelane & Arlene Peterson.
This fun-filled night is all for a good cause, with proceeds being donated to The CORA Project, an incredible organisation that helps underprivileged girls and women gain access to menstrual hygiene products. For more on The CORA PROJECT, visit https://thecoraproject.org/.

Comedian bios

MELISSA OHLSSON
Melissa is a creative from the streets of Cape Town who's developed a penchant for comedic writing and storytelling through her decade long tenure in the world of advertising. A mom of two and intersectional feminist, she's learning to navigate these very different worlds using humour as a catalyst.
ARLENE PETERSEN
Arlene Petersen also known as That Comedy Chick was born and raised in Retreat but moved to Lavenderhill as a teenager where she currently resides. Her comedy style is a mix of social observations, life experiences and talking pure nonsense. She is the only comedienne that had the honour to perform comedy for Y?Gen Entertainment in 2020 and in 2019 she made the top 9 finalists as the only Coloured to perform at the Baxter Theatre for the Kasi World Comedy Show Down battling for a spot at the Cape Town Jive Funny Festival and even though she didn't win the competition she clearly left her mark because she has now been selected to perform at the Cape Town Jive Funny Festival 2022 as the only female on the line up.
SAYA PIERCE-JONES
Saya Pierce-Jones is a familiar face and voice in the Cape Town media scene and is a proud member of the LGBTQIA+ community. Saya is a passionate advocate for woman's rights and GBV prevention. When she's not seeking the truth, she can be found on stage as a hilarious stand-up comedian.
CANDACE NEILSON
Candace Neilson is a mother, recovering addict, skilled performer, lover of Kaas, comedy, storytelling, and laughing at her own indiscretions. Candace shares her uncomfortable truths and permits us to laugh at our questionable life choices. She claims her own hilariously and triumphantly, with some of the bravest comedy on the Cape Town circuit. We are also proud to feature the wonderful and hilarious JamJam, who has made educating men on the issues of gender-based violence his top priority.
NICOLA DATE
Hailing from Johannesburg, Nicola is a jack of all trades and lover of creative exploration. Her extensive experience spans events, theatre performance, design, PR, and copywriting. Nicola recently launched her new business, Compass Rose Collection, a lifestyle brand, with co-owner Heine J. van As and is content production manager for a digital marketing company.
LERATO SOKHULU
Lerato Sokhulu cut her teeth in the entertainment industry as a radio presenter on KZN's largest regional radio station. Over the past 10 years, she has built an impressive career in broadcast as a content producer, voice-over artist and copywriter. She made her comedy debut in 2020 and now hosts a monthly all-women line-up comedy show called Selective Comedy.
THATO MABELANE
Thato Mabelane is a master storyteller whose style of comedy is a blend of wit, personal experiences and observations of daily life. Descendant of the Jozi people but now CT resident. Currently touring her debut collaboration special - Survival of the Funniest with Arlene Petersen - which premiered at the Baxter in March 2022. Fresh off the National Arts Festival where her solo special 3rd Generation Coconut premiered with outstanding reviews.
Production company bio

Compass Rose Collection is a new events and lifestyle brand created by Heine J. van As, and Nicola Date. We're a multifaceted collective, collaborating with various artists and creates to offer everything from costume design, events décor, event planning, producing, to product manufacturing. Our goal is to help rebirth the creative industry post-COVID, giving voices and opportunities for existing and emerging artists. Developed in 2022, the brand has already taken on some exciting projects, including working with Northlink College, Scene It, and now The Drama Factory. We look forward to this next adventure.
Producer bio

Nicola Date is a designer, digital marketer, entrepreneur and comic living in the Mother City. When she isn't playing mom-mom with her real-life 7-year-old doll, she's co-running Compass Rose Collection with Heine J. van As, co-producing Breaking the Closet and navigating the 'real job' world. Nicola and Compass Rose are thrilled to be a part of The Drama Factory and F Creation's Women's Month Festival, helping to raise money for an incredible cause. She looks forward to laughing with you soon!

Book Tickets for The Ladies Night Comedy Show - Women's Month Festival :