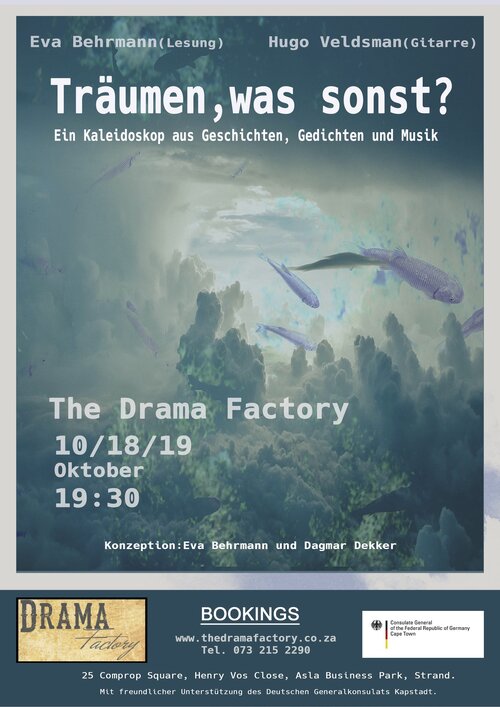 "Träumen, was sonst...?"
Eine Lesung mit Improvisationen auf der Gitarre
Ein Kaleidoskop aus Träumen, Texten und Musik - Rilke, Bachmann, Kaleko, Goethe und andere Dichter balancieren mit uns auf dem magischen Hochseil zwischen Realität und Traum. Dazu Gitarrenklänge im Gespräch mit Poesie: Verführung pur!
A Kaleidoscope of stories, poems and guitar music– Rilke, Bachmann, Kaleko, Goethe and other poets and writers travel with us through the mystical realm between reality and dreams.
Was ist Traum – was ist Realität? Was machen wir mit Träumen – was machen Träume mit uns?
What is dream - what is reality? What do we seek in dreaming – what do we bring back with us?
Dagmar Dekker (Kapstadt) und Eva Behrmann (München) gingen auf Spurensuche in der deutschsprachigen Literatur und fanden wunderbare Beispiele für die Kraft und Magie von Träumen, die dazu anregen können, eine Verbindung zwischen Traum, inneren Bildern und Realität zu suchen. Traum und Realität verschmelzen...
Dagmar Dekker (Cape Town) and Eva Behrmann (Munich) went on a journey through the German literary canon to find examples showcasing the power and magic of dreams as told throughout time. These stories and poems connect our innermost thoughts and images, our dreams, and our reality.
Die Schauspielerin Eva Behrmann liest die Texte im musikalischen Dialog mit dem südafrikanischen Gitarristen Hugo Veldsman, dessen einfühlsame Improvisationen eine traumhafte Brücke zwischen Wort und Musik entstehen lassen.
This exploration of dreams and dreaming forms adialogue between spoken word and music; with South African guitarist Hugo Veldsman responding to, and interpreting, the reading by actress Eva Behrmann.
Come dream with us!
Die Lesung findet in deutscher Sprache statt. Englische Zusammenfassungen einiger Texte werden bei den Vorstellungen erhältlich sein.
The reading is in German but English summaries of some of the texts will be available at the venues.
Mit freundlicher Unterstützung des Deutschen Generalkonsulats Kapstadt.
Supported by the Consulate General of the Federal Republic of Germany, Cape Town
Eva Behrmann
Die SchauspielerinEva Behrmannist in Konstanz am Bodensee geboren, lebt aber schon seit vielen Jahren in ihrer Wahlheimat München.
Sie war Mitbegründerin des Münchner Privattheaters "Theater in der Kreide" , wo sie in vielen Erfolgsproduktionen zu sehen war. Dazu gehörten die "Dreigroschenoper", in der sie die Rolle der Frau Peachum spielte, aber auch Klassiker wie "Maria Stuart " mit ihr als Königin Elisabeth.
Seit 1986 war Eva Behrmann mit einem umfangreichen Repertoire auf den Bühnen verschiedener Stadt- und Staatstheater Deutschlands von Konstanz bis Kiel zu Hause.
Eva Behrmann machte auch kleine Tourneen mit Solo /Duo –Programmen, u.a. mit einer literarischen "Kurt Schwitters – Textcarambolage" und einer "Hit-Show der 60er Jahre" , ebenso Chansonabende.
Bereits Ende der neunziger Jahre war Eva Behrmann zu einem längeren Aufenthalt im Kapgebiet, wo sie erfolgreich für das Kleine Theater am Kap das Stück "Frohe Feste" von Alan Ayckbourn inszeniert hat.
Durch die gemeinsame Arbeit mit Dagmar Dekker an der Lesung "Träumen, was sonst...?" kehrt Eva Behrmann nun zum ersten Mal wieder nach Südafrika zurück.
Eva Behrmann is an actress from Munich, Germany where she was co-founder of the private theatre "Theater in der Kreide". Since 1986 she has been performing a wide repertoire of classical as well as modern roles in German theatres from Konstanz in the south to Kiel in the north of Germany.
She also went on tour with solo/duo shows like a Kurt Schwitters programme and a "Hit Show of the Sixties" as well as performing chansons.
Eva Behrmann came to know and love Cape Town when she directed the Alan Ayckbourn play "Frohe Feste" ( Absurd Person Singular ) for the German Speaking Theatre Company "Kleines Theater am Kap" during the late nineties.
"Träumen , was sonst..?" marks her return to the Cape .
Hugo Veldsman
Hugo Veldsman ist ein vielseitiger Gitarrist und Komponist aus Kapstadt, mit einem breiten Spektrum von Stilrichtungen – von Blues, Jazz und klassischem Rock bis zu klassischer Gitarrenmusik.
Gegenwärtig studiert er Klassische Gitarre am Konservatorium Stellenbosch unter Prof. Nina Fourie-Gouws.
Beim Stellenbosch Guitar Festival 2015 spielte er seine eigenen Kompositionen für Solo Gitarre. Zwei seiner Werke für Kammerorchester wurden 2016 in die Kompos Konzertserie in der Endler Hall aufgenommen.
Hugo tritt regelmäßig in der Kapstädter Musikszene auf - sowohl als Solomusiker
als auch gemeinsam mit anderen Künstlern.
Hugo developed his talents on the guitar during his late teen years. After realizing his interests in music, Hugo's parents sent him for guitar lessons, where he developed a love for contemporary music. His greatest interests were prominent within Blues,Jazz and Classic Rock.
Paralleled with Hugo's career as a contemporary musician, he diversified himself as a classical guitarist. After recognizing his potential, Hugo was accepted at Stellenbosch Conservatory where he is trained as a Classical Guitarist under the mentorship of Prof. Nina Fourie-Gouws.
Hugo also composes exclusively for Solo Guitar, other instruments and ensembles.
In 2015 Hugo performed his solo compositions at the Stellenbosch Guitar Festival in the Endler Hall.Two of the chamber works he composed were accepted in the 2016 Kompos Concert series at the Endler Hall.
Hugo performs in the Cape Town Music Scene solo or alongside various local artists. He continues to contribute his compositions and write music.
There are up upcoming performances of this show available to book now. Browse here for other shows.