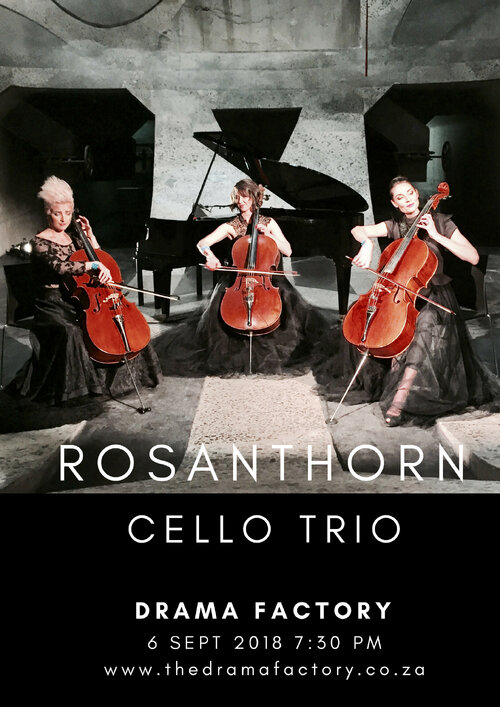 These three cellists share an exciting vision for the Cello – to revisit and re-position an instrument that is often overlooked. The result is an act that leads the way in the electric string genre.
This all-female electric cello trio released their first self- titled 6 track EP in April 2017 (available on Itunes and at www.rosanthorn.bandcamp.com) Their album launch parties in Plett, Cape Town and Somerset West in 2017 were and instant success and tickets have been sold-out for all their public events to date.
Rosanthorn have set out a compositional and technical journey to explore all that the Cello has to offer across multiple genres and timbres, with the help of South Africa's top composers and producers. Their repertoire includes recordings and re-interpretations of works as varied as Vivaldi's Double Concerto in G Minor, Leonard Cohen's Hallelujah, and Imogen Heap's Hide and Seek. Anjulie Nock has composed new works such as Night Journey (with a stirring Game of Thrones feel) and an original Tango (think Scent of a Woman for Cello). The Parting, by Helmut Meijer, is a reflective, stripped-down, soulful composition which inspired their first music video.
Says Producer and Composer Helmut Meijer, 'The sound of the 3 cello's together is exquisite. This project is musically satisfying and a pleasure to record – I predict that Rosanthorn is going to be the talk of the town'

https://web.facebook.com/RosanthornCelloTrio
https://web.facebook.com/redcelloproductions/
https://www.instagram.com/carolthorns/
https://twitter.com/carolthorns
Additional URL's
https://www.youtube.com/watch?v=-rS5fujiaF0
www.rosanthorn.bandcamp.com
https://soundcloud.com/user-663782174
https://soundcloud.com/electric-cellist
There are up upcoming performances of this show available to book now. Browse here for other shows.