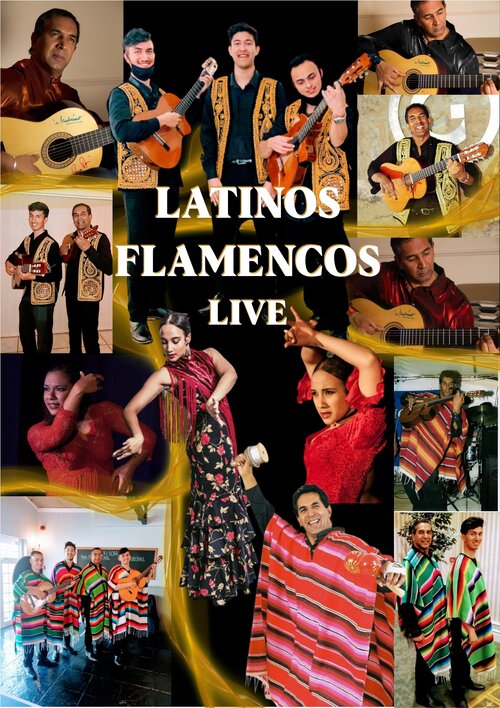 Highly acclaimed Bienyameen Camroodien and Los Guitanos presents a showcase of fiery flamenco dance, pulsating hot Latin rhythms and foot-tapping Mediterranean music that promise to dazzle!
The cast consists of several award-winning artists, including two of South Africa's leading flamenco dancers: Demi Johnson (Duena Jerez) & Ché Adams; Bienyameen Camroodien, a Kanna Award-winning musical director, as well as three of South Africa's leading family of flamenco guitarist soloists: Dawood Camroodien, Zayd Mayman & Mikaeel Bham, who also sings in Spanish, from S.A.'s leading live flamenco / Latino group, Los Gitanos.
Donned in their colourful ponchos, Los Gitanos will perform flamenco & well-known Latin hits of the Gipsy Kings, known for their unique blend of flamenco, pop & salsa, such as the iconic Bamboléo, Djobi Djoba, Gitano Soy & Baila Me, amongst others, as well as foot-tapping Mediterranean music from Greece (Zorba, the Greek), the land of mañana, Mexico, (La Bamba), Italy (Volare,), Spain (Y Viva España & the bolero, Bésame Mucho), Cuba (Quantanamera), Brazil (Lambada) & Peru (Al Condor Pasa), to mention but a few.
Instrumentals are performed on mandolin, Spanish guitars and percussion that will include an enchanting, colourful collection of music such as the old Spanish folk tune, Malagueña, as well as other vibrant music (mentioned above), some redolent of the fiestas in Mexico & Spain and the carnivals in Rio that will trigger your desire to dance the lambada, salsa, rumba and samba! Come and be wisked away to the Sacromonte, the home of the Gitanos or gypsies in Adalusia, Southern Spain with the clicking of castanets, intricate hand clapping, flourishes of fiery finesse & impressive footwork of the flamenco dancers. Immerse yourself in this kaleidoscopic synergy of passionate music and brilliant flamenco dance. Your magical, musical destination – a breathtaking, exotic location.
LOS GITANOS – BAND MEMBER BIOGRAPHIES
"Brilliant … a virtuoso on any plucked instrument … a guitarist with fingers nimbler than Speedy Gonzales on amphetamines." (Derick Wilson – Cape Argus)
Multi-instrumentalist
Bienyameen Camroodien
from Cape Town, the leader of the popular Latino band,
Los Gitanos,
is the most senior flamenco guitarist in S.A. (one of the few skilled to accompany Spanish flamenco dancers), & has been a leading flamenco guitarist for over 30 years. He was a member of the Pablo Navarro Trio for 15 years, performed with the maestros, the late Pablo Navarro & Santiago Lunar, for 23 years & collaborated & performed with & accompanied prominent international flamenco & other artists from different corners of the world.
Los Gitanos
shared a stage with international bands, Kaomo & Shakatak.
Notable Achievements: Bienyameen
won the KANNA Award for Best Musical Director in La Rosa Spanish Dance Company's dance production of "Blood Wedding" in 2005 & was their musical director for 7 years, performing internationally & nationally at the Grahamstown & Klein Karoo Arts Festivals with them.

was honoured as flamenco guitar legend by the Legends Organization at the "Legends Concert".

was the solo instrumental finalist in the national talent televised programme, "Follow that Star", finishing as runner-up in the Band & Instrumental Category.

was also in the guitar duo finalist with Al Farid in the televised "Road to Fame" talent search.

was selected in 1998 to perform at a masterclass with world-renowned Brazilian classical guitar duo, The Asaad brothers who were impressed with his stunning flamenco right hand technique.

attended masterclasses with flamenco guitar maestro, Manolo Sanlucar, in 2011.

Was commissioned in 2017 by Hollywood film director, Andy Sirkis, well known for his blockbuster movies, 'Star Wars', 'Harry Potter', 'Planet of the Apes' & 'The Avengers', to perform two of original tracks in his latest movie, 'Breathe'.

Lectured in 2011 at the prestigious & first ever Cape International Guitar Festival.

Has a licenciate in music teaching & has lectured in music at the University of Cape Town, Natal & at the University of the Western Cape for several years & performs at the Graduate School of Business (University of Cape Town) frequently as part of Professor Walter Baets' course titled, "Masterclass in Business".

has performed in Spain, Seychelles, Mauritius, India & Namibia.
21-year-old Dawood Camroodien, currently the lead guitarist & percussionist for Los Gitanos (joined at the age of 15), is a multi-instrumentalist (plays the guitar, piano, cajon & soprano recorder), often performs with several flamenco artists, including Tierra Flamenca & Madame Marina Lorca.
Notable Achievements: Dawood
made his debut at age 8, when he was invited by the late Madame Caroline Holden to perform at the La Rosa Spanish Dance Company's Graduation Ceremony at the University of Cape Town.

impressed the Spanish Consul, at age 9 in 2009, when he performed in one of flamenco dance legend's, Madame Mavis Becker's, flamenco productions at the Hiddingh Hall in Cape Town.

at age 10 was the youngest musician invited to perform at the National Teacher's Awards in Cape Town & also performed live on several local radio & television programmes.

won the first prize at age 12 in 2011 in the junior category of the prestigious first ever Cape Town International Classical Guitar Festival.

appeared on television as a flamenco guitar soloist in 'SA's Got Talent' television series at age 12 & was selected as one of the 40 best acts in Cape Town.

appeared with his father, Bienyameen Camroodien, in the movie, 'Breathe' & had the privilege of performing with his father in a movie scene with the actor, "The Amazing Spider Man" star, Andrew Garfield.
Currently a fully-fledged member of Los Gitanos Band, Zayd learnt flamenco guitar from his father, Al Farid, one of the founder members of the band. He started playing guitar at 7, and was tutored at 14 by flamenco maestro, Bienyameen Camroodien, & teamed up with Dawood in a duo.
Notable achievements include: Zayd
won 1st prize as the best instrumentalist (lead guitarist of his band 4Tunes), while in primary school, in The Battle of the Bands Competition for high schools.

Is currently the youngest flamenco guitarist in S.A. & has performed in several major flamenco concerts in Cape Town with Dawood & Bienyameen.

together with Bienyameen, Al Farid & Dawood, he appeared on television & performed in major productions at the Artscape Theatre;

performed as 2nd guitarist alongside Dawood Camroodien in the Tierra Flamenca's dance production.
He began his musical journey 2 years ago when he made his debut as a vocalist at the Franschhoek Festival with Bienyameen Camroodien & the popular Los Gitanos band & has since made several appearances on stage. Mikaeel is currently one of the lead vocalists in the band & sings ballads in Spanish, Arabic & in Hindi. He recently also made his debut on cajon with Dawood Camroodien as his mentor.
FLAMENCO DANCERS - BIOGRAPHIES
CHé ADAMS – DANCER, TEACHER & ARTISTIC DIRECTOR
Ché Adams, one of the most sought-after flamenco dancers & teachers, was raised to the strains of Ravel's Bolero, her favourite make-believe ballerina music, which she danced to with her mother, & has been dancing ever since! Over the years she has developed a deep love & passion for flamenco & in her pursuit of excellence in this art from, has studied with the foremost flamenco dancers & teachers in the world. She also studied ballet with Ingrid Carlson & Spanish Dancing with Veronica Williams & Caryln Adams & today she runs the Tierra Flamenco Dance Studio in Cape Town, where she teaches for all ages, from beginner to advanced students.
Notable achievements: Ché
at age 19 completed her Instructor de Baile teaching qualification with the internationally recognised Spanish Dance Society.

has danced as a soloist with La Rosa Spanish Dance Theatre & has performed to critical acclaim in numerous La Rosa productions, including 'Bernarda', Peña Flamenca & …'en el Tablao Flamenco'.

studied with leading flamenco dancers & teachers in the world like Rafael Campallo, Immaculada Ortega, Concha Jareño & others.

attended masterclasses since 2010 & performances annually at the Festival de Jerez, the ultimate flamenco showcase.

launched her own professional flameno company, Tierra Flamenco, the culmination of a lifelong dream, at the age of 23, with the company's first 3 productions, 'Flamenco', 'Tres' & 'Lunares' enjoying sold-out shows & rave reviews. Tierra Flamenca's aim is to bring an authentic flamenco experience to S.A. audiences, where flamenco can be felt, experienced & explored in a South African context.

Works with Bienyameen Camroodien, the country's foremost flamenco guitarist, & Lorean Swartz, S.A.'s only flamenco singer.

Alongside S.A.'s top Spanish Dance companies, as well as prominent Cordoba-born flamenco dancer, Angel Muñoz, Tierra Flamenca was selected by Dame Rhoda Rivkind & Sir Geoffrey Neiman to perform in 'España 50', the 50th anniversary celebration of the Spanish Dance Society at the Market Theatre in Johannesburg.

has taught La Rosa Company classes, Dance for All's Bridging Programme, as well as University of Cape Town Spanish Dance students.

is frequently invited to perform as guest artist & to run courses at Carli Spanish Dance Productions & Rosa Jimenez Spanish Dance Theatre in Sasolburg, & Montoya Spanish Dance Theatre in Pretoria.

was invited to teach at Alianza Flamenca's Easter Seminar in Johannesburg in 2018.
DEMI JOHNSON (DUENA JEREZ) – CAPE TOWN FLAMENCO SOLOIST, PART-TIME TEACHER & COSTUME DESIGNER
"Her passion for flamenco sees her deliver moving performances as she draws the audience into her secret place, while encouraging them to step into their own."
Demi Johnson (Duena Jerez), a Cape Town-born flamenco soloist & costume designer, started her flamenco dance training under Carolyn Holden at the age of 11 & went on to perform in numerous productions by La Rosa Spanish Dance company, first as part of their youth ensemble in 'Tapas' & 'Colores del Cabo' & later as a junior company dancer in 'En El Tablao Flamenco'. She has since had the privilege of gracing the stages of Artscape, Baxter, Oude Libertas, Drostdy Theatre & Johannesburg Theatre.
Notable achievements: Demi
is currently a professional company soloist & part-time teacher at Tierra Flamenca under Ché Adams & her recent stage performances include 'Ole' (2019) & 'Lyrics Still Matter' (2020)

completed her International Spanish Dance Society exams in 2018 & was awarded the Mercedes Molina Award for achieving a distinction in a senior syllabus exam.

completed masterclasses with the likes of Angel Muñoz, La Truco, Belen Maya (Festival de Jerez 2016), Domingo Ortgeo & Leonor Leal.
There are up upcoming performances of this show available to book now. Browse here for other shows.