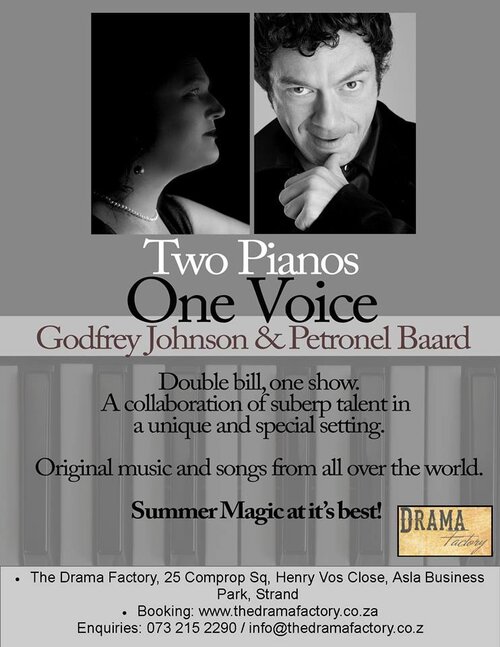 Original and cover songs celebrate their inspiration, vocal abilities, unique musical arrangements and originality - styles ranging from cabaret to blues, jazz, Afrikaans like you never heard before with a musical twist. Combined with tongue in the cheek humor, this is a feel-good, fun celebration of life with piano and voice - Godfrey Johnson and Petronel Baard will charm you!
Petronel Baard is one of the most beautiful voices in Afrikaans( Cabaret) – her latest five star album "Die Heelal Draai" is praised as deserving of every imaginable Afrikaans, Art Nomination that exists. Her music is described as "Sound Art". Combined with the incredible talent of Godfrey Johnson, one of the most versatile cabaret artists of our times, jumping from brilliant performance tot musical direction, to director/writer, producer and actor as smoothly as a brilliant, musical chameleon - This is one double bill theater goers can be sure will woo you and thrill your soul.

Petronel met Godfrey when she performed and recorded her second album live at Evitas' Perron in Darling, 2002. They recently met up and decided on a show together as the start of a series of shows. They are two very unique artists that bring a truly SA feel to the theater. They are also brilliant in their fields. Petronel has a staggering voice and stage presence and Godfrey is a writer, performer and musician that can upstage the best of the best. He is a mind-blowing artist. This is the first time they will perform together and it is bound to be a very unique and special event when guests are invited to enjoy their conversations over music.

PETRONEL BAARD- a powerhouse voice and songwriter who needs no introduction in South Africa! This Afrikaans Cabaret star and recording artist was born in Riversdale in the Southern Cape of SA. After growing up and matriculating in a little town called, Villiersdorp, she completed her BA Drama degree at the University of Stellenbosch(US) in 1998, whilst receiving singing training at the US Conservatory and then from the veteran, Coba Wicomb (from "Randall en Coba"-fame in the Afrikaans Music industry). While completing her BA Drama Honors in 1999 in Cabaret and Directing, she entered the then nationwide Afrikaans singing competition, ATKV Crescendo- which she then proceeded to win. This kicked off Petronel's professional music career in all earnest, and - under the guidance of famous SA pianist Rocco de Villiers -yielded her first album Lank Al, which was nominated for a SAMA Award as well as 2 Geraas Music Awards. Four more albums followed, displaying her stylistic versatility and her voice's incredible range and gymnastic power: Déjà vu, Weergaloos, a limited edition launched by a Mossel Bay art gallery, a Gallery of Songs and distributed mostly abroad, and her most recent offering, Vonnie, where she collaborated with national icons Min Shaw, Albie Louw and Nico Carstens. Her latest release is a five star rewarded album that is described as word and sound art. Petronel is an avid musical and cultural entrepreneur and theatre developer Die HeelalDraai Die Heelal Draai In die heelal se ewige note draai musiek wat die beste verslag gee oor elke dag, wat jy kan sien en voel is wonderlik om jou…maar die mooiste is dit wat jy kan hoor in die stilte. Dit is juis in die intimiteit van elke blaar wat val, wind wat ritstel en soms so raas dat jy net dit kan hoor, wat die sleutels van ons hele al rus… Met 'n vertelling wat strek oor tien jaar, word daar'n album gebore in jou ore …Van die Strand tot Mosselbaai so met die Heelal se draai vir die Lang Vrou… Daar is die histeriese diva wat moes koffie maak as kelner en uit"freak" omdat sy dit "net nie kan doen nie!"… Die CD Bekendstelling in Centurion met blonde hare se wortels wat nie betyds gefix kon word nie a.g.v 'n ernstige motorongeluk, tien dae voor haar CD launch vir Vonnie… Min Shaw lag nou nog vir die meisie se grimmigheid voor die uitverkoopte, Centurion vertoning wat sy met 'n gebreekte enkel, amper heel af arm en knie asook pimpel en pers lyf moes doen. Die stap na haar pa se heengaan, toe sy haar heelal se as moes groet, so saam met Adam Small se dood, is vervleg en word met deernisvolle humor vertel en altyd met 'n intieme lied beaam. Oor Met liefde van Eensaam en haar liefie deur die Klein Karoo wat almal bakens is op die pad van dit wat ons nie sou kon raai nie…As ek kon raai…alles opgedis in die klanke wat eg uit haar en haar medemusikante kom,soos dit klink, soos dit is…baie soos die Fadista van Portugal, maar in Afrikaans op Afrika se bodem. Kom neem huistoe die mooiste mooi, Ma en Nita se blues met Petronel se klavier en daai stem asook Soekmelk se vindingryke klanke op 'n verskeidenheid van instrumente en hul unieke skryfkuns. Dalk vind ook jy die klanke wat so sweef in die wind… "Daar is brood op die tafel en ek wil dit met jou deel"…(Akkerblare, Die HeelalDraai, snit 1).

There are up upcoming performances of this show available to book now. Browse here for other shows.