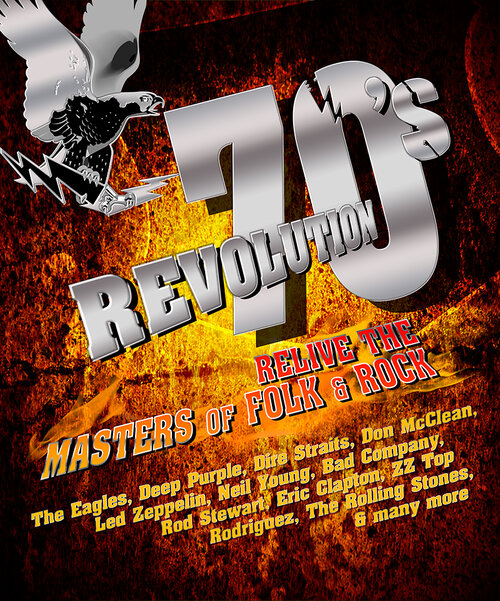 After 2 back-to-back sold-out 70s Revolution shows in February, Duck Chowles, Andy Murray & The Retro Rewind Band, who also brought you the highly-acclaimed, popular shows, "Simon & Garfunkel meet The Beatles" and the "Sixties Revolution", will be back this August! Don't miss this special tribute to the Masters of Folk and Rock such as Bad Company, Dire Straits, Rodriguez, Neil Young, Eric Clapton, ZZ Top, The Eagles, Pink Floyd, Deep Purple, The Rolling Stones, and many more.

Duck Chowles, Andy Murray & The Retro Rewind Band pay tribute to a decade, which was a golden era for vinyl records. They were affordable to everyone and everyone had a record player. Do you remember when you bought 7 singles such as Smoke on the Water, Heart of Gold, The Sultans of Swing and Baker Street, or bought albums such as Hotel California, Another Brick in The Wall or Cold Fact?
The show features Duck Chowles, South Africa's Rock 'n Roll chameleon, who has won acclaim for his spellbinding and sterling impersonations of Mick Jagger and Rod Stewart. Duck will also pay a heart-warming tribute to singer-songwriter poets, such as Neil Young, Don McClean and Rodriguez. Inimitably dexterous on lead guitar and vocals, the man with the unassuming stage personality, Andy Murray, will pay tribute, with some blistering guitar solos, to some of the most influential guitarists of the '70s such as Mark Knopfler, Eric Clapton, Gary Moore, David Gilmour, Ritchie Blackmore and Billy Gibbons, to name a few. The Retro Rewind Band with Alan Lloyd on drums and Karl Hering on bass, who like Duck Chowles and Andy Murray, paid their dues in various Barnyard productions, completes the line-up, with guest artist, Morgan King on saxophone.
This is one mind-blowing show about showmanship, musicianship, harmony and the power of music, you do not want to miss!
Book Tickets for Seventies Revolution :