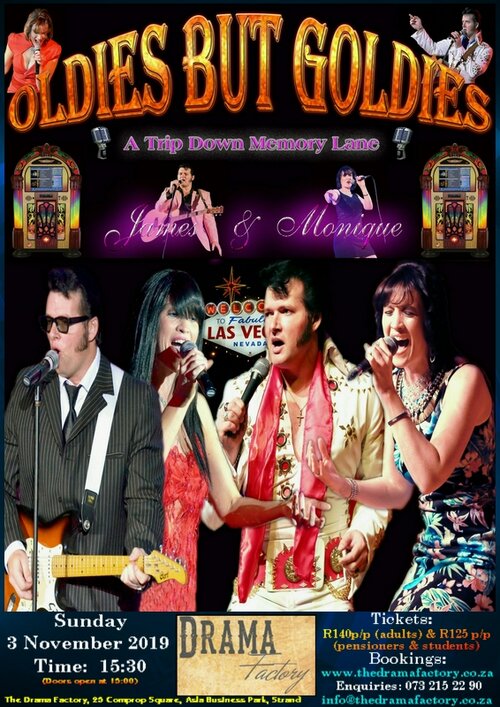 The "Oldies But Goldies" show comprises of the duo James Marais and Monique Cassells.
The show pays tribute to the golden era of music from the '50s to the '80s, featuring
artists such as Elvis Presley, the Beatles, Buddy Holly, the Everly Brothers, Roy Orbison,
Little Richard, The Platters, the Righteous Brothers, Creedence Clearwater Revival, Eddie
Cochran, Ritchie Valens, the Hollies, Cher, Queen, Shakin' Stevens, and many more.
The show is a mini-theatrical experience, featuring the dynamic vocal and visual
performances of James and Monique, alternating as a duo and individual performers,
who also do multiple costume changes throughout.
James is the no. 1 Elvis Presley tribute artist in the country, and has appeared on
television several times, including appearances on SABC 2's game shows, "Noot Vir
Noot" and "Musiek Roulette", as well as Kyknet's "Jou Show", presented by Emo Adams.
Monique is a very accomplished vocalist, having performed many different genres of
music over the years, including rock 'n roll, rock, pop, country, blues, ballads and even
light classical. She made her television debut on SABC 2's "Musiek Roulette" in May
2018.
James and Monique are a powerful duo and perform some of the best Beatles and Everly
Brothers duets you are likely to hear. They also put their own stamp on some well-
known hits not previously performed as a duet.
There are up upcoming performances of this show available to book now. Browse here for other shows.