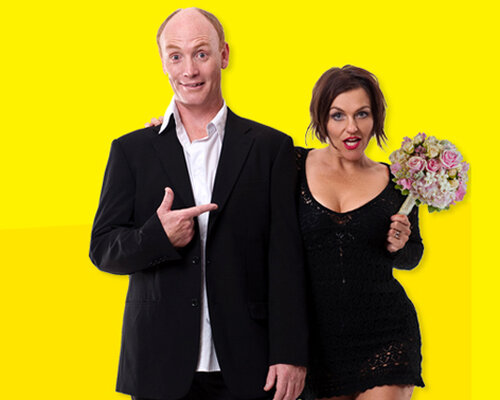 Popular comedic actors Lisa Bobbert and Aaron McIlroy will engage fans this January when their smash hit comedy plays at The Drama Factory for three performances only (25th, 26th and 27th January). Husband and wife duo star in Marriage for Dummies – a hilarious survival guide for anyone brave enough to take on life's ultimate challenge. We all know that marriage is more than a relationship – it's a WILD adventure, so before you decide to throw in the towel, take some advice as these 'marriage experts', share the secrets of marital bliss and help you come to gripe.. er grips with your partner's annoying habits.

Structured around the basic format of a Marriage Seminar, McIlroy and Bobbert (in the guise of whacky characters) lead the audience through the many trials and tribulations that affect all marriages. "Marriage For Dummies is a show for everyone, married or single. All the ideas and theories have been inspired by 'authentic marriage experts' and we believe that 'comedy' provides a unique frame work, acknowledging the complexities of marriage without getting into the blame game, thus, allowing our audience to internalise the lessons without feeling condemned" says Aaron. Cue Online's reviewer, appraising the show during its debut run at the 2017 National Arts Festival in Grahamstown, wrote: "This dynamic duo never disappoints. If you are in need of a good laugh and a relaxed evening out, this is the show to watch. A quirky mixture of comedy, dance, and music with interesting insight in how to make a marriage last. It will keep you well entertained."

There are up upcoming performances of this show available to book now. Browse here for other shows.