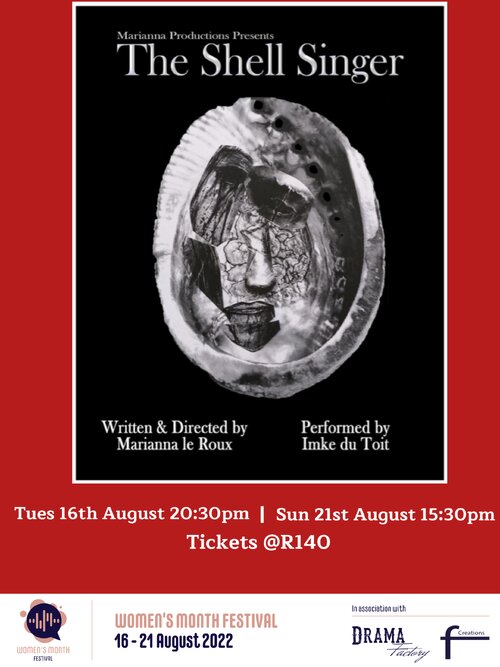 The Shell Singer - The core of this one woman piece explodes from a scream, !Where are you?!" This openly raw nerved work reveals the psychosis of a shattered being. Denied the primal need to belong, her broken heart births a shell. She uses its colours and sounds to re-create sweet and terrifying memories of the womb, and takes the audience on this bitter journey. Marianna Productions is very proud to present this cutting edge piece of theatre, written and directed by Marianna le Roux and performed by Imke du Toit
The Shell Singer was premiered at Theatre Arts in 2021.
Imke du Toit is a professional theatre, film and TV actress; dancer and voice artist, represented by Authentik and is currently residing in Cape Town. She graduated from the University of Cape Town in 2012 with a bachelor"s degree in theatre and performance specialising in acting. Imke had the opportunity to be a part of some wonderful productions on the professional stage. Some of her most notable performances were: Milly Jenkins in an adaptation of Athol Fugard's People are living there directed by hungry minds theatre productions in 2015, Vern Shultz in 5 Lesbians Eating a Quiche directed by MishMash Media in 2018 and two one-woman shows, Daughter(2019) and The Shell Singer (2021 & 2022) directed by Marianna le Roux from Marianna Productions. Imke's love of acting comes from her ability to delve into new worlds and characters. The sense of heightened emotion, theatrical complexity and dramatic style involved with the characters, the texts and the audience has always given her a sense of freedom to soar. Imke's passion for acting is exactly that, a passion. It comes from the chance to be in front of an audience or camera, creating an alternative reality. This is the one place that she feels she can communicate; it is the place she feels most connected with herself, others and the world around her. She is currently the CEO & Creative Director at The Rainbow Academy school of performing arts and business; which is a non- for- profit organisation specialising in educating and up-skilling talented disadvantaged youth between the ages of 18 and 25 years old in drama; dance; music & business in the arts.
Marianna le Roux is the founder and visionary of Marianna Productions. This production house is a platform for various art forms. She writes and directs one-woman pieces as current theatrical output. She is also in the process of designing a movement piece !Season of a Soul" for 2022. Marianna Productions was formed in 2017 with the dark play !The Reed Player" followed by !Daughter" in The Galloway Theatre. Another raw one- woman piece, !The Shell Singer" will be premiered in Theatre Arts in Observatory during December 2021. Most of Marianna"s work contains essences of various forms of madness in various depths. Her work has been described as !dark and raw", as well as !powerful with sensitive core". Although !Daughter" is built around an inspirational theme, the play contains mature and dark content. Therefore, the age restriction No Persons Under 16 applies. !Daughter" follows the journey of a woman suffering from lack of forgiveness towards self. She follows the Christ on His way to be crucified. Her past rears up with a vengeance. She needs to reach His feet but He turns and heals her heart.
Keandri Van Wyk - I'm a, curious, hard working and passionate triple threat performer. I love being involved in all aspects of theatre and being in stage management has given me a lot of respect for the people who work behind the scenes to make the magic happen.
Book Tickets for The Shell Singer - Women's Month Festival: