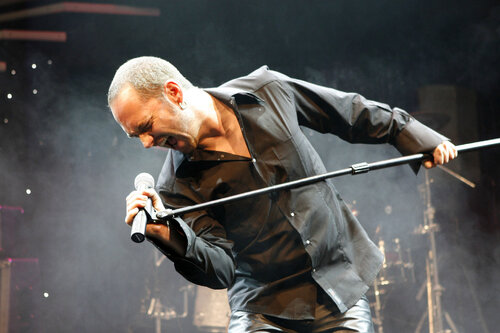 Clint Cunningham's one-man show dubbed, "From Creedence to Cocker" is full of crowd favourites, hilarious stories and 1 or 2 unique originals. Robbie William's hit song, "Let Me Entertain You" embody and echo Clint's passion. Fasten your seatbelts for take-off as Clint Cunningham prepares to take you on a magical, musical journey that will leave you entertained and wanting more!
Clint Cunningham, who has carved out an illustrious career, a well-known brand and legendary name for himself in the music and entertainment industry as a vibrant, remarkable entertainer and consummate performer; singer / songwriter / guitarist; engaging M.C.; mesmerising storyteller and celebrated, renowned frontman of the phenomenal rock band, Clint & Co, will putting in a first appearance at The Drama Factory

With 33 years' experience in the music & entertainment industry (from pubs & clubs to festivals & corporates), singer/acoustic guitarist/songwriter/entertainer, Clint Cunningham is happiest with his band on a supper theatre stage. Frontman of renowned rock band Clint & Co.'s Clint Cunningham needs no introduction! Clint & Co.'s Creedence Clearwater Revival tribute show packs Barnyard Theatres countrywide. His show "Midnight Hour" was a huge success at Richard Loring's Soundstage in Midrand.
Known for his big rock voice and his even bigger onstage persona. Clint is a natural born entertainer... his show is not to be missed!
Youtube links:
Clint Show Reel
Clint & Co Corporate
Clint & Co Show Reel
Clint CCR Philharmonic
Proudly South African
Having garnered a wealth of experience in the world of showbiz Clint Cunningham, quintessentially a born performer, never fails to illuminate and ignite the stage with his powerhouse vocals and magnetic personality. Captivating his audience and holding them spellbound and wonder-struck from start to finish with his superlative performances, is what sets Clint Cunningham apart from other entertainers! Equally at ease on and off stage, Clint Cunningham exudes a charisma and an aura that leaves his audience breathless and exhilarated. His zest for life is infectious, his confidence is inspiring and his interesting anecdotes ingeniously interwoven with comedy and wit, resonate with his audience and endears him to them.
No stranger to South African audiences, Clint Cunningham's highly-acclaimed, sell-out shows, such as his Creedence Clearwater Revival Tribute (he performed it as a solo artist in 2008 at Carnival City's Big Top Arena to over 1 500 people); his U2 Tribute, "Joe Cocker and Friends", "Clint & Co. … the best of" and "The Midnight Hour" have been performed at all the top theatres in the country and have received rave reviews. Clint and his band have toured Zimbabwe several times, Maputo and Swaziland, Cape Town as well as the Garden Route with resounding success, while Clint's spirit for adventure and desire to expand his horizons, have led to him perform in the U.S.A. and Monaco.
There are up upcoming performances of this show available to book now. Browse here for other shows.