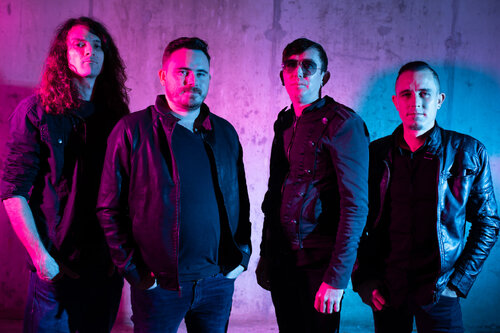 THIS IS WHO WE ARE" is a show, featuring popular music from the 50s to the 90s, brought to you by 1925Band, one of the best vocal harmony groups in SA!
1925Band
, had the music industry abuzz with their highly-acclaimed Bee Gees Tribute, that was a sell-out at The Drama Factory last year.
"THIS IS WHO WE ARE"
, a show with a new sound, enhanced by beautiful, angelic harmonies, bass solos & acoustic guitar rhythms, will include well-known songs by music legends such as Journey, The Eagles, Ed Sheeran, Kenny Rogers, and even the Bee Gees, to mention but a few prominent music icons, as well as some of 195Band's popular originals.


Amongst other well-known songs, the audience can look forward to hearing popular covers from 1925Band's extensive versatile repertoire such as American rock band, Journey's hit, "Don't Stop Believin", which in 2009 became the top-selling track in iTunes history. During Covid-19 "Don't Stop Believin" was used as an anthem for patients who were being discharged from New York Presbyterian Queens Hospital & Henry Ford Health System, after defeating the virus. "The Gambler", a huge country & pop hit for award-winning singer/songwriter, the late Kenny Rogers, will also be performed by 1925Band, as well as international superstars, the Eagles' signature song, "Hotel California", which boasts sales of over 3 million downloads with its guitar solo being voted the best guitar solo of all times by Readers Guitarist Magazine. On 1925Band's list is also the beautiful romantic ballad, "Perfect" , which not only became UK Christmas No. 1 song, but also peaked at No. 1 in 16 other countries, and is regarded as the song that has defined popular British singer/songwriter, Ed Sheeran. As a special treat for their audience 1925Band, will perform the Brothers Gibb, the Bee Gees' platinum hit, "Islands in the Stream", which scored Kenny Rogers one of the biggest hits of his career when he performed it as a duet with Dolly Parton, and for which they won the Academy of Country Music Award for single of the year. Sit back and relax, as 1925Band take you on a musical journey with songs that resonate with old and young alike.

Photo Credits: Photos taken by: Nelis Engelbrecht from Photo Lounge


1925Band, a folk-rock acoustic group, originating from Pretoria, was founded in 2011 by three incredibly talented brothers, Reno, Jeffrey and David-Lee Gericke, with a real passion for music. They have taken the South African music scene by storm with their beautiful harmonies, coupled with their versatile music selection, that appeals to a both old and young alike, as well as to Afrikaans and English-speaking audiences. They possess the ability to get a crowd going and to engage their audiences. Their debut album, Horizon, was launched in 2014 and features 8 original tracks, including hits like 'Gedig op Jou Arm', 'Servette' and 'Out of My Hands', which are all currently being played on radio stations throughout South Africa. In 2016, 1925Band composed the theme song for the Afrikaans movie, 'Eintlik Nogal Baie'. It peaked at No. 1 on South African charts and the film has since been distributed worldwide. 1925Band also composed the Spanish version of the song, which they perform as well. In 2017 they recorded their album, "Eintlik Nogal Baie", which boasts 3 singles, "Eintlik Nogal Baie", "Fynbos", and "Al te min te veel Gevra", that are also played on radio stations throughout South Africa. The band was also nominated for the "Bok Radio Bokkie Awards"(Biggest music awards in Cape Town) for Best Group of The Year and Best Music Video of The Year. The band has since been on various television programmes like, "Expresso, Jou show and Klip Hard" and their music videos are constantly played on "KykNet" and other Afrikaans TV channels and numerous radio stations. Not only have they toured the length and breadth of South Africa, but in 2018 they also embarked on an international tour to Amsterdam in the Netherlands... a highlight of their music career! They have no intention of stopping here. 1925Band have gone from strength to strength and with their new 80s Rock genre, they are releasing singles (The first single will be released latest, at the end of March 2021) and by the end of the year, they will be releasing their 3rd album. Social Media: https://web.facebook.com/1925band, Instagram : https://www.instagram.com/1925bandofficial/, Website : www.1925band.co.za
There are up upcoming performances of this show available to book now. Browse here for other shows.