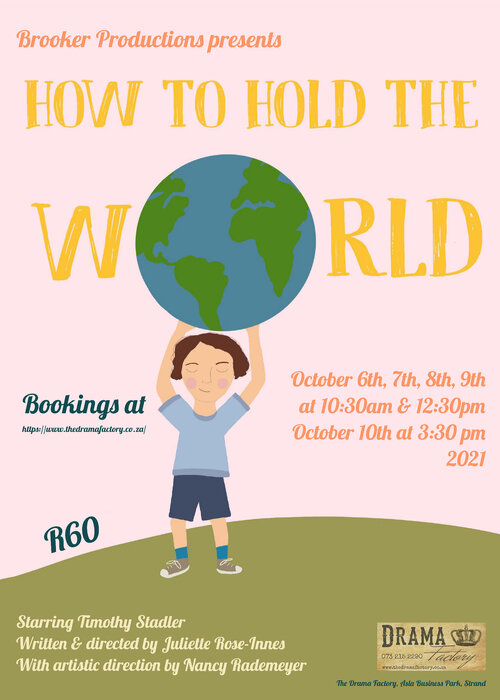 How to Hold the World debuts at The Drama Factory! When a young boy, played by Timothy Stadler, is tasked with holding up the world, he faces the scary (but rewarding) prospect of growing up. He learns that being alone doesn't mean being strong, being helped doesn't mean being selfish, and bravery is about being open to imagination and friendship.
Join us on an exciting adventure full of dancing with the moon, playing with the stars, and very big birds.
This play is fun, imaginative, immersive (in a covid-conscious kind of way), visually appealing, and thought-provoking. Also... there's a penguin.
Along with the play, writer Juliette Rose-Innes, has written a book illustrated by Caitlin Goodwin. This book can be enjoyed whether or not you or your children/students have seen the performance, and follows a very similar story of embracing life and accepting help. The book will be on sale in the foyer.
How To Hold The World is brought to us by award winning producer Jeff Brooker, whose beautiful Every Brilliant Thing wowed our audiences earlier this year. This stable can also boast an Ovation award for their version of The Syringa Tree which starred Nancy Rademeyer.

Artistic Director: Nancy Rademeyer
Illustrations: Caitlin Goodwin
Produced by Brooker Productions
Timothy Gian Stadler is a performer and theatre practitioner. His love for theatre was ignited when he played the, very important, role of the fieldmouse in his pre-school play. However, the more 'conventional' theatre roles began when he got involved at the Playhouse Theatre in Somerset West after a high school production of Shakespeare's Two Gentlemen of Verona. Here, he would go on to act in To Kill a Mockingbird (2014) and Blood Brothers (2016) – the latter of which opened again at the Artscape Arena Theatre the following year. Currently, he is a Theatre and Performance student specialising in Acting at the University of Cape Town, and has worked on various productions with the university, including Tristan Bernays' Boudica (2019) and Closer by Patrick Marber (2021). This year, he starred in Mwenya Kabwe's Theatre is Dead! Long Live Theatre – a response to the National Arts Council's withholding of performance funding, and a comment on the value of artistic practices. Tim enjoys three things: long walks on the beach, long walks on the beach, and long walks on the beach (of course, he thinks theatre is great too).
Juliette is a Performance Maker, Writer, Director, aspiring Dramaturg, and general creativity enthusiast who will do anything to be near a theatre. She believes that the arts have the power to facilitate positive change, and she is passionate about creating a safe space for her performers both inside and outside the rehearsal studio. She wants to make work that has people saying: "Yes, I see myself in this. That's exactly how people act, and a beautiful depiction of my own lived experience!" – however, she will settle for "that was pretty cool" and semi-enthused applause.

Juliette has been writing books and poems with crayons and stickers since she had motor-skills. Since then, she believes that she has come a long way (although she still loves crayons and stickers). She is completing her Fourth Year in Theatre and Performance, specialising in Theatre Making, at UCT. She hopes that this proves something to her extended family. In 2017, she was a finalist in the Scribe Scriptwriting Competition for her comedic commentary on what it means to be a human in the 21st century. She has previously been published in The Sol Plaatje European Union Poetry Anthology (2018), Good Housekeeping Magazine SA (2017), and English Alive (2016 & 2017).
Nancy Jeanne Rademeyer is a performance artist focusing primarily on acting and scenography. She is currently in her fourth and final year at the University of Cape Town for Theatre and Performance specialising in Scenography. Nancy's love for performance started at the age of five when she played the singing and acting role of Mary Magdalene in a nativity play. Followin
g her passion, she was in various productions throughout high school. In 2016, she participated in The Artscape High School Theatre Competition, performing the lead role in The Reason – where she was nominated for Best Actress. Her most recent role was for a one-woman show – The Syringa Tree by Pamela Gein. She performed in the National Arts Festival 2019 in Makhanda, where she was awarded a Standard Bank Ovation award for her performance. The show also enjoyed a successful run at The Drama Factory. She has been training for the past three years in Scenography at UCT – this is visual theatre making, and the art of creating the world on stage through design, set, costume, lighting and sound. This training has not only made Nancy more skilled and passionate about performance, but has changed the way she views the world.
Jeff Brooker is an award-winning producer, director, and theatre administrator/strategist. His debut professional work as a director was the Owatonna Production of The Syringa Tree in 2017 with Kyra Rahn. When returned to South Africa to pursue a bachelor's degree in theatre making at the University of Cape Town, he revised and reproduced The Syringa Tree with a new actress, Nancy Rademeyer. This production ran at the National Arts Festival Fringe, where it won a Standard Bank Ovation Award. It was selected for a run at the Drama Factory in Somerset-West. He then began work on bringing a collective of eight shows to the National Arts Festival in 2020. However, due to the pandemic, this did not occur. He recently directed and produced a new production of the one-man comedic-drama solo show, Every Brilliant Thing, with Liam Walsh – which ran at The Drama Factory earlier this year. The student collective model is currently being re-envisioned as a UCT theatre-making festival, under the mentorship of Jefferson Tshabalala, to occur at the end of 2021. Jeff is envisioning a theatrical future in South Africa that is sustainable for both artists, audience members and businesses alike. In 2019, he created Brooker Productions – a production house that seeks to create long-lasting business and artistic growth in the South African industry. The company produces theatre, and provides strategic consultation to developing industry members.
There are up upcoming performances of this show available to book now. Browse here for other shows.