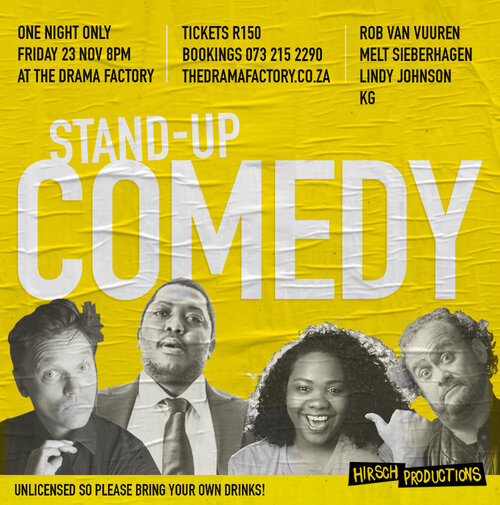 A night of Stand-up Comedy not to be missed! South Africa's foremost comedians join farces to bring you the most outrageous, uproarious, side-splitting night of comedy gold! Hold onto your seats as your MC, the award-winning Rob van Vuuren, is joined by Melt Sieberhagen's uniquely South African point of view, comedian KG who is the son of a Sangoma and a nurse and fresh from being nominated as best newcomer comedian in South Africa- Lindy Johnson.

Melt Sieberhagen has been working n the local entertainment industry since 2002. You might have heard his voice in radio ads or even the odd radio drama on RSG – the only medium in which he can convincingly play a sportsman or a romantic lead.
You might have seen his face in ads Tops@Spar or OLX or maybe you saw him on kykNet's imrpovised comedy hit Proesstraat (yes, there is an 'r'). If you concentrate hard enough you might even have seen him for 12 seconds in District 9.
When he's not performing stand-up or acting, he also writes commercials and scripts for TV shows.
He recently moved to Cape Town, because if you're going to be poor, you might as well be poor in a pretty place
--------
Kagiso, or KG as he is affectionately known is the son of a Sangoma and a nurse. He is well and truly on his way to becoming a true comedy heavyweight. KG takes his audiences on a unique comedy journey with a glimpse into the "behind the scenes" practices of a Sangoma and what it's like having one that you call "dad" , a nurse for a mom and why he was never able to take a day off sick from school. His take on what is regarded as an "unknown" is yet another first for South African comedy. In a very short period of time KG has moved from being an open-mic comedian to being a featured act in club, theatre and corporate comedy. He made his big stage performance at the Joburg Arts Alive Festival in the Comedy Nine-Nine showcase, working alongside Rob Van Vuuren, Mark Palmer, NdumisoLindi and Kurt Schoonraad and earning rave reviews from the audience members and organizers alike. Since then he has shared the big stage with more of the crème de la crème of South African comedy at the Fugard Theatre Christmas Festival of Laughter, Vodacom Comedy Festival 2012, Comedy Central Presents, The inagural Keeping You In Stitches with RiaadMoosa, Black Only Comedy Show and the outdoor music Festivals in the Western Cape and most recently he was the opening act for David Kau's Here to make you Laugh in Cape Town. While many considered it too early to have a one person show, KG 2013's nominee for the best new comer award at the South African Comics Choice awards went ahead and ran his first solo show, HEAVY at the National Arts Festival in Grahamstown. A week's worth of packed houses resulted in standing ovations and a four star review in the media.
--------
A newcomer from Paarl, Lindy Johnson has rocketed to success, winning the Savanna 'Show us Your Apples' Open Mic 2017 showdown, representing as the only female to make the finals – and then of course, beating out stiff competition and more experienced comedians to win the title.
After a comparatively short amount of time, Lindy has already started making her mark and carving out a niche in SA comedy, performing on esteemed stages such as Cape Town Comedy Club, Rocking the Daisies 2016 and most recently, the Jive Cape Town Funny Festival 2017.
Her brand of comedy has been described as a fresh take on life as a young woman in today's world, it's relatable storytelling with a highly enjoyable twist. You're sure to see much more of Lindy in the years to come
------------
And of course - no stranger to our stage...
MC - Rob Van Vuuren
Rob van Vuuren became a comedian by mistake while he was trying to be an actor.
It was bound to happen though, if you consider his shortness to awesomeness ratio multiplied by his genius and augmented by the fact that he is a bit of a dick.
He cut his teeth in the mid to late 90's (after graduating from Rhodes University) as an actor specializing in Physical theatre with a natural talent for physical comedy. To this day, Rob's stand-up is characterized by absurd, surreal, and disturbingly hilarious physical interpretations of situations and characters.
As far back in the mists of time as 1999 the press had begun to pick up on this remarkable young comedic talent.
In the year 2000 Rob teamed up with obnoxiously talented tall person Louw Venter after meeting on a crap B-Grade Dutch action film being shot in Cape Town and the proud couple promptly gave birth to Corne and Twakkie and The Most Amazing Show.
TMAS and its insane mustachioed hosts became a cult phenomenon in South Africa spawning 2 unforgettable seasons of an award winning television series, 1000's of indescribably insane live shows and a legion of rabid fans who have made a considerable dent in the South African lexicon.
Corne and Twakkie, along with bands like the Springbok Nude Girls and Fokofpolisiekar, helped redefine a generation of South Africans. Corne and Twakkie were particularly instrumental and influential in creating the scene that produced South African zef rap sensation Jack Parow and international phenomenon Die Antwoord.
It was this introduction to and tutelage in comedy beyond the fourth wall that TMAS provided him with that led to Rob's addiction to stand-up comedy.
Terrified with the thought of doing 5 minutes at a comedy club Rob wrote his first full length one man stand –up comedy show (Rob van Vuuren is Rob van Vuuren) in 2008. The show was nominated as the one man show of the year in the (now defunct) SA Comedy Awards of that year and Rob also picked up the Nandos Breakthrough Act Award the" Live and Kicking " comedy club at the 2008 National Arts Festival.
There are up upcoming performances of this show available to book now. Browse here for other shows.