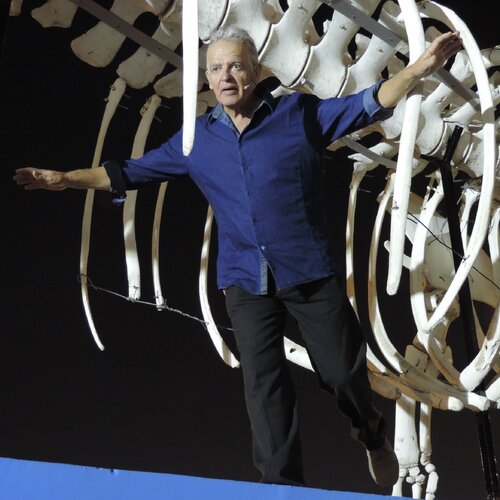 Let storyteller, David Muller, take you on a journey into the depths of the ocean and out into the wild in this mesmerising double bill. This April, F Creations in association with The Merry Scholar present Heathcote Williams' epic poems Whale Nation and Sacred Elephant at The Drama Factory. David Muller's dramatization of these epic poems has been described as "haunting" and "entrancing" by critics.
Muller has performed these two poems many times over the years, in a wide range of settings – from Kalk Bay to Bahrain, from under a baobab in the Kruger National Park to inside Elephant's Eye. However, this is the first time he is presenting them as a double bill. Whale Nation is directed by Claire Watling and Sacred Elephant by Stacey Sacks. The poems were written by Williams as part of a series created to expose the plight of the Earth and man's impact on nature. The poems are written in free verse, and the performances flows in a way that echoes the variations of nature itself.
Through his storytelling talents, Muller "keeps the audience transfixed" (Keith Millar, Daily News). The words are "no bunny-hugging piece of green … propaganda. The language is graceful and elegant, the mood evocative but not emotionally manipulative, the content realistic." (Karen Rutter, Cape Times).
This double bill marks the third production to come to The Drama Factory under the banner of F Creations. Last year, they brought you the hilarious Complete Works of William Shakespeare (Abridged) and in February they warmed hearts with Jam Every Other Day. F Creations and The Merry Scholar have decided to make these performances mean a little more and will be donating a portion of the proceeds to the Animal Anti-Cruelty League here in Cape Town. Audience members can also donate at the collection point in the theatre foyer.
There are up upcoming performances of this show available to book now. Browse here for other shows.