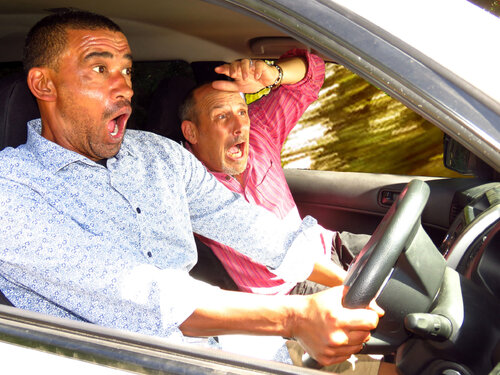 Jaco en Belarus (Ja dis sy naam) is op die pad. Die plan is 'n roadtrip van Suid na Noord om bietjie weg te kom van alles. Wederhelftes, kinders, troeteldiere en werk is agtergelaat om soos ouds die vryheid van die oop pad te geniet sonder verpligtinge, sorge en skuldgevoelens. Alles is egter nie so eenvoudig nie want die lewe is nie meer so eenvoudig soos 20 jaar gelede nie, en dinge rafel vinnig uit as die twee hulle verdwene jeug probeer herwin met skreeusnaakse gevolge. Geheime word ontbloot en daar wag 'n verassing in die kattebak as die teëspoed hulle in die middel van nêrens (Ok die Vrystaat naby Trompsburg) tref. Hierdie kombinasie van die "buddymovie" en "roadmovie" genres bekyk op 'n komiese manier wat gebeur as twee mans vasgevang word in 'n situasie waar hul geforseer word om oor alles te praat, elke man se ergste nagmerrie.
Brendon Daniels is a South African actor best known to television audiences for his roles in the series Vallei van Sluiers, Die Francois Toerien Show and Die Boland Moorde.

Other television series he has acted in include Interrogation Room, Madam & Eve, Stellenbosch, Shooting Stars, Transito, Geraldina die Tweede, The Philanthropist and League of Glory.

Brendon has also appeared in numerous films including The Young Lions, Heaven, Dollars and White Pipes, End of the Road, Fleisch, Master Harold and the Boys, I Now Pronounce You Black and White, The Abyss Boys, Agter die Berge, Black Butterflies, Four Corners, Zulu and iNumber Number.

On stage, he has had roles in the productions Die Generaal and Rooiland (both directed by Jaco Bouwer) and Babbel and Lot, directed by Nicola Hanekom. In 2012 he won KKNK and kykNET Fiesta awards for Best Actor for his role in Rooiland.

Other theatre productions he has appeared in include From Kho Khoi to Toi Toi, Ladies Night, Bacchus of die Boland (directed by Heinrich Reisenhofer); the Marthinus Basson productions The Joesph and Mary Affair, Om Soos 'n Lyk te Le and Anthony and Cleopatra; Snuf in die Neus (directed by Francois Toerien) and Skollies, directed by Leon Kruger.

Brendon has also appeared in numerous commercials for clients including Caltex, Shoprite, Mweb, The Daily Voice, The Cape Town Fish Market, the Wild Bean and Independent Newspapers.

In 2013 he was one of the main cast members of the kykNET crime anthology series Die Boland Moorde (The Boland Murders) playing the role of Adjudant-offisier Shane Williams.
Waldemar Schultz is a South African actor, director and voice artist best known for his role as Jan-Hendrik Terreblanche in the SABC2 soapie 7de Laan, from 2000-2009.

He was also the host of the 7de Laan companion show Ken Jou Laan (Know Your Lane), which aired on SABC2 from 13 June to 5 September, 2008.

Education

Schultz grew up in Milnerton near Cape Town, where he showed a great love for acting and the theatre from a very early age, taking part in as many school theatre productions as possible.

This love eventually ripened into a career choice, and led him to study Drama at the University of Stellenbosch, where he achieved a Master's degree in Drama, and taught acting from 1992 to 1994.

During his time as a student at Stellenbosch, he was recipient of the prestigious Fleur du Cap theatre award for the Most Promising Student (as well as two nominations in previous years for the same award), and was also awarded the sought-after University of Stellenbosch Drama Department's Dux Prize for the highest standard of work upheld over the course of four years' study for a degree in drama.

Later, while a Master's Degree student, he would also lecture in acting at the university.

Career

While still a graduate student, Schultz began a freelance career in voice dubbing and radio dramas for the SABC, and would eventually go on to become a dubbing director for Quantum Productions for a while.

Between 1991 and 2001, he also busied himself acting in and/or directing (and sometimes writing) many theatre projects for different companies including PACT, CAPAB, Spektrum Productions and Blond Productions.

His first role in a television series was as Klein-Geoff in the 1994 series, Woestynblom, followed by Paul Kruger in the CCV youth drama Young Vision.

Smaller cameo roles in Hagenheim: Streng Privaat, Soutmansland and Arsenaal followed, but most of his time was taken up with voice work, corporate and children's theatre and commercials – until, from the year 2000, the role of Jan-Hendrik Terreblanche in 7de Laan became more-or-less a full-time occupation.

He left 7de Laan in late 2008 (his last appearance was on Friday 6 March, 2009), in order to return to Cape Town, having lived in Johannesburg since beginning on 7de Laan.

From 2010-2011 he starred as the lead character in the kykNET improvisational show Proesstraat (Proes Street), recorded without a script, in front of a live audience. He left the show after two seasons.

In 2012 he guest starred in the final season of the SABC1 sitcom Stokvel and in 2013 he starred in the fifth episode of the kykNET crime anthology murder mystery drama series Die Boland Moorde (The Boland Murders).

In 2016 he starred in the crime drama series Die Byl (The Axe), playing the lead role of Colonel Piet van der Bijl, a detective loosely based on the real life South African detective Piet Byleveld.

There are up upcoming performances of this show available to book now. Browse here for other shows.