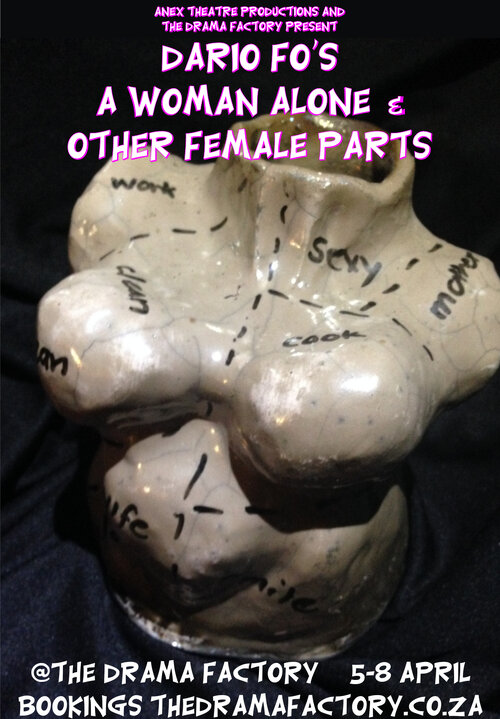 A Woman Alone, Waking up and other Female Parts
Consists of two short plays by the Italian playwright Dario Fo
A Woman Alone deals with a woman entrapped by domesticity and an abusive husband. The play moves through farce to tragedy to a shocking climax.
Waking up sees a working mother desperately and hilariously trying to deal with the demands of work, motherhood.
The playwright Dario Fo is a leading anti-establishment playwright whose works have been performed extensively and in more than 30 languages. He won the Nobel prize for Literature in 1997.
The Director
Margot Wood is a theatre producer, director, actor and teaching artist. She completed her undergraduate studies in theatre at UCT and her post-graduate studies in Drama at US. Productions directed for the stage include two winning productions at The Fugard Festival (2010&2011) and productions at KKNK (WAM), Suidoosterfees (WAM), NAF (Global Ballgame 2012, The Captain`s Tiger 2012, The Nose 2017). She has directed plays in a variety of styles ranging from realism to comedy, children`s theatre and musicals.
Performances as an actor include Happy Days (CT Fringe 2014), At the Edge of the Light (CT Fringe2017)
The Company
Anex Theatre Productions is an independent Cape Town based theatre company founded in 2006 to specifically promote the work of professional theatre makers who do not always have ready access to the professional stage.
The company has staged productions at the National Arts Festival, the Cape Town Fringe Festival, the Fugard Festival and at venues around Cape Town such as Off Broadway, the Rosebank Theatre, the Drama Factory, the Klein Libertas theatre, the Dorpstreet theatre, the Alexander Bar Upstairs. It was most recently seen at NAF 2017 with its production of the comedy musical The Nose.
There are up upcoming performances of this show available to book now. Browse here for other shows.