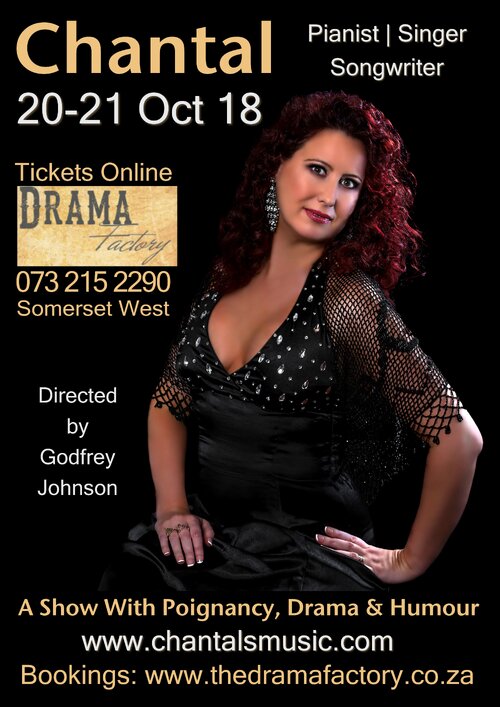 Chantal creates musical moments in which worlds unfold and characters evolve, telling stories about being human. Chantal's pianistic style could be likened to Tori Amos; her lyricism evokes Suzanne Vega; and her voice similar to that of Amy Lee from Evanescence. The flavour, however, is all Chantal…a solo act, a woman, singer, writer and pianist, walking her own path; musically colouring outside the lines and crafting her own soundscape.
In her rich storytelling, Chantal writes about your neighbourhood and everyday experiences. What is the story behind that woman's scars? What is the point of anger? What does life feel like after a fire? The infinite and the mysterious; strength of spirit, dreams, ghosts, death. The nature of the world: freedom, war, hope, healing this world; and the intimate: relationships, betrayal, and love. It is all personal; it is all political.
The show is directed by Godfrey Johnson- one of South Africa's leading performing artists, with a singular reputation as a Cabaret Artist, Composer, Writer and Director with multiple Fleur du Cap nominations and awards.
Chantal is her own musician, and the piano is an adventure. "A chord unplayed can hold an audience longer than a crashing rock power-chord." Faced with the infinite number of choices offered by 88 keys, Chantal puts the piano to work in a different way for each song, with tailored chords, unique and compelling arrangements, daring manoeuvres and gentle pulses. Chantal creates her own melodies and counter-melodies, blending piano, voice, and rhythm to create colourful imagery generating a sense of vulnerability with an edge.

There are up upcoming performances of this show available to book now. Browse here for other shows.