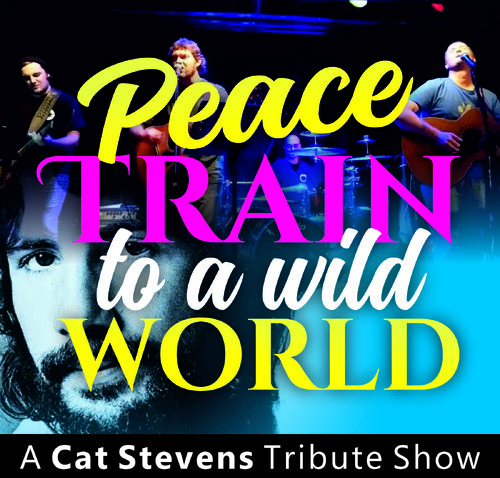 "Peace Train to a Wild World" is a nostalgic, memorable tribute to Nobel Peace prizewinner, megastar and multi-instrumentalist, Yusuf / Cat Stevens and not only highlights Yusuf's / Cat Stevens' haunting melodies and soulful lyrics, but also gives one a glimpse into the life of one of the world's greatest folk-rock artists, from birth to current status as converted Muslim and humanitarian. The tribute features Werner Carstens, on lead guitar, mandolin, and backing vocals. Craig Stott on acoustic guitar and lead vocals has received standing ovations for his renditions of Yusuf / Cat Stevens' hits, while, Charl Strutt and Gavin Young feature on bass and drums respectively. The group has enjoyed sold-out performances at various theatres and theatre supper venues in and around Cape Town and up country.
You are invited you to hop onto their "Peace Train" and to enjoy the nostalgic trip to their "Wild World" of gold-status hits and showstoppers like "Oh Very Young", "Lady D'Arbanville","Moonshadow", "Matthew and Son", "Morning Has Broken", "Fatherand Son", "The First Cut Is The Deepest" and "Can't Keep It In", to mention but a few.
There are up upcoming performances of this show available to book now. Browse here for other shows.