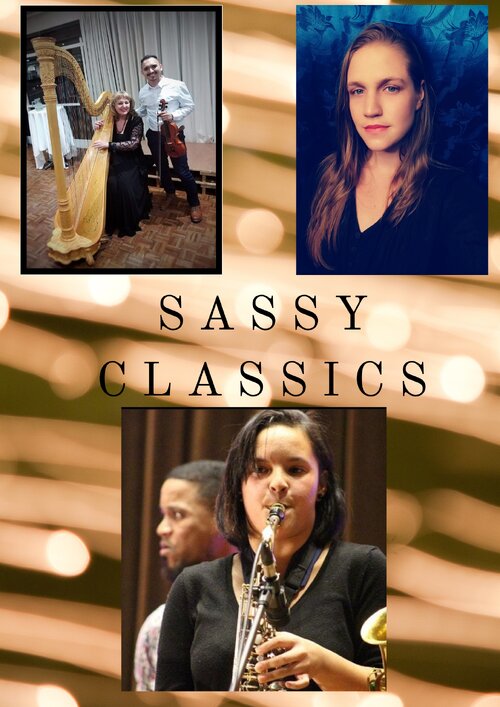 Join us for an afternoon of classical music. Sassy Classics will dazzle you with beautiful music. The performers are creative musicians who passionately work towards keeping classical music relevant to the times.
Kobie Du Plessis and Bradley Martin form a sensational duo, enchanting their listeners with the beautiful sounds of Harp and Violin. Portia Holmes celebrates the unique identity of the saxophone by playing unaccompanied. Her programme includes works such as Improvisation no. 3 by Ryō Noda. Anninge Kreft will present dramatic interpretations of Art Songs, giving the audience a deeper insight into the characters.
BIOS:
Bradley Martin graduated with a BMus from Stellenbosch University in 2020.
He is currently working on his Masters in the field of Phenomenology & Olfactory-Music Symbolism.
He held the position of Concert Master for various orchestras, including the Bloemendal Symphony Orchestra, Eastern Cape Philharmonic Youth Orchestra, and the University of Stellenbosch Symphony Orchestra. Bradley still performs with various chamber ensembles and plays ad hoc for the Cape Town Philharmonic Orchestra. He is currently playing on a life-long generously loaned French 1848 La Duchess D'Angoulème Violin
Portia Holmes holds a BMus degree in Chamber Music Performance from Stellenbosch
University. She plays the Soprano, Alto, and Baritone saxophones.
Portia performed as a soloist at the South African National Saxophone Symposium in
2019.
She played in the Fiesta Award-winning US Jazz Band for 5 years, performing with artists such as Judas Sephuma, Timothy Malloy, Tarryn Lamb, and Gloria Bosman.
She is currently a music teacher and loves doing any form of art in her spare time.
For this performance of Sassy Classics, she will be playing Alto saxophone.
Kobie Du Plessis regularly performs harp recitals as soloist or in groups; in Holland, Austria, Germany, South Africa, Mexico, Brazil and Spain where she lived for 13 years.
She performed as guest artist for the Mexican Harp competition , and regularly performs in Rio de Janeiro for the Rio Harp Festival, where she will perform in July this year. She is one of the few harpists chosen to perform for the World Harp Day and recorded for an official CD that was released recently.
Kobie has recorded 3 CDs: One with flautist and conductor Corvin Matei, and 2 solo CDs. Her solo CD The Magic of the Harp can be found on Spotify and Amazon.
Kobie now lives in Somerset West and enjoys performing and teaching the harp. Her website is: www.kobieduplessisharp.com
Anninge Kreft completed her BMus in 2019. She was awarded the Gideon Roos scholarship for her final two years of study. In 2020, she honed her performance skills at the Luitingh Alexander Musical Theatre Academy. She completed her Gold level in acting through LAMDA as well as a drama teaching diploma through Trinity College, London.
Anninge performed in the chorus for two productions of The Merry Widow, as well as the
Fledermaus. She also filled a speaking and singing role in the 2018 Woordfees production of the Fairy Queen, and a speaking role in the 2017 Woordfees production of Lank Lank Gelede.
Other than singing, Anninge plays the piano, organ, cello, and double bass. She is currently teaching music and performs with ad hoc music groups and ensembles.
There are up upcoming performances of this show available to book now. Browse here for other shows.