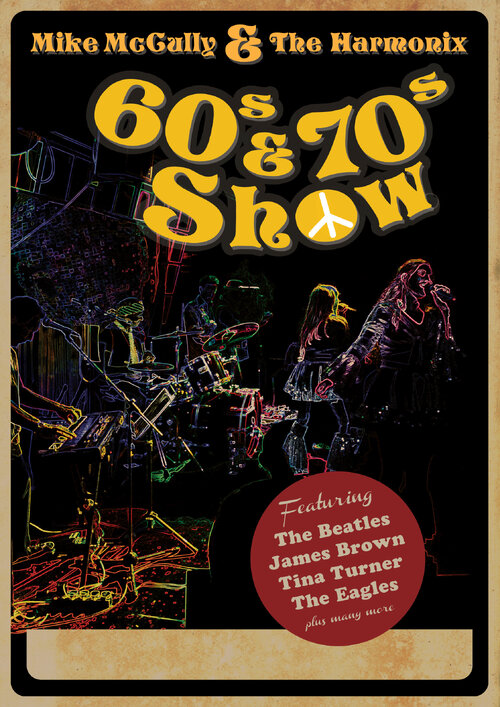 Combining the music of Mike McCullagh's highly-acclaimed shows, "60 Something" and "Station 70", Mike McCully has come up with a new show paying tribute to the chart-topping artists of the 60's and 70's.


Patrons will be taken back in time to re-visit these decades with the music of THE BEATLES, JAMES BROWN, VAN MORRISON, THE ROLLING STONES, FLEETWOOD MAC,TINA TURNER, THE EAGLES, STEVIE WONDER, ARETHA FRANKLIN, ELTON JOHN, THE BEACH BOYS, NEIL DIAMOND, QUEEN and more.

Featuring the amazing HARMONIX band (so successful with their recent TRIBUTE TO ABBA) and guest artist JOHN E, whose awesome renditions of JAMES BROWN, BOB MARLEY, STEVIE WONDER among others, will have audiences on their feet, for standing ovations!

Watch highlights of the show as the HARMONIX girls perform GO YOUR OWN WAY and AQUARIUS, whilst keyboardist GORDON MACKAY gives a virtuoso violin performance in THE DEVIL WENT DOWN TO GEORGIA and MIKE MCCULLY sings his own hit song BUCCANEER along with JETHRO TULL'S LOCOMOTIVE BREATH and PINK FLOYD'S ANOTHER BRICK IN THE WALL.

In addition John, as the compére of the show, will have patrons in stitches with his hilarious comedy routine inbetween his amazing dance routine.

All in all it's a night of fun, laughter & singing as we re-live their favourite songs of the 60' and 70's!
A show not to be missed !
There are up upcoming performances of this show available to book now. Browse here for other shows.