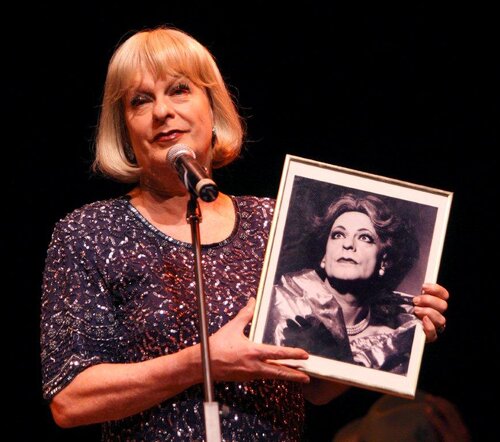 With Pieter-Dirk Uys as 'Bambi Kellermann' and Godfrey Johnson at the piano, this cabaret has been hailed as a milestone in South African theatre and 'not to be missed!' With music arranged by Johnson, the cabaret is performed in three languages. Bambi's story is told in English, while the songs also include some in German and some in Afrikaans. It unites the acrid stench of the old Weimar Republic of the 1930s and the sexy rot of Hamburg's Reperbahn with the familiar aromas associated with 'ons eie' Voortrekker-camps and braaivleis-orgies.
Bambi Kellermann (born Baby Poggenpoel) is the younger sister of Mrs Evita Bezuidenhout, the 'most famous white woman in South Africa'. Chalk and cheese. Whereas Evita has become a household name and favourite across political-party lines, Bambi smoulders in the background - not yet as famous as her sister, but far more dangerous. She loves the music of Kurt Weill and Stephen Sondheim. And being an Afrikaner meisie at heart, finds any excuse to sing her favourite Boere Liedjies out of the FAK Sangbundel. But with a sinister twist.
Uys won the Fleur du Cap Award for "Best performance in a Cabaret" for this show, and it is not for the faint-hearted…

Book Tickets for Bambi Sings The F.A.K Songs and Other Struggle Anthems: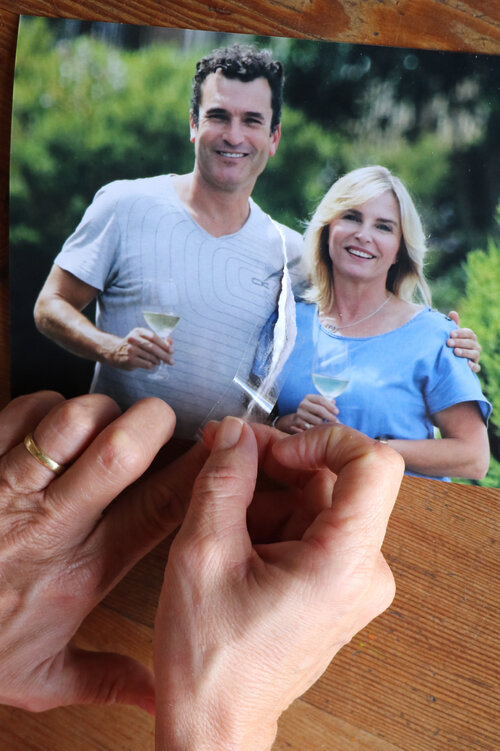 Is it easier to broker a BEE deal than date night after 21 years together? Two To Tango is a comedy drama about a superficially liberal white couple negotiating post-apartheid challenges. Should they have jumped on the gravy train after all?
Andrew and Lisa have been married for twenty-one years, and it shows. Apart from coping with the daily stresses of raising two teenage daughters, looming mid-life crises and economic stresses, they continue to be confounded in their quest for the ultimate South African accessory....a black friend.
Paul du Toit and Sue Diepeveen perform in this remake of Mike van Graan's 2006 full-length play. Under direction by Ira Blanckenberg, this rendition explores how decades later, there still lacks genuine change in the New South Africa. Andrew and Liza's relationship mimics our fraught political climate and highlights the effort required of both parties for a coherent community. This is a proudly Drama Factory production.
What audiences have said:
'What a fun show. We thoroughly enjoyed it. A play touching on a subject that is very relevant in a humorous way. Another fun night out at The Drama Factory.'
Highly entertaining, great humour,really enjoyed it.
Outstanding performance and very clever script....prompting much laughter however leaving the audience with a very strong message. Thoroughly enjoyed this show and rate it is one of the better performances I have seen for a very long time.

Book Tickets for Two To Tango :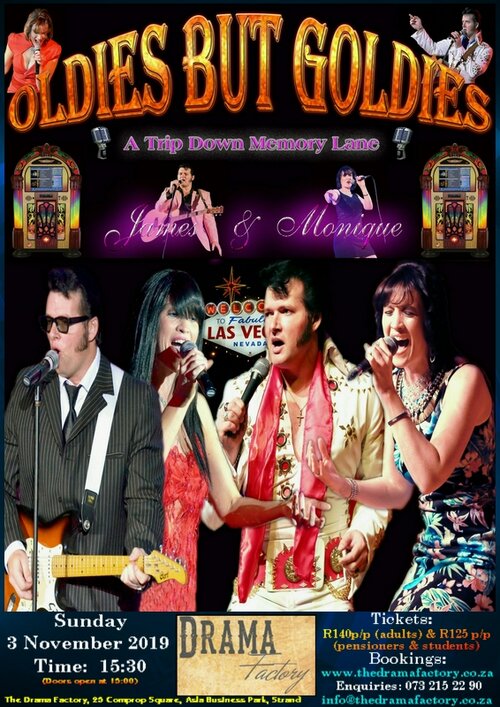 The "Oldies But Goldies" show comprises of the duo James Marais and Monique Cassells.
The show pays tribute to the golden era of music from the '50s to the '80s, featuring
artists such as Elvis Presley, the Beatles, Buddy Holly, the Everly Brothers, Roy Orbison,
Little Richard, The Platters, the Righteous Brothers, Creedence Clearwater Revival, Eddie
Cochran, Ritchie Valens, the Hollies, Cher, Queen, Shakin' Stevens, and many more.
The show is a mini-theatrical experience, featuring the dynamic vocal and visual
performances of James and Monique, alternating as a duo and individual performers,
who also do multiple costume changes throughout.
James is the no. 1 Elvis Presley tribute artist in the country, and has appeared on
television several times, including appearances on SABC 2's game shows, "Noot Vir
Noot" and "Musiek Roulette", as well as Kyknet's "Jou Show", presented by Emo Adams.
Monique is a very accomplished vocalist, having performed many different genres of
music over the years, including rock 'n roll, rock, pop, country, blues, ballads and even
light classical. She made her television debut on SABC 2's "Musiek Roulette" in May
2018.
James and Monique are a powerful duo and perform some of the best Beatles and Everly
Brothers duets you are likely to hear. They also put their own stamp on some well-
known hits not previously performed as a duet.
Book Tickets for Oldies But Goldies: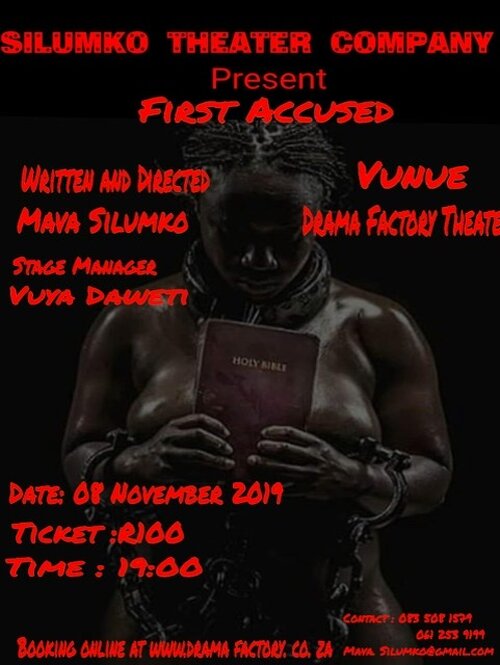 First Accused is the show that focuses on women abuse. Are women failing other women? Is the system at fault? Many young women have faced this bad tendency of being abused sexually and physically. They keep quiet and not reporting the issue so, in this production, we educate about the result of not taking actions.

Written and Directed by Mava Silumko performance by Sinazo Guga , Lina Ncobeni, Yanela Caza, Yanga Socose, Buhle Sam and Siphenathi Siqwayi Mava Silumko is writer and director his also an actor he has perform in many places such as Baxter theatre, artscape theatre and many more. he wrote and directed one of the power full plays named Ukuba ndadisazi , Siyanyanzela, Ukubuya komntu , when love gets bitter and Dear Diary. Mava won most outstanding artist of the festival in 2017 Zabalaza festiva . he is the Artistic Director of Kuyakhanya Productions.

Book Tickets for First Accused: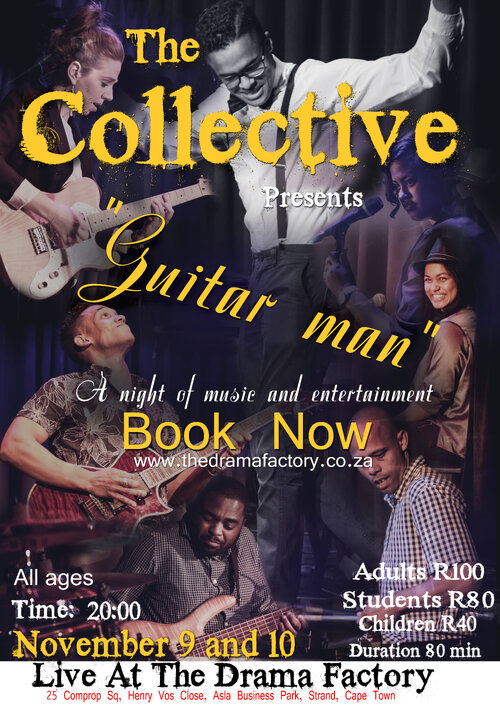 The show "Guitar man" presented by Local guitarist Emile Appollis and his band "the Collective" is a multi-genre show finished with a comedic touch.
The show will be hosted by Rogan Hank, and will contain music pieces in the style of Blues, Latin, Pop, and Jazz. In similar fashion to their previous show, "Guitar man" is a combination of both golden oldies, contemporary music and short skits. The show plays out a fun narrative for the most part, but in its crux comes down to the importance of unity and community.
The aim of the show, aside from a night of good music and laughter, is to remind our local supporters that we are one community. Many people, especially our women are hurting and together we can support, protect and heal.
In the last show 'Genesis', there was an incredible turn out and wonderful audience participation. Since then they have been working on a new show that will have even more opportunities for audience participation and more memories to be made.
If this is your first time hearing of Emile and his band, don't hesitate, come join us and experience them for yourself. Or if you've been part of the family along the way, we welcome you back and look forward to sharing the evening with you.
Book Tickets for Guitarman: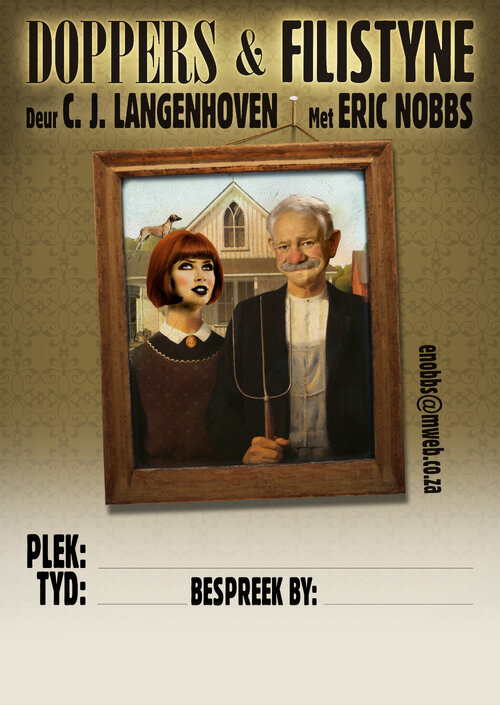 Eric Nobbs beeld in 'n skreeusnaakse vertolking die ergenis van die dorpslewe uit soos gesien deur die oë van Ou Stoffel Gieljam, Sagmoedige Neelsie se "neef". Hy slaag uitstekend daarin om die lagspiere te prikkel in sy unieke voordrag van die tradisionele Afrikaanse humor.
Dié eenmanvertoning, geskryf deur C.J. Langenhoven, is oral deur sowel die pers as die publiek met groot entoesiasme ontvang:
Die Volksblad sê o.a. dit is "... skaterlag relevant vir vandag ..." en "... niemand hoef 'n groot Langenhoven bewonderaar te wees om Nobbs se uitmuntende vertolking van veral 'Soetlief se tirade om dorp toe te trek', 'ou Stoffel se siekbed' en sy onderonsie met 'Steekbaard en die Skotse buurman' te waardeer nie. Hier het vele lagtrane gerol.".
Pretoria News sê o.a. "Not since the stories of Oom Schalk Lourens, as told by Patrick Mynhardt, has narration taken on such a colourful dimension. For a fun - and enlightening - evening out, go and listen to Nobbs at his best."
Beeld noem dit "... 'n meesterlike solo-vertoning ..."en gaan voort "Hy (Nobbs) slaag uitstekend daarin om die lagspiere te prikkel in sy unieke voordrag van die tradisionele Afrikaanse humor."
Cue meen "... Eric Nobbs gives a master class in storytelling - and for that matter, in acting. Langenhoven's pen portraits of the blessings and complications of rural life ... are among the gems of South African literature. Intimate, funny, heartwarming, comforting entertainment, so beautifully done that if it were French it could be likened to caviar. As it's not, let's settle for boeretroos."
Book Tickets for Doppers en Filistyne - C.J. Langenhoven :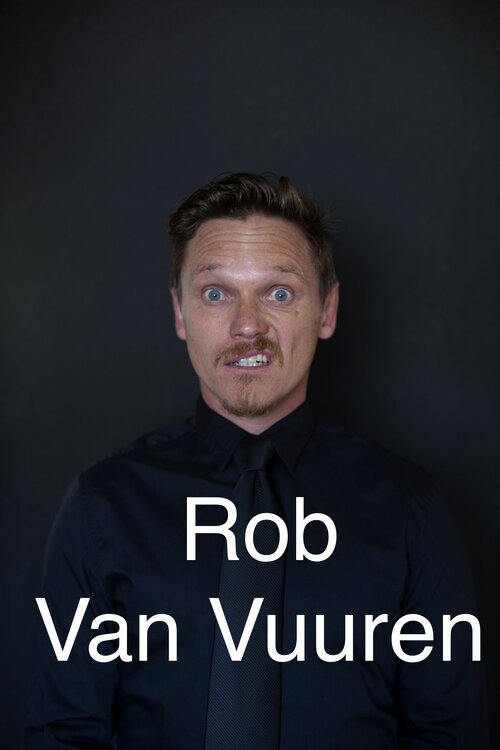 Rob van Vuuren is a household name in South Africa, he is Twakkie from the Most Amazing Show, the guy who shucksed Shuster in Shucks Tshabalala, the record breaking winner of Strictly Come Dancing, the voice of Takeshi's Castle Thailand on Comedy Central Africa, Van from Van Der Merwe and the star of a host of other film and television shows. He is a multi award winning comedian, having bagged no less than four Standard Bank Ovation Awards for comedy and the Breakthrough Act Award winner at the Comics Choice Awards. He has filmed two Comedy Central Africa specials. He was a finalist in the 2017 You Spectacular Awards in the Category SA's favorite comedian and his career has taken him to stages all over the country as well as Perth, London, Brighton, Amsterdam, Dubai, Brighton and Edinburgh.
His acting work includes Fleur Du Cap and Aardklop Best Actor nominations along with James Cairns and Albert Pretorius for their work in the Three Little Pigs. He has also won Fleur Du Cap and Woordfees Best Supporting Actor Awards for his portrayal of Nils Krogstadt in Henrik Ibsen's the Dolls House directed by Christiaan Olwagen.
His performance in Louis Viljoen's one man show; Dangled has earned the show a Silver Standard Bank Ovation Award, the Cape Town Fringe's Audience Choice Award and the Brighton Fringe Pebble Trust International Touring Bursary.
He has also worked as a director, writer and auctioneer and is a sought after master of ceremonies and corporate entertainer.
Rob has most recently been nominated for three Fleur Du Cap theatre awards; a best Actor nomination for his portrayal of Clov in Samuel Beckett's Endgame, a Best Supporting Actor nomination for his portrayal of Ellis and Slater in San Shephard's Curse of the Starving Class and A Best Performance in a one person show nomination for his portrayal of Poprischin in Louis Viljoen's Dangled.
Rob and his wife Dani have written two enormously successful children's books together and are currently touring with the accompanying show to their second book, Florence and Watson present the Great Pangolin Mystery.
Rob has just finished shooting Queen Sono, South Africa's first Netflix commissioned Original Series which releases in 2020.
Book Tickets for Best Of Rob Van Vuuren :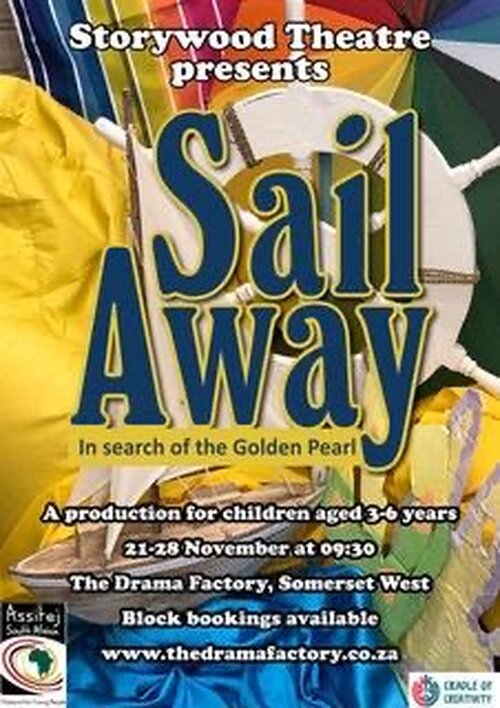 SAIL AWAY: In search of the Golden Pearl
We meet the crew of the ship. They are searching for the golden pearl. Why is
the pearl so special? Because it is one of a kind!
Their journey takes them over the ocean where the sea creatures live.
They arrive at the island – perhaps the birds will help them find the golden
pearl. The birds are not too helpful at first. The crew promise to leave the
island as they found it. Now the birds will help them – follow the clues!
What is the secret of the golden pearl? Listen to your heart.
This theatre production is suitable for children aged 3-6 years and is ideally suited for an end-of-the year outing for preschools and playgroups.
The play is specially created for young audiences within this age group, providing an exciting storyline in a non-threatening manner. The simple narrative is easy to follow and includes music, audience participation, puppetry and a general sense of fun!

Storywood Theatre Productions, is a children's theatre company based in Cape Town and was recently part of the Assitej Cradle of Creativity Festival at the Baxter Theatre. Director Margot Wood holds a Masters degree in Children's Theatre and is an educational drama and theatre specialist.
Book Tickets for SAIL AWAY: In search of the golden pearl: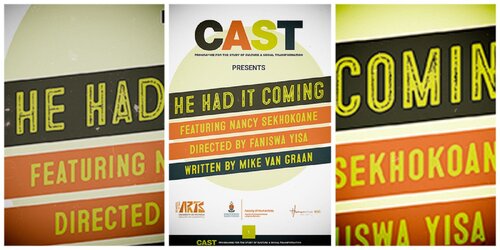 He had it coming, a collection of sketches by Mike van Graan (Pay Back the Curry, State
Fracture, Two to Tango), will be performed by Nancy Sekhokoane under the direction of
Faniswa Yisa.
With Daniel Richards – Van Graan's collaborator in his most recent one-person, multi-sketch
revues – having left to study film in the United Kingdom, He had it coming provides a
platform for a new talent to be introduced to audiences around the country. After premiering
the work at the University of Pretoria in mid-October where audiences responded
enthusiastically, the show will have a short run at the Drama Factory in November.
Nancy – with a Cuban mother and South African father - graduated from AFDA in 2018 and
won the Fleur du Cap Award for Best Student. She is directed by Faniswa Yisa, herself a
veteran stage and film actress who won the Fleur du Cap Best Actress Award in 2018.
He had it coming picks up on themes in contemporary South African discourse and seeks to
provide commentary mostly in a satirical form, inviting laughter as much as critical reflection.
"This show should be seen by all South Africans" was a regular line in the written feedback
from audiences as well as descriptions of Nancy's performance as "extremely talented",
"brilliant" and "refreshing", with "a beautiful singing voice".
Book Tickets for He had it coming!: