CAT & LUCY!
When divine divas collide the musical magic is mindblowing!
A show with class and oodles of style. Outstanding vocals in this cabaret exuding old school glamour.
Lucy Tops' voice is a powerhouse of incredible range and Cat's classy, cheeky performance style is very entertaining, her piano mastery evident throughout, especially in the "classical" mistakes" set.
Cat is without a doubt a fabulous foil for Lucy and their individual strengths complemented the other's brilliantly.
They have a lot of fun and intimacy together on stage.
Fantastic hits from Tim Minchin, Elton John, Tones & I, Whitney, Lionel, Queen, Bette Midler, Marianne Faithfull and surprises such as Radiohead's Creep and an inspirational country-styled, Follow Your Arrow!
This show is really worth it as a night out, for everyone, but especially women.
Prepare to feel empowered ladies!
Book Tickets for CAT & LUCY - WHEN DIVAS COLLIDE: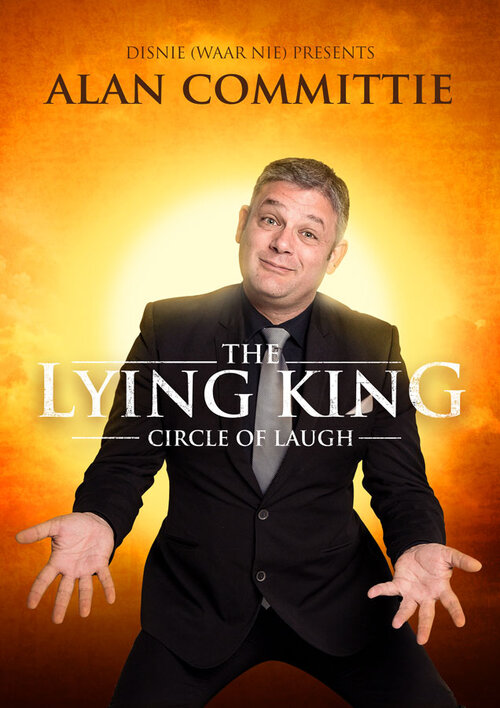 Alan Committie is a Lying King and returns to the Drama Factory with his madcap comedy musings.
In this hilarious solo show Committie will talk about The Queens Gambit, Heidi en Klara and other 80's tv deceits, the frustration of autocorrect, the lure of of the finger biscuit and the spectacle of wearing glasses. And he might even explore why men can never provide enough details in a story…..Or perhaps he will not talk about any of these things. Because winter is coming and nothing is what it seems…. Committie is renowned for his witty and high energy material and combined with his madcap physicality and clean content makes for an ideal show for everyone in the family.

"A masterclass in the theatre of stand up" Robyn Cohen
"Thought-provoking, relevant, and joyous, this is vintage Alan Committie" Beverley Brommert
"This comedian is on top of his game" Karen Rutter
Photo Credits: Jess Kramer
Creative Team: Created and written by Alan Committie Directed by Christopher Weare
Book Tickets for The Lying King - Circle of laughs: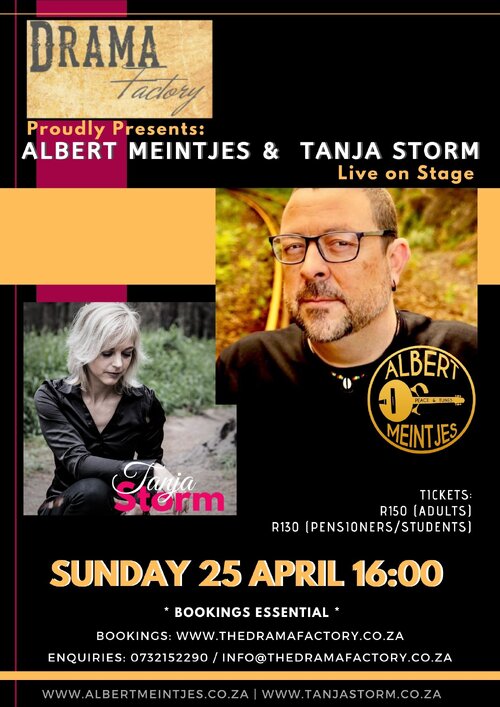 An unforgettable evening of stories & songs by accomplished Garden Route singers / songwriters, Tanja Storm & Albert Meintjes.
Tanja (vocals & keyboards) & Albert's (acoustic guitar & vocals) individual performances & duets, a blend of originals & well-known covers, enhanced by their unique voices & exceptional instrumental techniques, promises to take their audience on an inspiring, captivating journey.
Inspired to write & perform his own compositions, Albert Meintjes' strongest source of lyrical inspiration is drawn from life's day-to-day happenings & the emotions they evoke & his stories are of love, adventure & the all-too-often, unseen natural, surrounding beauty. Beautiful originals, like "Dune 45" (official music video) & "Freedom", amongst others, will be performed by Albert. Tanja Storm, also no stranger to the music scene, brought you the Eva Cassidy Tribute at The Drama Factory. She will perform numerous of her singles like "Môreson" and "No Place Like Home", that were no. 1 on our local S.A. music charts, her popular hit song, "Hi Hi", an ode to Mossel Bay, where she hails from, as well as a few popular covers that the audience can identify with and relate to.
Tanja Storm, gifted, prolific, creative & multi-talented, skilled vocalist & musical director, released her self titled debut album in 2009 and only recently returned to the studio after years of successful projects with various cover bands, collaborating with and backing other artists, and theatre work such as Rockolution: The Evolution of Rock. She released her new album, 'Ek is Oppad', featuring her popular hit songs, "Hi Hi" in 2019. Many of her music videos are on KykNet. Tanja worked remotely with other artists, including Albert Meintjes, to live stream their shows and record new material, during the Covid-19 outbreak in S.A. & the lockdown. She released 3 brand new singles during the lockdown and even arranged a theme song for a documentary. Albert Meintjes made his introduction to South African stages in 1996. He released 2 albums with Scioustic, one of which was "Algrecko", featuring Greg Georgiandes. His much-anticipated debut solo album, "The Very Silence of Waiting in this Place", was successfully launched in April 2017. Albert performed his Tribute to Koos du Plessis in 2019 - 2020 & his latest hit song, "Freedom", won him a Global Music Award in 2020. Both artists have shared stages with some of S.A.'s top artists, such as Albert Frost, Karen Zoid, Valiant Swart, Shaun Morgan (Seether), the late Johnny Clegg & Piet Botha, Black Cat Bones, Jan Blohm, Duncan Faure & Mel Botes, to name but a few.
Freedom: https://www.youtube.com/watch?v=ugrG6FK96q8; Moreson https://www.youtube.com/watch?v=japKOsoG5xc; Dune 45 https://www.youtube.com/watch?v=28zv3M19Gk8; Grootste Wens https://www.youtube.com/watch?v=rnAU1YI03tQ; Ek Is Op Pad https://www.youtube.com/watch?v=jbFg1F5JTQs
Book Tickets for "Albert Meintjes & Tanja Storm in Concert":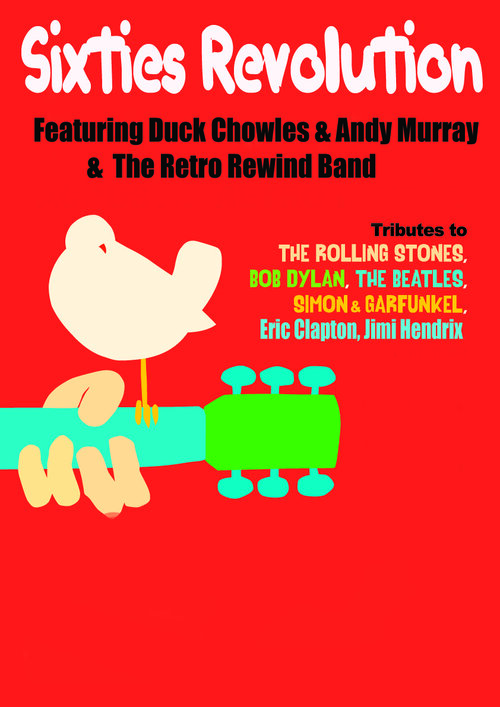 The Sixties Revolution" is a special tribute to The Rolling Stones, The Beatles, Bob Dylan, Jimi Hendrix, Eric Clapton, Bob Dylan, The Doors and Simon & Garfunkel
Duck Chowles, Andy Murray & The Retro Rewind Band brought you the highly-acclaimed, "Simon & Garfunkel meets The Beatles" show. Now they are back to pay tribute to a decade, the '60s, that marked a time when pop music became more than a teenage fad, but an important art form in its own right, as its soundtracked the hippie heyday & the Vietnam War.
With his superb energy & vocal range and his uncanny ability to perfectly mimic artists down to the finest idiosyncrasy, mercurial Duck Chowles, South Africa's Rock 'n Roll chameleon, who has won acclaim for his spellbinding and sterling impersonations of Mick Jagger & The Rolling Stones, will captivate the audience, as he pays authentic tribute to these musical greats with hits such as "Honky Tonk Women", "Jumping Jack Flash", "Paint it Black" & "Ruby Tuesday".
Duck will also pay a heartwarming tribute to one of the greatest singer-songwriter poets, Bob Dylan, with songs like "Blowing in the Wind", "Just like a Woman" & "Mr Tambourine Man". Inimitably dexterous on lead guitar & vocals, Andy Murray, who has won a prize for "Best Instrumentalist" & "Best Lead Guitarist" and been hailed as a "mean guitar player" will pay tribute with some blistering guitar solos to two of the most influential guitarists of the '60s: Jimi Hendrix with "Purple Haze" & Eric Clapton with "Sunshine of Your Love". Duck Chowles & Andy Murray also achieve the perfect harmony blend, one of their trademarks, for Simon & Garfunkel hits like "The Boxer" & the iconic, "The Sound of Silence", as well as for The Beatles' "Norwegian Wood" & "Nowhere Man". The show also takes you down the highway with "Born to be Wild" by Steppenwolf and Jim Morrison & The Doors' "Riders on the Storm" & "Roadhouse Blues". "The Sixties Revolution" is a show strictly for all ages and music tastes, a show celebrating all styles of music, song & timeless classics, that will have the audience carried along on a flood of good vibrations. A crowd-pleasing show that will treat '60s music nostalgists to an exciting musical journey into the past!
The Retro Rewind Band features musical genius & celebrated performer, Duck Chowles, of Barnyard fame, on acoustic guitar & vocals, Andy Murray, also of Barnyard fame on electric & acoustic guitars & vocals, as well as accomplished, like-minded musicians, Alan Llyod on drums & bassist Karl Hering, who both also performed in various Barnyard productions. Eastern Cape-born-rock and roll artist, Duck Chowles, who is a producer extraordinaire, is a household name and together with Andy Murray, has been on the forefront of the South African entertainment industry for more than 3 decades. They started working together in 1993 in a Tribute to The Rolling Stones called Sticky Fingers at the National Arts Festival in Grahamstown and continued performing together in countless hit shows such as Sixty Something, Roll over Beethoven, Glory Days, Station 70 and many more. This cast of highly professional musicians have paid their dues and have earned the respect of aficionado (fans) of '60s music!
Book Tickets for The Sixties Revolution:
In die kaberet loer ons na die vrou deur die wêreld se oë. Hier sien ons die beeld van die vrou waar sy gaan van 'n "lappop", 'n ma wat haar droom deur haar dogter wil leef, 'n vrou wat n idee van haarself in haar kop skep, tot 'n ma wat se liefde nooit eindig nie. Ons sorg vir behoorlike skaterlag, maar as die realiteit jou slaan, los dit jou met 'n traan in die oog en bring jou tot beseffing wat die vrou in die lewe regtig beteken.

Die universele vrou kan baie vorme aanneem, maar wat het hulle almal in gemeen? Hulle almal is deel van een groot gejaagte wêreld en die misleidende prentjie wat die wêreld skep van hoe 'n vrou moet wees : mooi, maer, slim, aktief, 'n besigheids vrou, terselfde tyd 'n huis vrou, 'n ma, ouma, vriendin, suster, niggie, tannie en tog wil sy net vrou wees. Ons vat die donker wolk wat op die vrou se skouers lê en sit 'n silwer rantjie om - jy het die reg om 'n vrou te wees en te lag daaroor!
Suenel & Sjanel het altwee uitvoerende kunste studeer, waar hulle ontdek het dat hulle drama-sielsgenote is. Beide was al in vele verhoog pruduksies en het ook al onderrig in die uitvoerende kunste gegee. Suenel was al te sien by die Kalfiefees, Stellenbosch Woordfees, in vele kinderteater - en industriële teater produksies. Sjanel het ook al haar verskyning gemaak by die Stellenbosch Woordfees, in kinderteater produksies, en sy is tans deel van Mike McCully and the Harmonix tribute to ABBA groep. Suenel & Sjanel stap ook in 2015 weg met die "Beste Nuweling" prys by die Woordfees in Stellnbosch.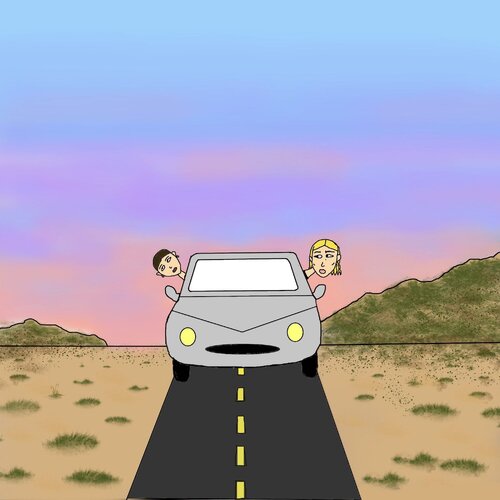 Breakdown is a romantic comedic play about a young couple on their way to a weekend away in the Karoo when the car unexpectedly breaks down, causing the couple to reflect on how it all started, where they are now and where they are going. Don't miss out on a light-hearted, and yet extremely, relatable comedy about a young couple trying to survive a night in the Karoo. Throughout the evening moments of frustration bring out years of hidden feelings, guilt and a surprise confession or two.
Written by the British writer, Mark Leeson, Breakdown is adapted and directed by Kanya Viljoen and stars newcomers, Leroux van Diemen and Kira Inanna.
After a sold-out run at 44 on Long in Cape Town, Breakdown will be seen at the Drama Factory. Van Diemen and Inana are recently graduated students from Act Cape Town and the production is supported by Act Cape Town.
Creative Team: A play by Mark Leeson Adapted and Directed by Kanya Viljoen

Book Tickets for Breakdown: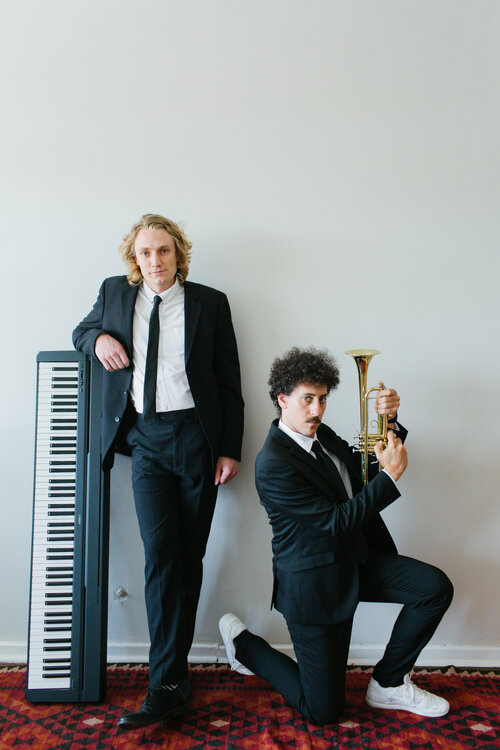 Schalk Bezuidenhout kombineer Afrikaanse stand-up komedie met vlymskerp oorspronklike liedjies en musiek oor alles en nog wat. Hierdie optrede is deel van 'n uitgebreide toer in die Wes-Kaap van tien vertonings. Schalk mag dalk koor gesing het op skool en hy was selfs 'n Kanarie op die silwerdoek, maar die slotsom is: Schalk sing sleg. Of sing hy regtig sleg?
Schalk deel die verhoog met die talentvolle musiekonderwyser, komponis en uitvoerende kunstenaar Wesley Van Der Westhuizen van Johannesburg. O ja, Wesley speel verskeie instrumente, Schalk tree dus nie op met backtracks soos een of ander snotkop met 'n snor nie. Kom tuit jou ore en lag jouself 'n papie, want Schalk se liedjies sal jou laat mis, eet, slaap, herhaal én skater!
Schalk Bezuidenhout het geen bekendstelling nodig nie. Dié 28-jarige krulkop met die kenmerkende truitjies van Kempton Park is volksbesit sedert hy in 2015 vir Trevor Noah geopen het. Met drie puik eenmanvertonings (al drie verfilm), die hoofrol in die veelbekroonde rolprent Kanarie, aanbieder van Die Kliek op VIA, die rol van die geliefde Danny in die kykNET-reeks Hotel en as nuusanker van die satiriese Die Ware Naarheid, ook op kykNET, het Schalk die afgelope vyf jaar in kykers en gehoorlede se harte gekruip.
Voor die Covid-19 pandemie het hy ook gereeld oorsee in plekke soos Dubai, Londen en Edinburgh opgetree. Hy is bekend as 'n vreeslose én skreeusnaakse komediant. Sy videos op Instagram en Facebook is vir tienduisende Suid-Afrikaners die beste lagmedisyne sedert die lockdown begin het.
Book Tickets for Schalk Sing Sleg :