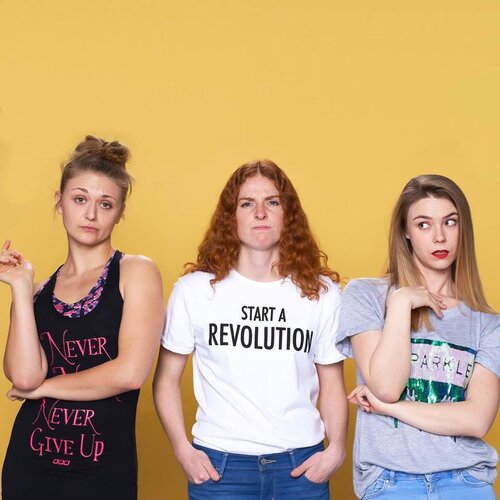 After two sold-out seasons in Cape Town, The Good, The Bad and The Fugly is headed for their first ever performances in Somerset West. Inspired by true South African stories that seem too ridiculous to be true, The Good, The Bad and The Fugly is a musical comedy which explores social interactions behind the safety of our screens. Three women, three social media accounts and three times the drama. A tongue-in-cheek musical comedy exposing all the hilarious consequences of online personas, strong opinions and bad behaviour. This production showcases the good, the bad and the downright ugly and gives us all an opportunity to laugh at ourselves. The Good, The Bad and The Fugly sets out to embody the complexities of being a South African in today's social networking fiasco. #nofilter
"I wasn't sure what to expect but this show had me in fits of laughter. I honestly thought I was going to fall out of my chair at one point. On top of being hilariously relatable, it was beautifully choreographed and performed. I recommend everyone go see it. I would even go again!"

"The show was absolutely BRILLIANT! So incredibly relevant to today's day and age, I feel everybody needs to watch it, especially the people of Cape Town. I am in awe of how well written it was, but also at the vast talent of the cast; breath taking voices and incredibly skilled actors."
"It was relevant and hilarious. The cast is so talented and every moment was filled with energy and focus. Bravo!" "Fantastic - I thoroughly enjoyed the theme and the individual uniqueness of each of these talented young women. Could so relate to the brilliant idiosyncrasies they brought to their show with such humour. Great evening" Photo Credits: Oscar O'Ryan

Nathalie Vijver graduated from UCT with an Honours degree in Drama in 1999 and has been the Head of Drama at the Cape Academy of Performing Arts for the past 13 years, lecturing and directing students of the tertiary full-time course. She is also the Director of the Nathalie Vijver School of Drama which operates as a vocational day school at the CAPA Studios. She has directed CAPA Drama Productions, 'Fight Sin' (2007), 'Kissing Frogs' (2008/2009), Razor Tongue (2010), collaborated with the Cape Dance Company in 2010 to create the 'The Devil's Company' for the Grahamstown National Arts Festival. More recently Nathalie Vijver has been co-directing with Debbie Turner in CAPA's school productions, 'Bittersweet' (winner of Standard Bank Ovation award at the National Arts Festival in 2013),'Between the Lines' (2014) for the National Arts Festival and the Cape Town Fringe, 'Jilted' (2015), 'Chasing Shadows' (2016) and 'Ellipses' for the National Arts Festival and the Cape Town Fringe (2017). In 2016 Nathalie directed 'Wait' at the Alexander Bar which was written and performed by Raine Waring. Nathalie is resident Dramaturge for the Cape Dance Company and has worked with Jose Agudo on 'A Thousand Shepherds' (2016/2017) and with CAPA graduates Mthuthuzeli November and Lee van der Merwe on their new work 'Sun, The Rite of Passage' which premiered in November 2017 in the Cape Dance Company's season at the Artscape Theatre. Louise Newman, a singer, song-writer, voice-over artist and performer in Cape Town, was a student from the ages of 5 to 19 at the Cape Academy of Performing Arts, receiving training in dance, drama and vocals. Thereafter Louise transferred to AFDA in order to focus on her career in music, where she graduated (Cum Laude) in 2016. Louise won the award for Best Music Performance at the AFDA Experimental Festival and Best Music Performance at the AFDA Graduation Festival in 2016. Louise was also awarded Top 3rd Year Music Student at AFDA in 2016, as well as Top 2nd Year Music Student at AFDA in 2015. Louise has performed in 'It Is What It is' (2017) at the AFDA theatre as well as 'Uncle Vanya' (2017) directed by Chris Weare. Louise has also performed in numerous productions at the Artscape Theatre as well as the Grahamstown National Arts Festival including 'Bittersweet' (2014) 'Between The Lines' (2014), both of which were directed by Debbie Turner and Nathalie Vijver. Lee van der Merwe graduated from the Cape Academy of Performing Arts full-time programme with distinction in 2016. During her studies, Lee performed in many CAPA productions at the National Grahamstown Arts Festival as well at the Artscape Theatre and Baxter Dance Festival. She then went on to write, produce and co-perform the physical theatre play, 'Laced' which, after a highly successful premier at the Alexander Bar, toured to the Grahamstown National Arts Festival in 2017. She has been a member of the Cape Dance Company for the past 6 years performing in numerous theatres and festivals around South Africa. Lee recently choreographed and performed a solo dance work in the Awaji Art Circus International Arts Festival, Japan, and then went on to perform in the pioneering, Fleur De Cap nominated, Immersive Theatre production, 'Immortal'. Lee is currently performing in the Fugard Theatre's production of 'West Side Story' at the Artscape Opera House. Chané Otto hails from sleepy Sedgefield on the Garden Route. Having started dancing at the tender age of 7, she was drawn to the bright lights of the Mother City in 2010, where she began to set about pursuing her lifelong performing dreams, taking up a course of study at the prestigious Cape Academy of Performing Arts. During her three years at CAPA, Chané performed various lead and ensemble roles in a range of dance and theatre productions at the Masque Theatre in Muizenburg, the Grahamstown National Arts Festival and at Artscape Theatre in Cape Town. Having graduated from CAPA with a distinction in the bag in 2012, Chané has appeared in a number of roles in children's theatre with AREP:Theatre for Life, site-specific theatre with Yellow Glove Productions, TV commercials, local TV series (Die Byl - Kyknet) and musical theatre. Chané is also a voice over artist and enjoys exploring creative choreography.

Book Tickets for The Good, The Bad and The Fugly: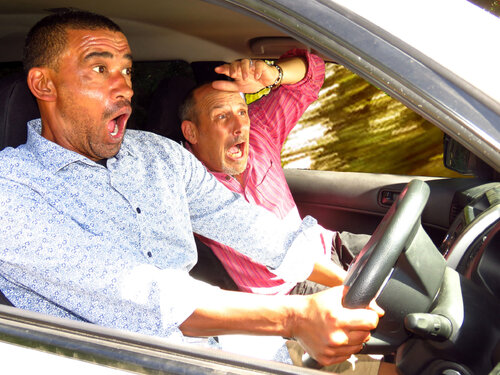 Jaco en Belarus (Ja dis sy naam) is op die pad. Die plan is 'n roadtrip van Suid na Noord om bietjie weg te kom van alles. Wederhelftes, kinders, troeteldiere en werk is agtergelaat om soos ouds die vryheid van die oop pad te geniet sonder verpligtinge, sorge en skuldgevoelens. Alles is egter nie so eenvoudig nie want die lewe is nie meer so eenvoudig soos 20 jaar gelede nie, en dinge rafel vinnig uit as die twee hulle verdwene jeug probeer herwin met skreeusnaakse gevolge. Geheime word ontbloot en daar wag 'n verassing in die kattebak as die teëspoed hulle in die middel van nêrens (Ok die Vrystaat naby Trompsburg) tref. Hierdie kombinasie van die "buddymovie" en "roadmovie" genres bekyk op 'n komiese manier wat gebeur as twee mans vasgevang word in 'n situasie waar hul geforseer word om oor alles te praat, elke man se ergste nagmerrie.
Brendon Daniels is a South African actor best known to television audiences for his roles in the series Vallei van Sluiers, Die Francois Toerien Show and Die Boland Moorde.

Other television series he has acted in include Interrogation Room, Madam & Eve, Stellenbosch, Shooting Stars, Transito, Geraldina die Tweede, The Philanthropist and League of Glory.

Brendon has also appeared in numerous films including The Young Lions, Heaven, Dollars and White Pipes, End of the Road, Fleisch, Master Harold and the Boys, I Now Pronounce You Black and White, The Abyss Boys, Agter die Berge, Black Butterflies, Four Corners, Zulu and iNumber Number.

On stage, he has had roles in the productions Die Generaal and Rooiland (both directed by Jaco Bouwer) and Babbel and Lot, directed by Nicola Hanekom. In 2012 he won KKNK and kykNET Fiesta awards for Best Actor for his role in Rooiland.

Other theatre productions he has appeared in include From Kho Khoi to Toi Toi, Ladies Night, Bacchus of die Boland (directed by Heinrich Reisenhofer); the Marthinus Basson productions The Joesph and Mary Affair, Om Soos 'n Lyk te Le and Anthony and Cleopatra; Snuf in die Neus (directed by Francois Toerien) and Skollies, directed by Leon Kruger.

Brendon has also appeared in numerous commercials for clients including Caltex, Shoprite, Mweb, The Daily Voice, The Cape Town Fish Market, the Wild Bean and Independent Newspapers.

In 2013 he was one of the main cast members of the kykNET crime anthology series Die Boland Moorde (The Boland Murders) playing the role of Adjudant-offisier Shane Williams.
Waldemar Schultz is a South African actor, director and voice artist best known for his role as Jan-Hendrik Terreblanche in the SABC2 soapie 7de Laan, from 2000-2009.

He was also the host of the 7de Laan companion show Ken Jou Laan (Know Your Lane), which aired on SABC2 from 13 June to 5 September, 2008.

Education

Schultz grew up in Milnerton near Cape Town, where he showed a great love for acting and the theatre from a very early age, taking part in as many school theatre productions as possible.

This love eventually ripened into a career choice, and led him to study Drama at the University of Stellenbosch, where he achieved a Master's degree in Drama, and taught acting from 1992 to 1994.

During his time as a student at Stellenbosch, he was recipient of the prestigious Fleur du Cap theatre award for the Most Promising Student (as well as two nominations in previous years for the same award), and was also awarded the sought-after University of Stellenbosch Drama Department's Dux Prize for the highest standard of work upheld over the course of four years' study for a degree in drama.

Later, while a Master's Degree student, he would also lecture in acting at the university.

Career

While still a graduate student, Schultz began a freelance career in voice dubbing and radio dramas for the SABC, and would eventually go on to become a dubbing director for Quantum Productions for a while.

Between 1991 and 2001, he also busied himself acting in and/or directing (and sometimes writing) many theatre projects for different companies including PACT, CAPAB, Spektrum Productions and Blond Productions.

His first role in a television series was as Klein-Geoff in the 1994 series, Woestynblom, followed by Paul Kruger in the CCV youth drama Young Vision.

Smaller cameo roles in Hagenheim: Streng Privaat, Soutmansland and Arsenaal followed, but most of his time was taken up with voice work, corporate and children's theatre and commercials – until, from the year 2000, the role of Jan-Hendrik Terreblanche in 7de Laan became more-or-less a full-time occupation.

He left 7de Laan in late 2008 (his last appearance was on Friday 6 March, 2009), in order to return to Cape Town, having lived in Johannesburg since beginning on 7de Laan.

From 2010-2011 he starred as the lead character in the kykNET improvisational show Proesstraat (Proes Street), recorded without a script, in front of a live audience. He left the show after two seasons.

In 2012 he guest starred in the final season of the SABC1 sitcom Stokvel and in 2013 he starred in the fifth episode of the kykNET crime anthology murder mystery drama series Die Boland Moorde (The Boland Murders).

In 2016 he starred in the crime drama series Die Byl (The Axe), playing the lead role of Colonel Piet van der Bijl, a detective loosely based on the real life South African detective Piet Byleveld.

Book Tickets for Die Roadtrip: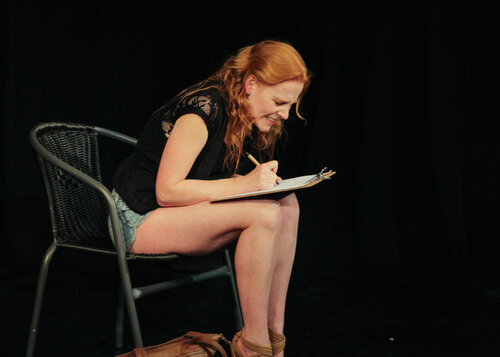 #ActorsLife wittily explores actors' identities in the film industry, theatre industry, society and relationships. @christinetheactor plays many parts as a woman who is everyone! This glimpse of a young actor's life illustrates the complexity of the female form within an industry where women are both idolized and commodified. In a world where you are often defined by who you know and what you are willing to do to get a role, it becomes difficult to know where to draw the line and when to how to act in all the different arenas of your professional and personal life! Follow Christine as she undergoes a crisis of self, questioning her career, abilities and morals, while attempting to define which parts are Christine and which are characters as she redefines herself as a young adult and professional artist.

For many years' women remained silent. About being misused and abused. About sexism and inequality. But now things are changing and women are speaking out. The first performance of #actorslife took place one week after the release of "Look what you made me do". Soon after, the Weinstein scandal broke and the #metoo movement gained unstoppable momentum. In South-Africa, as well as internationally, it is essential that these issues are placed under a microscope: how does the entertainment industry treat young women? How are actresses perceived by their partners and communities? What are the preconceptions that are accepted within a misogynistic society? How does the patriarchal Afrikaans culture influence classifications and prejudice and how do these views affect actresses? Are young actors prepared the challenges they must deal with? #actorslife is built on the basis of these issues, but with a positive underlying force which drives Christine to define her own identity and find her voice within these confines. This play, written by Estelle Terblanche, questions the inner conflict of an actress within a community built on underlying misogynistic views and misconceptions that allow women to be systematically mistreated and labelled. Estelle relies on a mixture of her own experience as a young actor trying to make her mark, her friends' stories and other research to inspire her writing. This enormous source of information gave life to Christine and has helped question the complex reasons that make acting such a difficult career choice, while simultaneously driving actors to continue doing what they do, no matter the cost. The honest, witty and comical tone of the piece allows deeper topics to be explored, while still allowing the audience to connect and laugh with Christine as she takes on the complex challenges that come with adulting.
Bios: Writer/Actor: Estelle Terblanche is passionate about telling stories. Her first love is acting and she has pursued this career with great determination. After completing her B.Dram (Stellenbosch) with a focus on theatre acting and physical theatre, she gained film industry experience as a casting assistant. She has travelled internationally and completed workshops in Los Angeles. She believes that observation and imagination are the building blocks of writing. Apart from collaborating with other creatives, Estelle strives to create her own work in order to tell the stories she truly believes in. Her writing work includes academic writing, a children's book, short films and a feature film script – and she is currently writing her first novel. #actorslife is a passion project inspired by her own experiences and those of her friends in the industry. Estelle is happiest when acting! She also worked with two physical theatre intitiatives (Mbody and Prematuur) and she continued to expand her skills with many film acting courses and workshops. Her work includes Films (House Party, The Price of Sugar, Hollywood in my Huis), Television (SAF3, Bolandmoorde, Troy: the fall of a city), Theatre (Dreams, Ghost Story, Boekbuddies), Commercials (not listworthy!) and Short Films (To the Passerby, I was Here, Die Onderspit). She writes primarily to create her own work and one of her Short Film scripts has been produced (An Awkward Attempt). She has recently completed her first children's book and feature film script and is working on a novel. #ActorsLife is the first big theatre project that she wrote, produced and stars in. It is very close to her heart! She truly feels honoured to work with Tamryn and Jeremeo, a really amazing team!
Director: Tamryn Spiers is inspired by untapped human creative potential. She believes it is as boundless as what we could achieve by unleashing it. She thrives off of multi-tasking to provide a constant outlet for her talents, having found solace in both acting and directing (for screen and theatre), presenting, dance, writing and working as an international acting coach. As a professional theatre director her credits include (Five women wearing the same dress by Alan Ball- NAF, On Broadway in CT 2010) ; (Fat Pig by Neil Labute, starring Chanelle De Jager and Colin Moss- Theatre on the Square 2012 - Johannesburg, On Broadway 2011); (Autobahn by Neil Labute- NAF 2011); (Three Sisters and The Bear by Anton Chekhov- The Galloway Theatre 2018); (The Dolls House by Hendrik Ibsen - Galloway Theatre 2018); (Frankie and Johnny by Terrance MacNally - Alexander Bar 2018); (21 Light Years by Nicola Hanekom (writer) - Galloway theatre 2017; (A memory, a monologue, a rant and a prayer by Eve Ensler and various writers - Alexander Bar 2018). She has also assisted other productions as a performance coach namely, Cold Case for Denise Newman. For School Productions she has directed Musicals for Herschel and Bishops Diocesan Colleges with cast of 200 actors for numerous years , productions include (Grease, Annie, Bugsy Malone, Guys and Dolls, Aladdin, Jungle Book, Seussical the Musical). She studied at South Africa's Cape Academy of Dramatic Arts and the London's Academy of Music and Dramatic Arts. An English Major from UCT, she also studied the Royal Academy Ballet technique. At AFDA she won a Stone Award for her work in acting, directing and production design. In New York she continued her professional development under A-lister Black Nexxus coach Susan Batson, Valerie Kingston at Utha Hagen School and closer to home, Matthew Harrison from The Actors foundry in Vancouver. Tipped as talented newcomer to the theatre scene in 2011, Tamryn supported actress Denise Newman as her younger sister in her 2011 theatre debut of Jean Genet's 'The Maids'. Director Ruth Levine and co-star Susan Danford joined her list of powerhouse mentors. Tamryn understands that the roadmap to developing character requires exceptional vulnerability of self is the process that helps one understand who they are as an artist or creative. While nurturing these qualities on screen or stage, she incorporates the screenwriting perspective. Having spent 2 years with NVYF editor Gavin Sher and Matthew Kalil studying the architecture and structure of story, brought a new dimension to being able to understand the impact of the narrative trajectory as an actor. Over the past decade, working with ACT Cape Town, Tamryn has coached local and international actors helping them to "understand journey of the narrative" deep within the context of their creative expression. A part-time lecturer at SAE and CPUT, guiding second and third year students to understand how to direct, work with actors and understand screenplays has her sights set on Creative Direction. Expanding on opportunities to work with her colleges and teen students on 48-hour film productions Tamryn has assisted fellow actors in developing showreels, producing cooking shows and assisting high profile individuals in their creative career transitions. A keen activist and advocate of social justice, she has had involvement in various theatrical fundraisers, film productions and is an advocate for the prevention of human trafficking. Tamryn's aim is to bring these elements more strongly into her work in the coming years to raise much-needed awareness.
Producer: Jeremeo Le Cordeur is a creative soul, born and bred in Wellington. He is a young actor, director, writer, and photographer who graduated from City Varsity with an unstoppable drive and unfaltering commitment to his craft. In 2009, he joined Fresh Theatre Company, a presenting company specialising in musical theatre, where he performed in Life is Rock N Roll, Love in Cyberspace, and Pinocchio. In 2010, he created Vulture Productions, which he uses as a vehicle to support and create South African theatre works. He has been at the helm of many successful productions such as PIZZA'S HERE (2011), I KNOW HOW YOU SCREAMED LAST SCARY MOVIE (2011), and RISK for the 2012 & 2013 National Arts Festival. In 2013 he returned to the Artscape with FEBRUARY 14TH. The production received rave reviews, admiring Le Cordeur as "an energetic and entrepreneurial theatre maker" (Tracey Saunders, Cape Times). In 2014, he directed TANNIE DORA GOES BOS, a play written by Warren Meyer which opened to rave reviews and was later included as part of Artscape's 8th annual Woman/humanity festival. In 2016 He also created THE VULTURE PHOTOGRAPHY PROJECT, an arts-photography project aimed at showcasing the work of South African theatre practitioners. Through Vulture Productions, Le Cordeur also guides the work of other artists, ensuring that whatever contributions they receive, is well spent on fostering the talents of their contemporaries in the field of performing arts in South Africa.

Book Tickets for #ActorsLife:
TRIBUTE TO ARETHA FRANKLIN Join favourite all female vocal group, 4 Tons of Fun in a fitting tribute to the Queen of Soul, Aretha Franklin. This is a chance to see four of Cape Town's finest vocalists with their amazing voices, big talents and big laughs celebrating through song, the life of a woman who influenced generations of singers and touched the lives of so many.

Following the untimely death of Aretha Franklin in August 2018, the three founder members of 3 Tons of Fun, Sthe Mfuphi (Saxy Sthe), Bulelwa Sakayi (Beautiful Bee) and Michelle Thomas (Mysterious Mich) together with powerhouse Soi Soi Gqeza, have produced a fitting tribute to this iconic singer. Included in the show are lesser known favourites like 'Chain of Fools' and 'A deeper love' as well as the big numbers such as 'Respect', 'Natural Woman' and 'Ain't no mountain'. The undisputed 'Queen of Soul' created a legacy that spans an incredible six decades. Over the course of her career, Franklin garnered 44 Grammy nominations, winning 18 and became the first woman inducted into the Rock and Roll Hall of Fame in 1987. Aretha Franklin's powerful distinctive gospel-honed vocal style has influenced countless singers across multi-generations justifiably earning her the Rolling Stone magazine's No 1 place on a list of 'Greatest Singers of All Time'. She didn't just sing with soul, she was soul.
In this performance, these four women, Sthe, Bee, Michelle and Soi Soi, with their amazing voices will pay tribute to Aretha Franklin in what will be a celebration through song of the life of a woman who has influenced generations of singers and touched the lives of so many. Combining vocal power, skillful harmonies and smoldering sensuality with vivacious energy, these larger than life women will entertain the audience like no other. Having wowed 1000's of fans for over 11 years, 4 Tons of Fun's name is synonymous with great fun, positive energy, big smiles and entertainment that guarantees to have the audience on their feet.
STHE MFUPHI - (also known as Saxy Sthe) has her roots in Kwa Zulu Natal studying jazz at the Natal Technikon before moving to Cape Town in 2002. As a talented songwriter and extraordinary vocalist, she penned three songs for the group's debut album "Larger than Life. A music video for her original song "Usibali" was released in 2014. She also currently performs as a solo artiste and has been a prelim judge for IDOLS for the past 5 years. BULELWA SAKAYI - (also known as Beautiful Bee) is from the Eastern Cape's East London. She moved to Cape Town to study chemical engineering but not finding it sufficiently emotionally challenging, she decided to pursue a career in the performing arts, singing in choral ensembles and joining an actor's agency. She has traveled internationally performing in a number of film productions including the widely acclaimed UCarmen EKhayelitsha as Frasquita. She is frequently seen in television advertisements and on stage as well as adding the playful flavour to 3 Tons of Fun. MICHELLE THOMAS - (known as Mysterious Michelle) is a home-grown girl. Losing her drummer father at an early age was the catalyst for Michelle to begin to sing and perform. Despite her family's ambition of her achieving a Bachelor's degree at UWC which she eventually abandoned in the third year, she decided to follow her lifelong passion of singing and performing, joining Sthe and Bee in 2007 to form 3 Tons of Fun. SOI SOI GQEZA - (Sultry Soi Soi) -a Cape Town local, began her singing career as a backing vocalist for artists like Ringo Madlingozi, Brenda Fassie, Lucky Dube and Winston Mankunku Ngozi. Together with her band, she performs at local restaurants, private functions, weddings and corporate events, and has taken her music as far as Spain, Vietnam, Bahrain and Thailand. Her varied repertoire of light jazz standards, Afro-jazz and old-school party favourites has entertained local audiences and dignitaries including former presidents Thabo Mbeki and Nelson Mandela.

Book Tickets for Tribute to Aretha Franklin with 4 Tons of Fun: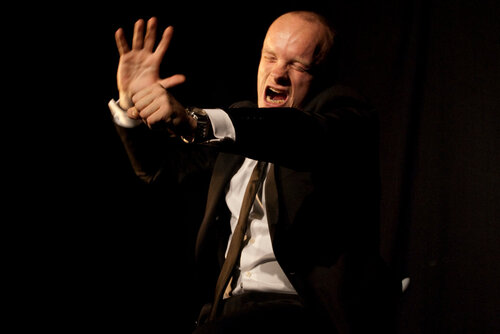 Internationally acknowledged South African hit coming to Somerset West's Drama Factory. James Cairns stars in Nick Warren's one-man hit, 'Dirt'. Having gone their separate ways for almost a year, the poker club are back together to bury their mutual friend. On a journey from Johannesburg to Cape Town the trio trade insinuations, insults, and injuries as they try to dig up the past and bury the present. Driving high-speed through some painful, poignant and often hilarious territory, they arrive at the graveside with some serious injuries and some surprising insights about the nature of male friendship.

"It might not change your life, but it changed mine." – Zane Henry, The Argus.

"Nothing short of a triumph" – Peter Tromp, Another 48 Hours,

"It is phenomenal!!" – yoursoapbox.co.za

"A masterclass in solo stagecraft "– Karen Rutter, Cape Times,

"Cairns is so good at what he does it's almost ridiculous." – artsblog.co.za



Performer: JAMES CAIRNS Named on of the Mail & Guardians top young South Africans, James Cairns has performed and written nationally and internationally for both stage, film and television. His short story Ossewa Mulaudzi has been translated into three languages. His performance work over the years has included South African classics (Pale Natives), Shakespeare (Hamlet and A Comedy of Errors), international festival hits (The Three Little Pigs, Dirt, El Blanco), mask work (The Snow Goose), soapies (Rhythm City), action (Strikeback, Donkerland), period work (Sie Weiss Alles) amongst others. He is generally cast in comedic roles and brings a sensitivity and inner life to them that has impressed audiences and reviewers alike. His comedy improv work with Jittery Citizens and Shakespeare improv with The Framework are also well loved by audiences. James is a popular fringe artist at the National Arts Festival and his theatre work has also been seen in Australia, the UK and the Netherlands.
Director: JENINE COLLOCOTT Named one of Cosmopolitan magazine's fun fearless females, Jenine is the Artistic Director of Contagious Theatre. She studied theatre creation under master pedagogue Giovanni Fusetti at his school Helikos in Florence, Italy. Her production Making Mandela won the 2016 Naledi for Best Youth Production and was most recently selected as part of the Assitej World Congress Main Programme. Much of her work has travelled internationally, namely Dirt (Official selection Fringe World, Perth and the Brighton Festival); Sunday Morning (Official selection Edinburgh Festival); A Day in the Desert (Sold out tour in California). Jenine is an acclaimed director and designer and has been nominated for a number of awards, namely; best director and lighting designer for Sunday Morning at the Naledi Theatre Awards; Best design and director for The Snow Goose at the Fleur du Caps and the Naledi awards respectively; The Handspring Puppet Company Award for best design for High Diving. She has won Ovation Awards for High Diving, A Day in the Desert and Making Mandela.