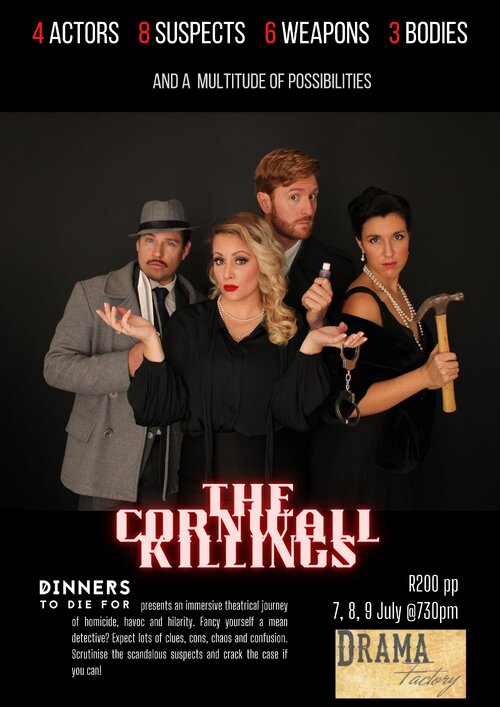 Dinners To Die For Murder Mysteries presents an immersive theatrical journey of homicide and hilarity. Fancy yourself a mean detective? Sift through the clues, cons, chaos and confusion. Scrutinize the scandalous suspects and crack the case if you can.
Set in the backdrop of 1943, at the peak of World War II. While the rest of Britain is fighting a war, we find ourselves amid some dubious characters and a brutal family feud. The old battle-axe, Neville Cromwell, a well-known World War I hero, has died in a rather questionable manner. Who will inherit his estate and who will hang?
Rob Coutts- a gentle ginger giant with a big heart and a gawky walky.
Luella Holland- sassy and smart (dumb) blond with a killer (mwahahaha) sense of humour.
Rowan Studti- the handsome intelligent doofus of the group. Say no more!
Danielle Salmon- the token brunette and the only one with her head screwed on straight.
"The cast is fabulous, with yummy accents. The magnetic and charismatic Luella Holland is well known to audiences. Over the years, she has captivated us with her stunning voice and dynamic stage presence. In The Cornwall Killings, we get a fill of her acting smarts and a plummy British accent, dripping with upper-class Brit pomposity. Holland nails it in this production. She had me in fits as did the rest of the cast. I thoroughly enjoyed watching this story unfurl." read the full review Review - The Cape Robyn
Book Tickets for The Cornwall Killings: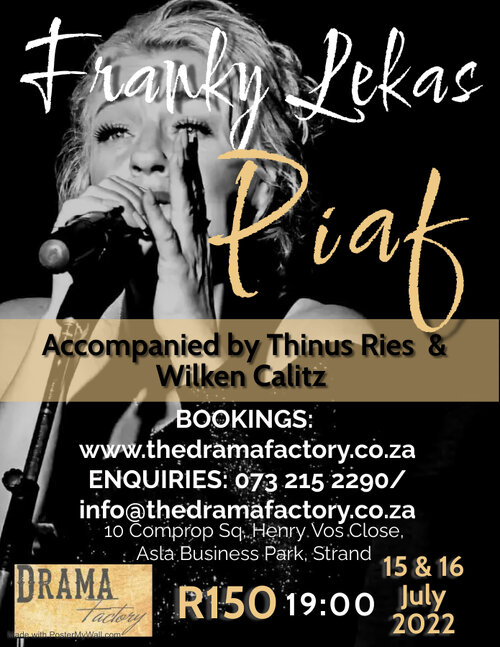 WTF Productions presents a moving tribute to the legendary singer Edith Piaf. The show with the original line-up of Franky Lekas and Thinus Ries was presented in the Crassula Hall, Betty's Bay during March 2022. In a letter to the editor of the Overstrand Herald (Kleinmond) and The Village News (Hermanus) it was described as magnificent, stunning, mesmerising and thrilling, and that Franky's powerful voice and Thinus' accompaniment were world class.
At The Drama Factory, the talented violinist Wilken Calitz will join Franky and Thinus, which will add a whole new dimension to the show. Franky will perform 13 of Edith Piaf's most famous songs like 'No Regrets', 'La Vie En Rose', 'Milord', 'Under Paris Skies', 'Chante Moi', 'Autumn Leaves' and 'If You Love Me'. In between the songs, which will be sung in English, Wilken will play solos of four more of Piaf's songs, namely 'The Little Sparrow of Paris', 'Padam Padam', 'Just Across the Way' and 'Allentown Jail'.
This emotional show will uplift your soul just as Edith Piaf has wanted it to be. We strive to re-live her legendary songs and singing in a performance that will be unforgettable.

Book Tickets for A Tribute to Edith Piaf: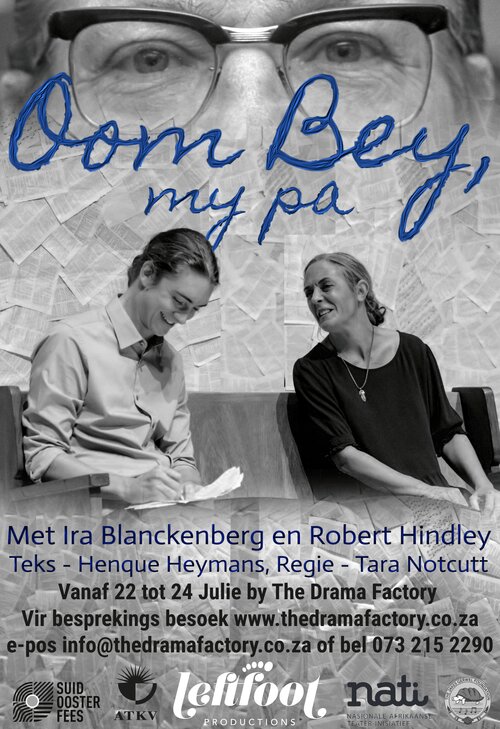 Oom Bey, my pa is die jongste toneel uit ATKV- Woordveertjie wenner Henque Heymans se pen en sal eersdaags te sien wees by die Drama Factory teater in Somerset-Wes. "Ons land is opsoek na 'n rolmodel, en hierdie is my poging om Oom Bey se naam in die hoed te gooi." – Henque Heymans, Skrywer Oom Bey, my pa vertel die verhaal van Beyers Naudé soos gesien deur die oë van sy enigste dogter, Liesel Naudé, en fokus op die tyd en oorsake van sy skuif in ideologie – en of dit eintlik 'n skuif was. Die hoofkarakter Liesel (gespeel deur Ira Blanckenberg) sou tydens haar vormings jare beleef hoe Oom Bey metodies transformeer vanaf die jongste lid van die Broederbond, gebrandmerk word as 'n "verraaier van die Afrikaner", tot uiteindelik een van Suid Afrika se belangrikste helde. Robert Hindley speel teenoor Blanckenberg se Liesel 'n handvol karakters insluitend die lede van Liesel se gesin. Die stuk debuteer by die Suidoosterfees met Tara Notcutt as regisseur.
Tydens 'n onderhoud by KKNK se jaarlikse Teksmark verduidelik Heymans hoe hy te werke gegaan het met die onderwerp. "Ek't vir om en by twee jaar lank met die regte Liesel Naudé gesels om haar uitkyk op haar pa se lewe te verstaan. Ek wou die stuk nie polities of teologies maak nie en op hierdie manier kon ek seker wees ons kyk na Oom Bey as mens, eerder as Beyers Naudé die teoloog of vryheidsvegter. Beide van daardie aspekte is vir my meer as gevolg van die tipe mens wie hy was." Heymans het die teks geskryf tydens 'n residensie by die Jakes Gerwel Stigting se Paulet huis in Somerset-Oos as deel van die Nati Jong Sterre projek in samewerking met die Suidoosterfees, Artscape en Nati en die speelvak word ook verder ondersteun deur die ATKV en die Beyers Naudé Sentrum.
Oom Bey, my pa het vroeër vanjaar by die Suidoosterfees gedebuteer voor 'n uitverkoopte gehoor by die Artscape teater sentrum met oorweldigende positiewe terugvoer.
"I highly recommend it" – Dion Forster, voorsitter van die Beyers Naudé Sentrum.
"Die stuk hoort neffens Die Bram Fischer Wals van Harry Kalmer en die onlangse Dance of the La Gumas van Sylvia Vollenhoven en Basil Appollis." – Leatitia Pople, Netwerk24.
"Uitstekende produksie." – Gerrie Lemmer, Voorsitter van ATKV.
"Dis emosioneel... Dit laat jou dink, terugdink, vorentoe dink." Marguerite Van Wyk, resensent.
Gaan lees gerus die volle resensie op Media24 se webtuiste: https://www.netwerk24.com/netwerk24/kunste/feeste/suidoosterfees/resensie-oom-bey-belig-sy-en-sy-gesin-se-pad-van-ondraaglike-spanning-20220503 of Litnet se artikel oor die skrywer en sy proses: https://www.litnet.co.za/oom-bey-my-pa-die-stemme-in-henque-heymans-se-kop/
Photo Credits: KKNK Teksmark 2021 | Nardus Engelbrecht
Book Tickets for Oom Bey, my pa:
Dié eenmanstuk is gegrond op Leon van Nierop se blitsverkopers, Plesierengel en Katelknaap. Tristan het in 'n streng en liefdelose huis grootgeword, en tragiese omstandighede dwing hom om 'n sekswerker te word. Hy laat vroue swymel en gou word hy die gewildste en hoogsbetaalde gigolo in Suid-Afrika. Vir Tristan gaan dit egter nie net om seks nie – vir hom is dit belangriker om waarlik liefgehê te word. Gegrond op ware gebeure.
Ruan Wessel wat as jong akteur in onder andere Binnelanders en die rolprente Jou Romeo en Hoofmeisie voor die oë van Suid afrikaners groot geword het vertolk die titelrol in die nuwe eenmanvertoning.

Book Tickets for Plesierengel: