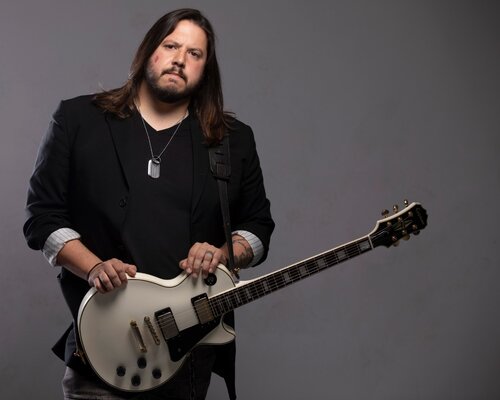 BACK BY POPULAR DEMAND! Mark Haze, one of South Africa's greatest singer/songwriters and runner-up of 2011 South African Idols Competition needs no introduction! He has firmly cemented himself as one of South Africa's premier live rock acts.
Chart-topping rock singer, Mark Haze, Known for his wide vocal range, for being a showman, his signature sound and a combination of high energy Rock 'n Roll, Mark does it again with his stripped down show that isn't actually stripped down! The show is as mesmerising as it comes. Watch as Mark builds from scratch with acoustic and electric guitar, drum machine and loop station! The show will feature some of Mark's favourite influences and covers throughout the history of Rock 'n Roll like Bon Jovi's hit "Dead or Alive, Guns 'n Roses' "Sweet Child of Mine", The Beatles' "Come Together", Pink Floyd's, "Brick in the Wall", and Queen's "Somebody to Love", to mention but a few classic favourites, as well as some of Mark's original material like "Monster", his brand new single (off his 'Authentic' album) that is currently charting, as well as other songs off his 'Authentic' album, and also his Top 10 hit single "Good Riddance (Time of your Life)".
Oozing on-stage charisma, Mark possesses the ability to command the largest of audiences, as well as connect personally with people when he performs at a more intimate venue – something not easily done when moving from large stages with a full band to a simpler acoustic setup where he is face to face with the audience. His powerful vocals, and soulful, skilled guitar playing, are a force to be reckoned with.
Mark Haze promises a show experience like no other can offer - an escape into a world where nothing else matters. You will find yourself lost in the moment –only the music will exist once he begins to sing. Expect soaring vocals and dynamic guitar work. Each performance is treated as though it would be his last!
"Good Riddance" ("Time of Your Life" – African Version – Mark Haze Live https://www.youtube.com/watch?v=BKvregyEQsU
"Come Together" – Acoustic Looper – Mark Haze Live Video https://www.youtube.com/watch?v=JETklWgDCCk
"Monster" - https://www.youtube.com/watch?v=_kiGcpPqLFY
Book Tickets for Mark Haze - Stripped Down Show: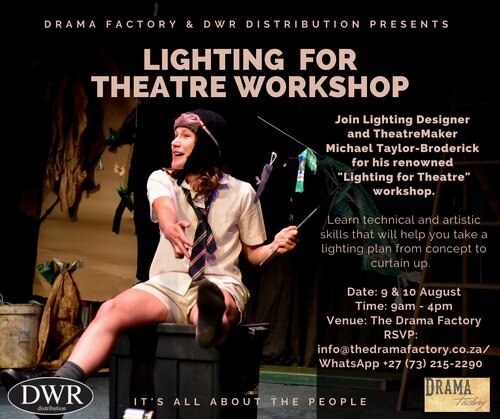 Join award-winning Lighting Designer and Theatremaker, Michael Taylor-Broderick as he presents his renowned Stage Lighting Workshop. This is a two day workshop.
If you are young (or young at heart), with a passion for both the technical side of theatre and the creative elements involved in theatre lighting, then this workshop is a must!
As your knowledge increases over the two-day course, Michael will take you on a journey presenting unique insight into his previous shows and experiences, while sharing practical ideas & skills.
And as Michael always says, "Learn, and your love for theatre will deepen."
The topics include:
The Aims and Objectives of Stage Lighting
An overview of Lighting Fixtures
The Controllable Properties of Light
Lighting Positions and Angles
Colour and Colour Temperature
Creating a Lighting Plan, from page to stage.
Understanding Lighting Consoles
The Role of the Lighting Designer
The Motivation behind a Light Source
Design Elements
Design Principles
Case Studies
Hope to see you there!
Book Tickets for Lighting Workshop :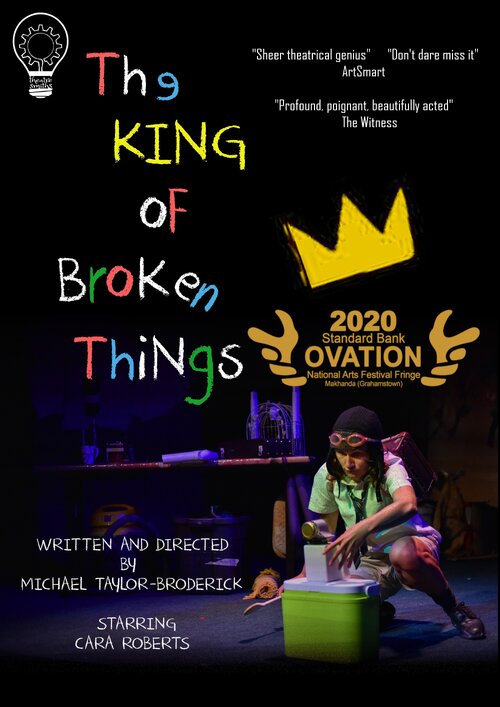 Internationally acclaimed, Gold Ovation Award winner (2020) The King Of Broken Things is coming to The Drama Factory.
The King of Broken Things is a journey into the broken heart of a young boy who teaches us that the rehabilitation of things broken and discarded gets to include people and hearts and how all things, seen and unseen, can be mended. The show touches on ancient Japanese traditions, mythology, and dreams, and reminds us of the magic that we so easily forget is everywhere. The King of Broken Things is a timely reminder to us all to think about the world and the repercussions of our actions, our thoughts, and the things we say. And how we mere mortals would do well to dwell more on the magic words – imagine, believe and dream.
Theatresmiths' 'The King of Broken Things' won a coveted Gold Ovation Award at the National Arts Festival in July last year. The show takes you on a bittersweet journey, a journey viewed through the unfiltered mind of a child, wise beyond his years. Whether you're 8 or 80, this story will rehabilitate every heart. Theatresmiths are a Durban based Theatre company founded by Theatrical Lighting Designer and Theatremaker Michael Taylor-Broderick. The company are a collective of theatre-makers renowned for their ability to weave beautiful stories (Jakob, The Place of Small Miracles) into their unique brand of magical realism.
Cara Roberts, the performer in the show has this to say, "The feedback we get after every show leaves me on a high for weeks, it's so exciting to get the opportunity to spread our magic into the wider world".
"The King of Broken Things" is a truly mesmerising piece of theatre, taking the audience on an incredible 45-minute-long journey, coming to an end far too soon, in my humble opinion. If you get the chance to see this wonderful production, don't dare miss it." - Barry Meehan - (Artsmart)
"Strongly recommended for any fan or student of theatre, The King of Broken Things is one of the best pieces of theatre I have seen in a while. Do yourself a big favour and see it!" - Billy Suter - (Sosuterbill)
"The King of Broken Things is profound, poignant and beautifully acted." _ Estelle Sinkins - Natal Witness
Invited to and performed at The Sharjah International Fringe Festival in Dubai in 2020

Cara Roberts (Performer) - is an actress born in Johannesburg, currently residing in Durban. She has graced many a screen and stage since her first on-screen appearance in Durban Poison as the female lead in 2012. She played Renee in Fynbos and Mark Read in Black Sails (Season 4). Cara has made appearances in many local and international films and music videos. She moved to Durban to further her theatre career. She was introduced to the city by Think Theatre, a company producing Shakespeare's works which the matriculants are studying. She has played the role of Desdemona in Othello for six years; and the role of Ophelia in Hamlet for the last three. The King of Broken Things is her first solo piece, where she plays a young boy struggling with the absence of his father. The show has been performed at the Hilton Arts Festival and the Umtiza Festival, garnering many accolades. It was written and directed by lighting and theatre genius Michael Taylor-Broderick. Cara has starred as Fern and Gussy the Goose in Kickstarts production of Charlotte's Web. She has also performed in children's theatre – A Froggie Fairytale and The Great Big Enormous Turnip; and extended her puppetry talents, creating The Place of Small Miracles, along with Bryan Hiles and Michael Taylor-Broderick, which spins a beautiful tale using direct contact and shadow puppetry, music, and visual effects.

Michael Taylor-Broderick (Writer/ Director) graduated from Natal Technikon with a diploma in Theatre Technology in 1993, obtaining the highest overall aggregate in the Faculty of Arts. He was the Durban Branch Manager of Entertainment Specialists, Production Projects for 5 years before going out on a limb to pursue a career as a Freelance Lighting Designer in 1999. He has since become a multiple award-winning lighting designer who has experience in every theatrical medium. Michael has been the Technical Director for the prestigious annual Hilton Arts Festival for the past 25 years and lectures on the subject of Lighting Design. Also, a playwright, director & writer, Michael's interest and involvement in such varying art forms are what keep him inspired, passionate, and relevant. He includes among his best work Fantastic Flying Fish Dance Company's Grass Gardens, Off-Axis & The Suit; Opera Africa's Rigoletto & La Traviata, Very Very Big Production's Nunsense and Joseph and His Amazing Technicolour Dreamcoat. His own works include 'Jimmy Time', 'The Spartan and The Lullaby', and Jakob', the latter receiving critical acclaim wherever it has played. Michael is also the brains behind "One Man One Light", a short performance piece based on the Italian "La Linea" television series. "One Man One Light" played to packed houses at the PLASA Industry Trade Show in the U.K. and at Prolight and Sound in Frankfurt, performing 33 shows in 3 days and went on to be invited onto the Main Festival program at the National Arts Festival in 2016. The King of Broken Things is his most recent work. Michael is the founder of Theatresmiths, a collective of Theatre Makers dedicated to exploring the 'magic' of theatre, he is currently employed as a Lighting Consultant for DWR Distribution.

Book Tickets for The King of Broken Things: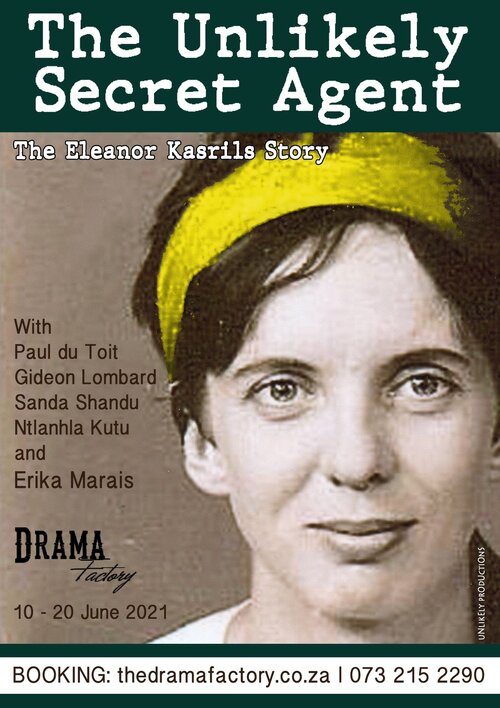 Eleanor, an unassuming, young single mother is arrested at Griggs Bookstore where she works in Durban and taken for questioning. The police are on the hunt for her lover, the notorious "terrorist", Red Ronnie Kasrils. She finds herself detained under the 90-day detention act and brutally interrogated. They will "break her or hang her". Written and directed by award winning actor and playwright, Paul du Toit and based on the Alan Paton Award winning book by Ronnie Kasrils, The Unlikely Secret Agent tells a true story of bravery and hope in the face of seemingly insurmountable odds.
It's 1963, South Africa. The country is on a knife edge. Political protest, sabotage and violence has engulfed the country. Government forces of the Apartheid regime, under Hendrik Verwoerd, brutally suppress resistance. Under the State of Emergency, the feared Special Branch of the police arrest anyone suspected of being involved in underground activities. Ronnie is wanted for his involvement in a string of sabotage bombings of electricity pylons, the Durban post office and the offices of the Special Branch. There is no point in her resisting, the police "know everything". But do they really? Eleanor is keeping a secret. She is a clandestine agent for the Underground ANC. But she must protect her comrades and Ronnie. She makes the daring decision to fake a nervous breakdown in order to be transferred to a psychiatric institution. From there, she begins to plot her escape.

Copies of The Unlikely Secret Agent by Ronnie Kassrils will be on sale in the foyer at a cost of R240 (cash)
Creative Team: Paul Du Toit - Has recently performed in Two to Tango at the Drama Factory as well as the NAF in Makhanda. He has won both a Naledi and Fleur de Cap award for his performance in Hedwig and the Angry Inch, as well as a Fiesta for best actor in Melk en Vleis. Erika Marais - Has performed her one woman show Jam Every Other Day, at the Drama Factory and NAF Makhanda in 2018, as well as Your Perfect Life at the Drama Factory,Alexander Bar and 44 on Long Street and won a Standard Ovation Award in 2019. Hannes Coetzee -is currently the Head of Culture and HOD for Drama at Curro Hermanus Independent School, and has previously worked in commercial and corporate events management.

Book Tickets for The Unlikely Secret Agent: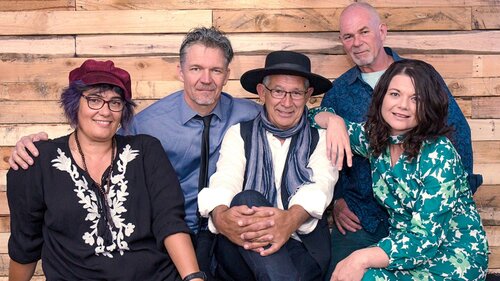 Rumours of Fleetwood Mac is a tribute show centered around one of Fleetwood Mac's most successful albums Rumours (1977) that spent 31 weeks at No 1 on the Billboard charts. Rumours remains a candid songwriting triumph that cemented Fleetwood Mac's status as one of the greatest rock bands of all time. Featuring a full band made up of some of Cape Town's top musicians, Rumours of Fleetwood Mac takes the audience into an audio landscape filled with 'classic time-capsules of memories' with tracks like Go your own way', 'Don't Stop', 'Dreams', 'Everywhere' and 'Second hand news'.
The earworms of Fleetwood Mac scattered throughout the show are guaranteed to have you smiling, foot-stomping & singing along to these iconic music gems.
Rumours of Fleetwood Mac features Skye Wilson on lead vocals & rhythm guitar, Greg Schoeman on lead guitar & vocals, Ant Kinsey on bass & vocals, Malcolm Cassisa on drums & backing vocals and Wendy van Rensburg on keyboards & backing vocals, creating a blend of outstanding musicianship and harmonies.

Skye Wilson's incomparable lead vocals drive the show backed by her exciting rhythm guitar work. She is no newcomer to the South African music scene, having formed The Sunshines with Greg Schoeman in 1993. The Sunshines recorded and independently released their debut album "Removeable Tattoos" (available on iTunes, Google Play, Deezer and Amazon) at Shifty Records in 1994 and dominated SA's national and regional airwaves with their contagious, feel-good pop tunes which included the hits "Wanna make love"; "Happy Person" and "Judy". Skye's first album, Transformme, released in 2013, is a dreamy and somewhat indefinable collection of songs, stories and recollections, available for download on iTunes, Google Play, Deezer and Amazon.
Greg Schoeman (electric guitarist and vocalist ) is a professional, experienced and diverse guitar player and vocalist. His style ranges from pop/rock to blues/soul with a drop of African thrown in for good measure. Along with Skye, he founded The Sunshines in the 90's. He also plays for the popular Fancy Galada Band. Greg recently released his self penned album called "In My Street", available for download at iTunes, Google Play, Deezer and Amazon.
Wendy Van Rensburg's exciting keyboard playing has ensured her a busy career as a freelance musician. Not only has she written and produced two cabarets, written and composed music for various clients, including Sun International, she has also performed in some highly acclaimed productions, including "Girl Talk 007" at The Sound Stage.
Anthony Kinsey is the band's bass player and adds his distinctive vocals to the mix. He founded the original band 'Juliet Jade' and recorded with Louise Carver before moving onto the show band circuit, playing bass for James Marais's Elvis tribute and a successful Bee Gees tribute tour.
Drummer, Malcolm Cassisa is the fifth and final band member, a versatile and solid groove keeper. Although he has played in various bands and musical genres from Country Rock through Jazz Funk, he is best known for his work with local Cape Town function band, Tuxedo.

Book Tickets for Rumours of Fleetwood Mac: